Islamic State may have fired chemical weapons at US troops in Iraq
---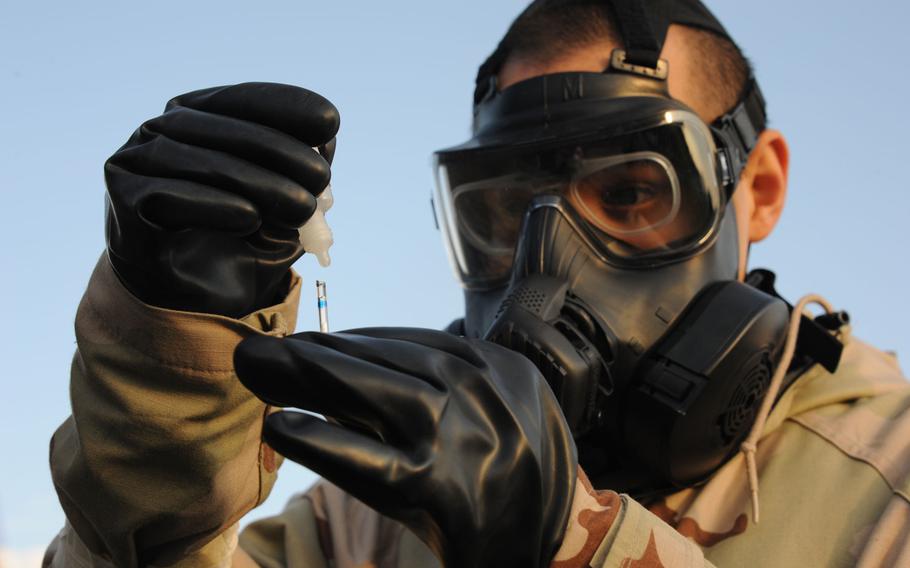 WASHINGTON – The Islamic State group has attacked U.S. and Iraqi troops using a rocket that initially tested positive for mustard agent, the Pentagon said Wednesday.
The attack took place midday Tuesday at Qayyarah West Air Base in northern Iraq where U.S. and Iraqi forces are building up an operations hub to retake Mosul, Islamic State group's stronghold in that country. The attack on Mosul is planned for October, officials have said.
No U.S. troops were hurt in Tuesday's rocket attack.
However, a U.S. explosive ordinance team went through decontamination after a shell fragment from the rocket initially tested positive for mustard agent, the Pentagon said Wednesday.
After the rocket exploded in the base, the explosive ordinance team responded to assess the munition. The team noticed a residue on the shell remnants and an initial test showed the substance to be mustard agent, said a senior defense official who spoke on the condition of anonymity.
A second test on the substance turned up negative, the official said.
However, the Islamic State group has used a crude form of mustard agent against Iraqi or Kurdish forces in other attacks. The poor quality of the chemical agent could give a negative test result.
The fragment will undergo further testing to determine whether mustard agent was used, the official said.
None of the U.S. forces that came into contact with the shell have shown any signs of injury or contamination, such as blistering, the defense official said.
Hundreds of U.S. forces are deployed to Qayyarah West Air Base, the official said.
The base is regularly targeted with indirect fire, the official said. However, he said this was the first time mustard agent has been used against U.S. forces.
Copp.tara@stripes.com Twitter: @TaraCopp
---
---
---
---