Iranian vessels harass US Navy ships with dangerous maneuvers in the Persian Gulf
by
Caitlin M. Kenney
April 15, 2020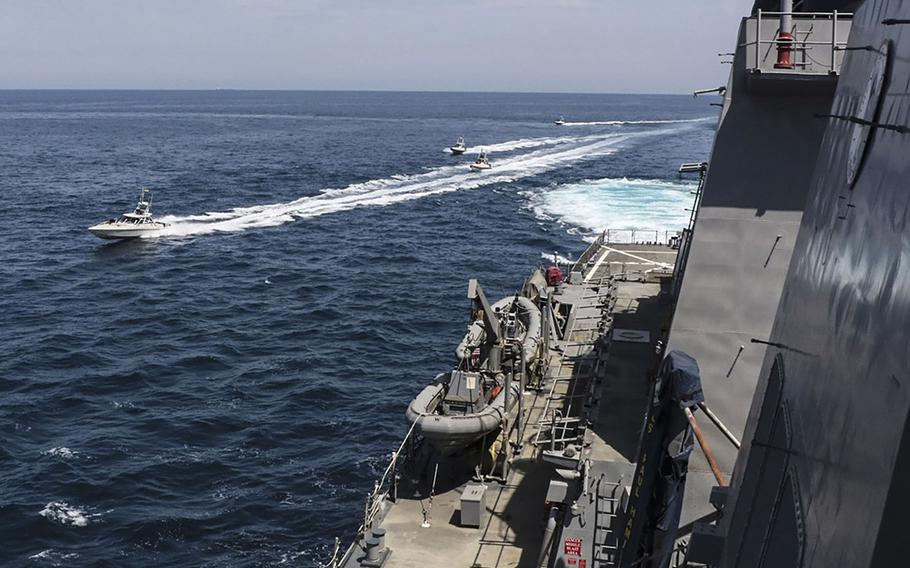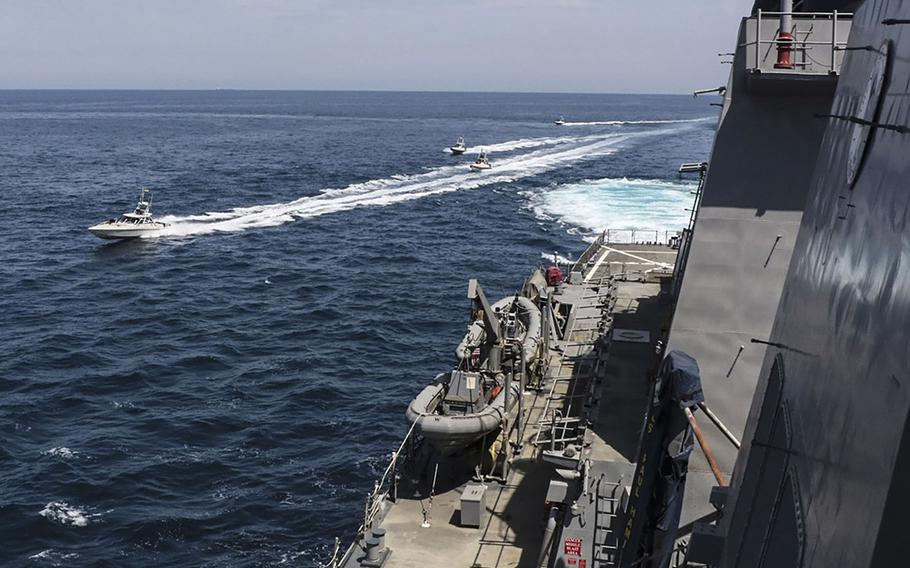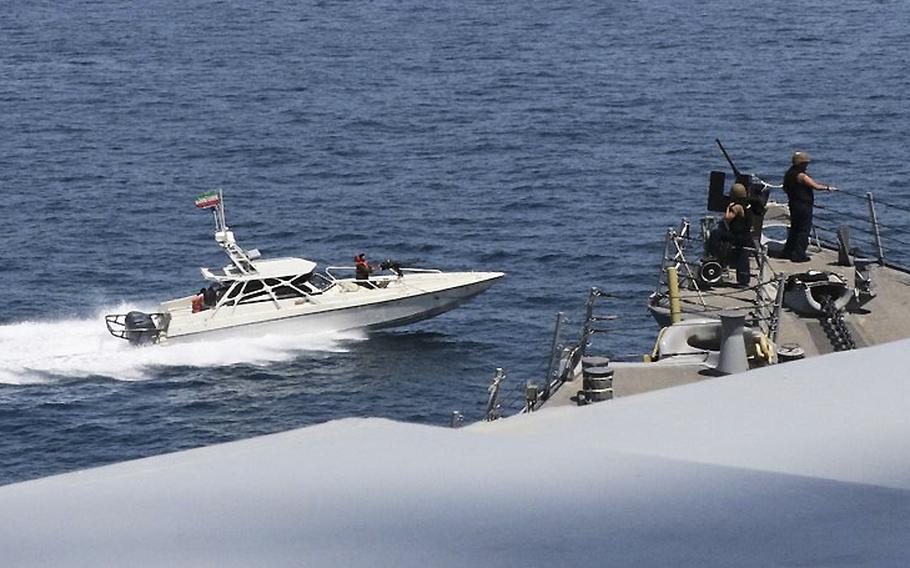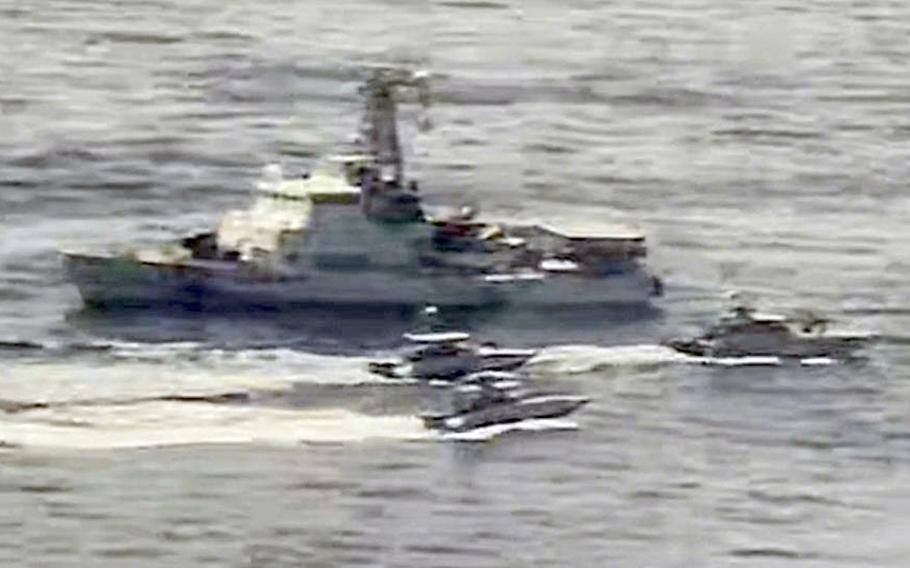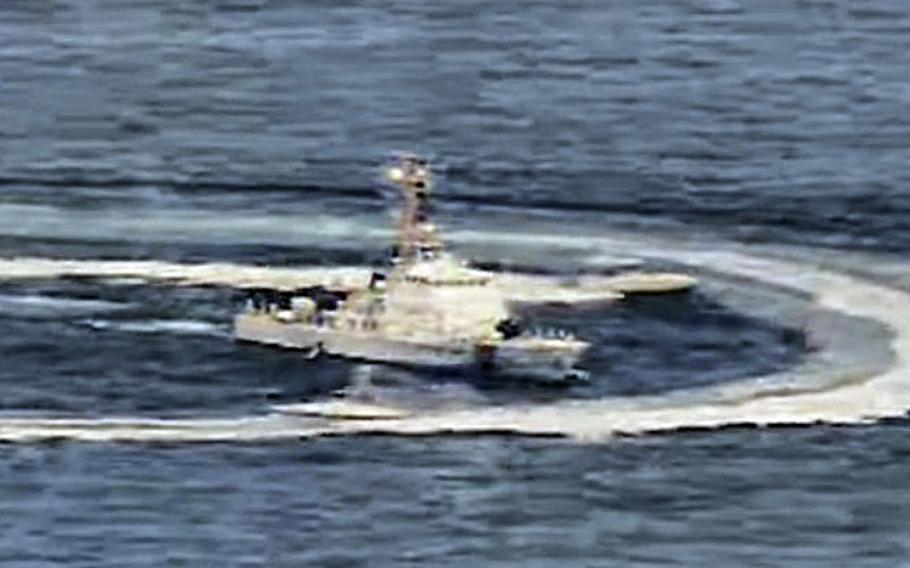 WASHINGTON — Eleven Iranian military vessels on Wednesday maneuvered dangerously close to several American ships conducting operations in the northern Persian Gulf, according to the Navy.
The Iranian boats "repeatedly conducted dangerous and harassing approaches" of six U.S. ships: the USS Lewis B. Puller, an expeditionary mobile base platform ship; the USS Paul Hamilton, an Arleigh Burke-class destroyer; the USS Firebolt and the USS Sirocco, cyclone-class coastal patrol ships, and the USCGC Wrangell and the USCGC Maui, U.S. Coast Guard island-class cutters.
The boats were identified as Iranian Islamic Revolutionary Guard Corps Navy vessels in a statement Wednesday by U.S. Naval Forces Central Command, U.S. 5th Fleet.
"The vessels repeatedly crossed the bows and sterns of the U.S. vessels at extremely close range and high speeds, including multiple crossings of the Puller with a 50-yard closest point of approach and within 10 yards of Maui's bow," the Navy said.
The American ships were conducting joint-integration operations in international waters with Army AH-64E Apache attack helicopters, according to the Navy statement. The joint operations have been conducted in the northern Persian Gulf since late March. The Navy also conducted operations with an Air Force special operations gunship last month as part of stepped up U.S. and allied efforts to deter what American officials have said are mounting Iranian threats in the region.
Images posted by the 5th Fleet of the incident show what look like speed boats conducting close passes and tight turns around the U.S. ships.
The American sailors gave multiple warnings to the Iranian ships through bridge-to-bridge radio, five short horn blasts and "long-range acoustic noise marker devices," the Navy said, receiving no response for an hour.
The Iranian Islamic Revolutionary Guard Corps Navy vessels eventually responded to the bridge-to-bridge radio messages and moved away from the American ships.
"The [Islamic Revolutionary Guard Corps Navy's] dangerous and provocative actions increased the risk of miscalculation and collision," the Navy said, adding their actions were not in accordance with maritime customs or international law for ship safety.
Stars and Stripes staff writer Chad Garland contributed to this story.
Kenney.Caitlin@stripes.com Twitter: @caitlinmkenney