Iran attack marks first known successful strike on high-flying Global Hawk drone
---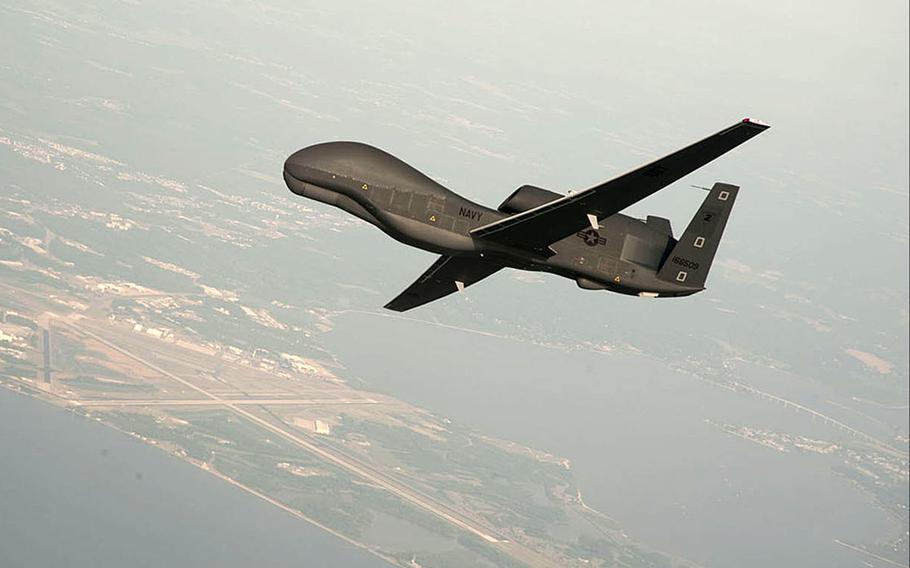 Iran's attack on a U.S. Global Hawk unmanned reconnaissance aircraft Thursday marks the first known instance of an adversary shooting down the workhorse drone in its nearly 18-year operational history.
The RQ-4A Global Hawk maritime surveillance drone was flying in international airspace over the Strait of Hormuz when it was downed by an Iranian surface-to-air missile, U.S. Central Command said in a statement, though Tehran has claimed it was flying in Iranian airspace.
The aircraft is believed to be one of five the Air Force originally procured and then transferred to the Navy since 2006 to be used as a platform for that service's MQ-4C Triton variant, which has yet to be deployed.
The Global Hawk is the largest U.S. unmanned aerial system and can cost $100 million depending on configuration. They are meant to fly high enough to make them less vulnerable to adversaries.
The attack is at least the third time this month that Iran or its proxies have taken a shot at unmanned military aircraft, according to U.S. officials.
The size and expense of the Global Hawk makes it a significant loss, said Ulrike Franke, a policy fellow at the European Council on Foreign Relations specializing in drone research.
U.S. drones have typically flown over countries without the defensive capabilities to take out a high-flying surveillance aircraft, such as Afghanistan and Pakistan.
"They aren't made for peer-to-peer competition," Franke said of the Global Hawk.
With a 131-foot wingspan, bigger than a Boeing 737 passenger jet, they're capable of flying at altitudes of 60,000 feet for more than 34 hours with a range of nearly 15,000 miles, an Air Force fact sheet says.
They've operated since shortly after 9/11, and at least seven have crashed due to equipment failures since 2001. The military has not said what caused the crash of an eighth Global Hawk aircraft off the coast of Spain last June.
Some Global Hawks are deployed to Al Dahfra Air Base in the United Arab Emirates, The Associated Press reported.
A maritime patrol version appears to have flown from Maryland to Al Dahfra last Friday, according to the Twitter account @aircraftspots, which tracks military air movements.
An Iranian road-mobile air defense system shot the drone down, Iran's state-run media reported. First unveiled in 2014, it can target up to four aircraft at a time at altitudes of about 16 to 19 miles and ranges out to 45 miles, the Iranian Defense Ministry's Tasnim News Agency said.
Iran has previously sought to shoot down or capture U.S. drones in the region. In 2011, it seized an RQ-170 flown by the CIA, which it used to reverse-engineer its own variant.
It's not clear whether there will be anything left of the RQ-4A shot down Thursday for Iran to glean any intelligence from it, Franke said.
"I would assume that very little is left," she said.
garland.chad@stripes.com Twitter: @chadgarland
---
---
---
---