In latest Afghan war report, Pentagon lauds Afghan security forces
---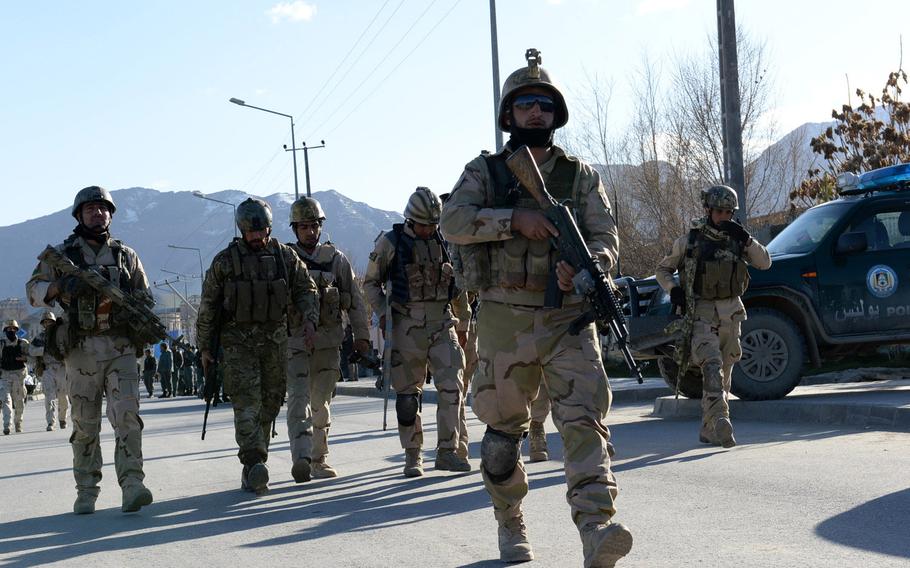 WASHINGTON — Despite the political uncertainties of a contested election and an Afghan president who refused to ratify a key security document, Afghan security forces held together against a "resilient insurgency," according to the Pentagon's latest report on the state of Afghanistan war, released Friday.
According to the report, Taliban insurgents challenged Afghan forces but failed to achieve their main goal of disrupting the elections, which concluded after months of wrangling when Ashraf Ghani made a deal with opponent Abdullah Abdullah and took office in September.
The report, which Congress requires of the Department of Defense every six months, will be the final such document during the NATO combat mission in Afghanistan, which is due to end Dec. 31. A two-year advisory and counterterrorism mission will follow, with all U.S. troops scheduled to exit the country by the end of 2016.
Like its predecessors, the report released Friday lauds the continuing development of Afghan national security forces while pointing out areas where they still need support.
Between April and August, violence fell by 30 percent nationwide as Afghan forces ooverwhelmed insurgents with the help of U.S.-led coalition airband intelligence assets, the report said.
The Taliban had some success temporarily capturing remote checkpoints and small towns, and the group's morale appears to be high, the report said. The release of former leaders from the prison at Guantanamo Bay, Cuba, likely contributed to some of that enthusiasm, the report said.
"They were, however, unable to hold any significant terrain and were consistently overmatched when engaged by ANSF enabled by coalition air and intelligence support," it said. "They failed to capture or destroy well-defended targets, and were unable to assume control of major population centers."
Still, Afghan forces have been suffering heavy casualties while facing high operational tempos in recent months, the report said.
As in previous reports, the ability of Haqqani network insurgents to retreat to safe havens in Pakistan to rest and resupply is said to be a major challenge to Afghan forces as the U.S. troop presence shrinks.
"The resiliency of the Afghan insurgency continues to depend on sanctuary in Pakistan, making an effective relationship between Afghanistan and Pakistan critical to long-term stability in the region," it said.
The Afghan forces still have critical shortcomings that the coalition worked to overcome in recent months. Among them, the Afghan air force still relies on the coalition to conduct airstrikes and close air support missions.
"ISAF continued to address ANSF capability gaps in close air support; intelligence, surveillance, and reconnaissance; special operations; maintenance; and logistics," the report said. "ISAF also continued to plan for focusing on further developing these capabilities during the Resolute Support mission."
carroll.chris@stripes.com Twitter: @ChrisCarroll_
---
---
---
---