ANALYSIS
In Afghanistan, an ill-defined end of an era for NATO
by
Heath Druzin
December 28, 2014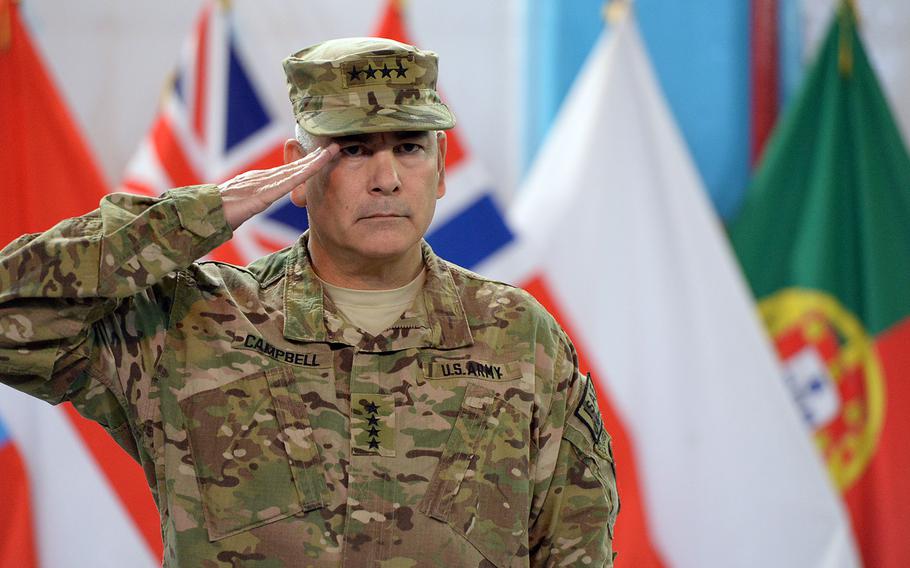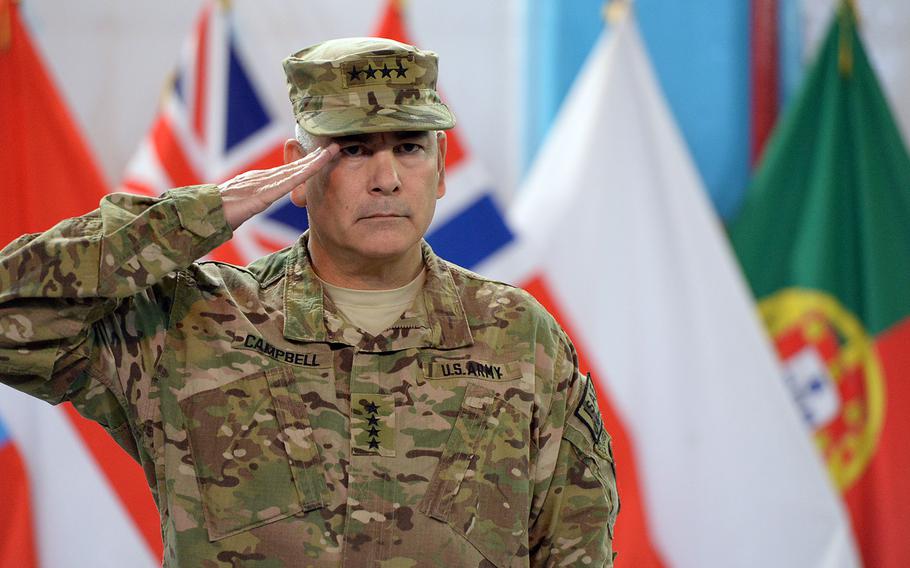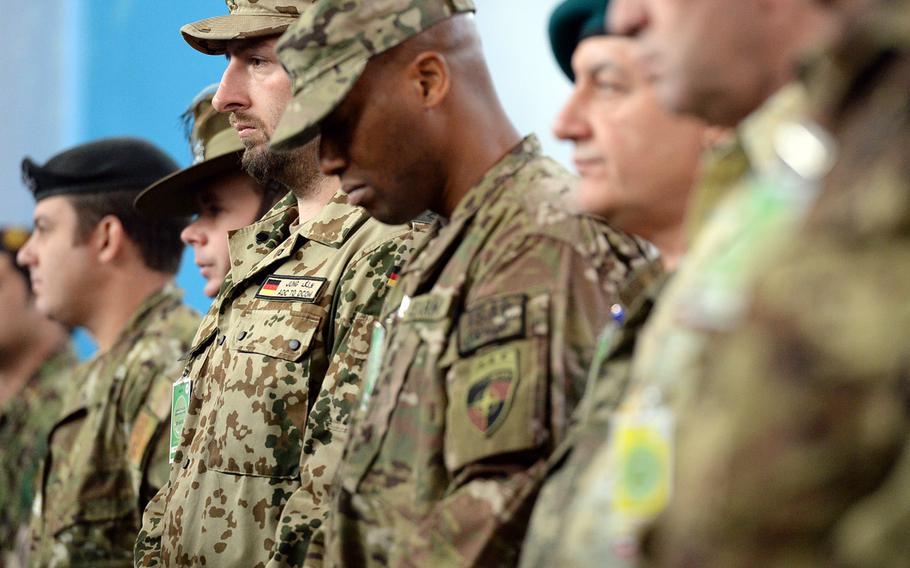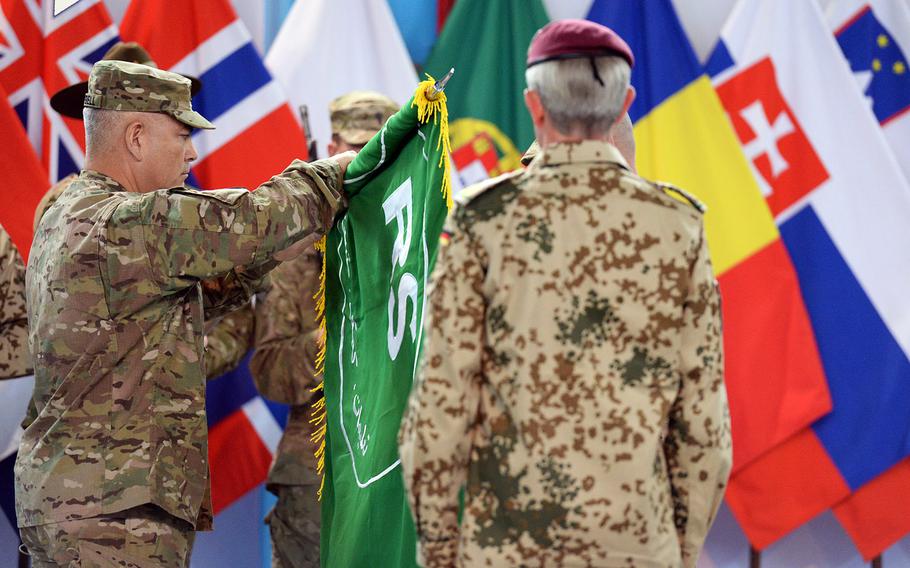 KABUL, Afghanistan — The U.S. and NATO formally transitioned Sunday to a new "non-combat mission in a combat environment" whose definition remains as unclear as Afghanistan's future, now that the bulk of foreign forces have left.
During an hour-long ceremony in a drab gymnasium at the headquarters of the military coalition that has battled against insurgents for 13 years, generals hailed the end of a mission, while struggling to explain the parameters of what will still be a substantial military operation in Afghanistan.
"Today marks an end of an era and the beginning of a new one," ISAF commander Gen. John Campbell said at the ceremony. "Today NATO ends its combat mission."
But, despite that statement and President Barack Obama's recent assertion that America's "longest war will come to a responsible end," there will still be roughly 11,000 American troops in Afghanistan next year as part of the Resolute Support mission to train, advise and assist Afghanistan's roughly 350,000 security forces. Coalition members will still be able to conduct air strikes and defend themselves if engaged by insurgents.
A portion of the U.S. troops will fall outside the NATO training and advising mission, focusing on counterterrorism, force protection and logistics, according to ISAF spokesman Lt. Col. Christopher Belcher. U.S. officials have said troops conducting counter-terrorism missions will be able to go after terrorists and "associated forces," a broad term, which could include Taliban insurgents deemed to be connected to groups like al-Qaida.
Belcher said there would be a total of roughly 17,500 foreign troops in Afghanistan next year, some of them U.S. troops performing the non-NATO missions. U.S. and NATO officials have said that about 12,000-13,000 troops would be part of Resolute Support.
"Resolute Support is a non-combat mission, that is the very clear statement," ISAF deputy commander Lt. Gen. Carsten Jacobson said after the ceremony. "It is a non-combat mission in a combat environment."
Under Obama's plan for withdrawal, all U.S. troops are to leave Afghanistan by the end of 2016, save an undetermined number to defend the U.S. Embassy.
Despite officials calling the closing of ISAF the end of the combat mission, the war is still very much raging in Afghanistan, with civilian and Afghan security forces casualties higher than they've ever been since the U.S. invaded the country in 2001. The Taliban is still entrenched and by some measures as strong as it's ever been.
In a statement issued Sunday, NATO Secretary General Jens Stoltenberg acknowledged that "many challeges remain, and there is much work still to do. The Afghan security forces will continue to need our help as they develop."
At least one ISAF official had seemingly contradictory views on how the Afghans are expected to bring the insurgency to an end.
"(Afghan forces) have proven to us over the last two years in combat operations that they are capable to defeat the insurgency," Jacobson said.
But just a few minutes later, he had a different take when asked about the possibility of a long-elusive peace deal between the Afghan government and the Taliban.
"An insurgency is not beaten on the battlefield," he said. "An insurgency can only be overcome by reconciliation."
What was clear though, as troops cased the green ISAF flag and replaced it with an almost identical Resolute Support flag, is that despite the foreigners' bold statements, Afghans, who have the most to lose if things go wrong, are nervous about the NATO drawdown.
In a speech that was part thank you and part plea for continued help, Mohammad Hanif Atmar, national security adviser to President Ashraf Ghani, praised his country's security forces but called for the West's "strategic patience."
"We are not yet able to do everything alone," he cautioned.
"We don't want or expect that you will support us forever," he said. "However, we need your support more than ever."
Druzin.heath@stripes.com Twitter: @Druzin_Stripes
---
---
---