Hyten: Pentagon orders are needed to execute Trump's call for Navy to shoot at harassing Iranian boats
by
Caitlin M. Kenney
April 22, 2020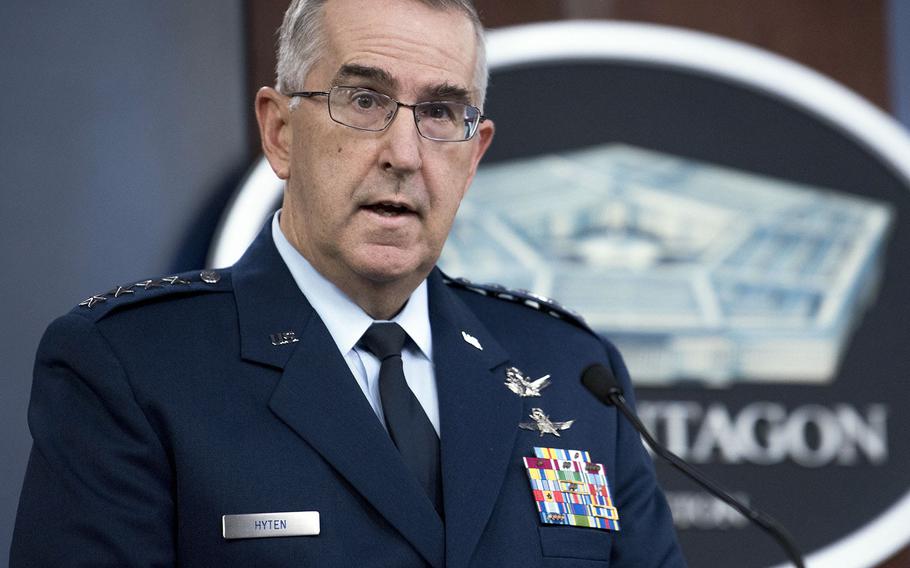 WASHINGTON — Pentagon leaders must now develop orders for troops that match President Donald Trump's tweet instructing the Navy to shoot at harassing Iranian ships, Gen. John Hyten, the vice chairman of the Joint Chiefs of Staff, said Wednesday.
"The president made a clear statement. I think the Iranians understand that, I think the American people understand that. Now, we as the military have to apply that clear direction from the commander in chief into lawful orders that we execute," the Air Force general said during a Pentagon news conference that he conducted with Deputy Defense Secretary David Norquist.
Trump tweeted earlier Wednesday that he had "instructed the United States Navy to shoot down and destroy any and all Iranian gunboats if they harass our ships at sea."
On April 15, 11 boats identified as Iranian Islamic Revolutionary Guard Corps Navy vessels "repeatedly conducted dangerous and harassing approaches" of six U.S. ships in the northern Persian Gulf, according to the U.S. Navy.
Images posted by the 5th Fleet of the incident show what look like speed boats conducting close passes and tight turns around the U.S. ships. The American sailors gave multiple warnings to the Iranian ships through bridge-to-bridge radio, five short horn blasts and "long-range acoustic noise marker devices," for an hour before the vessels eventually responded to radio messages and moved away, the Navy said.
"What's been going on right now is that you can't let a boat, a fast boat, get into a position where they can threaten your ship," Hyten said.
Tensions between Iran and the U.S. have increased during the past few years, resulting in several violent and deadly incidents. Iran was accused by the U.S. last summer of placing limpet mines on the sides of ships in the Gulf of Oman forcing the Pentagon sent personnel and equipment to the region to try to deter Iranian activities.
In January, Trump ordered a drone strike to kill Maj. Gen. Qassem Soleimani, the commander of the Iranian Quds Force, following a deadly rocket attack on an Iraqi base in Kirkuk and attempts to storm the U.S. Embassy in Baghdad by Iranian-backed militia. Iran retaliated days later by firing 11 missiles at Iraqi bases housing U.S. troops, injuring more than 100 service members.
In March, the Iranian-backed militia Kataeb Hezbollah was blamed for a rocket attack on Camp Taji north of Baghdad, killing two American service members and a British Army reservist.
On Wednesday, Hyten said the U.S. military has a right to respond to "hostile intent" and has specific guidance on how to use lethal force.
"I go back to what the president said sends a great message to Iran. That's perfect. We know how to translate that into our rules of engagement," Hyten said. "We don't talk about rules of engagement in public, but they're based on the inherent right of self-defense."
Norquist said the intent behind Trump's words was a "very clear message" to Iran about their behavior.
"I think it was very useful thing that he put out and I think it's an important thing for other people to understand and take very seriously," he said about Trump's tweet.
Kenney.Caitlin@stripes.com Twitter: @caitlinmkenney