House lawmakers confused over US military's goals in Syria as Pentagon maintains focus on ISIS
by
Corey Dickstein
September 26, 2018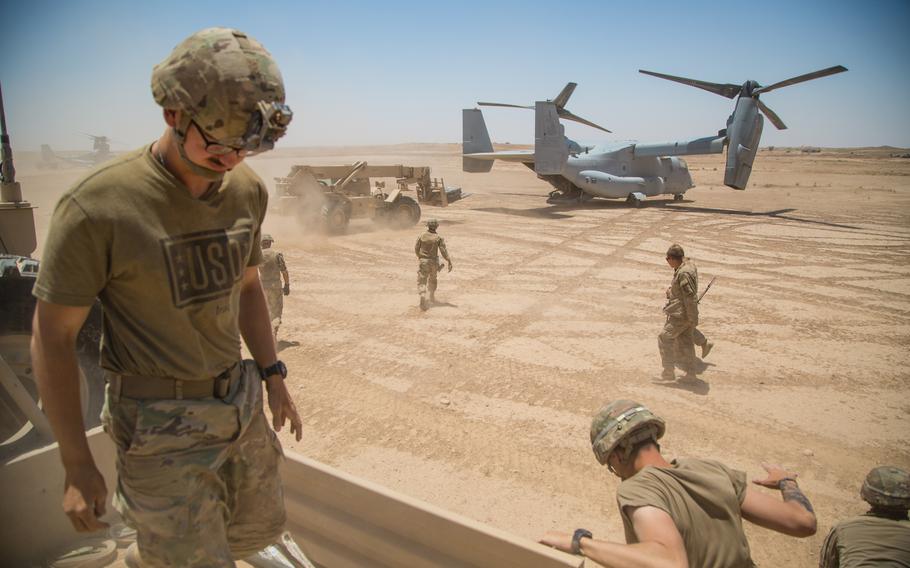 WASHINGTON — House lawmakers on Wednesday grilled Pentagon officials on President Donald Trump's overall goals for Syria, expressing confusion about the role of American troops in the war-torn country where Defense Secretary Jim Mattis has said their mission is solely to stamp out the Islamic State.
Rep. Seth Moulton, D-Mass., repeatedly expressed frustration during a hearing of the House Armed Services subcommittee on oversight and investigations as he attempted to ascertain the differences in recent statements by top Trump administration officials about the role of U.S. troops in Syria, where they have been fighting ISIS since 2014.
On Monday, National Security Adviser John Bolton said U.S. servicemembers would not leave Syria until Iran withdraws its proxy forces from the country. Hours later, Mattis insisted some 2,000 troops are only in the country to back forces fighting ISIS and to train local groups to maintain security.
"My question to the Trump administration is this – what is your strategy?" Moulton, a Marine veteran who served as an infantry platoon leader in Iraq, asked Robert Karem, the assistant secretary of defense for international security affairs. "Moreover we [lawmakers] don't even know what you're long-term objectives are. I'm alarmed that the president's statements regarding Syria have been so overwhelmingly at odds with his senior cabinet officials."
Trump has publicly mulled pulling troops from Syria as Mattis and other senior national security officials have maintained servicemembers would remain there until the United States was certain ISIS or another terrorist group could not return to the area. Mattis has signaled troops, at that point, would withdraw. But Bolton's statement Monday seemed to contradict Mattis' position, Moulton said.
"That to me sounds like we are sending our military to Syria to counter Iran. Especially since withdrawal [of U.S. troops] is dependent on actions of Iran, not actions of ISIS or the defeat of ISIS," he said, citing Bolton's comments. "That is illegal under the authorization given by Congress, and I think the administration has got a big problem."
Karem said U.S. troops serving in Syria are "squarely focused" on ISIS and have received no orders to conduct any operations countering Iran. Nonetheless, he added their presence has "residual benefits," including denying access to Iranian proxy forces to areas of eastern Syria freed from ISIS.
Karem also warned the regime of Syrian President Bashar Assad, with the backing of Iran and Russia, was unlikely to reach a peace settlement with moderate opposition forces that it has been at war with for seven years.
"I think I would also note that, analytically, Iran's presence and activities make it increasingly unlikely we will see an enduring political solution to the crisis," he said. "We believe such a political solution is necessary to achieve the conditions that will allow us to secure an enduring defeat of ISIS … or another similar terrorist organization."
But lawmakers questioned where the line between fighting ISIS and countering Iran might stand.
Rep. Austin Scott, R-Ga., questioned whether there was any opportunity for the United States to win in Syria, asking Karem whether the nearly 20-year-old Authorization for the Use of Military Force passed in the days after the 9/11 terrorist attacks really justified the ongoing ISIS fight.
Rep. Ruben Gallego, D-Ariz., said he worried the Pentagon might use the potential resurgence of ISIS as an excuse to maintain a force in Syria long after the terrorist group is defeated.
"What I'm interpreting right now is we may destroy ISIS and defeat the functionality of ISIS, but there seems to be this other element where the idea that ISIS may exist is the pretext of why we should stay in Syria, when the fact is it's just to buffer against Iran," said Gallego, another Marine veteran of the Iraq war. "If that's the case, you should come back to Congress and ask for the authorization."
Dickstein.corey@stripes.com Twitter: @CDicksteinDC