Guardsman from South Carolina dies in Afghanistan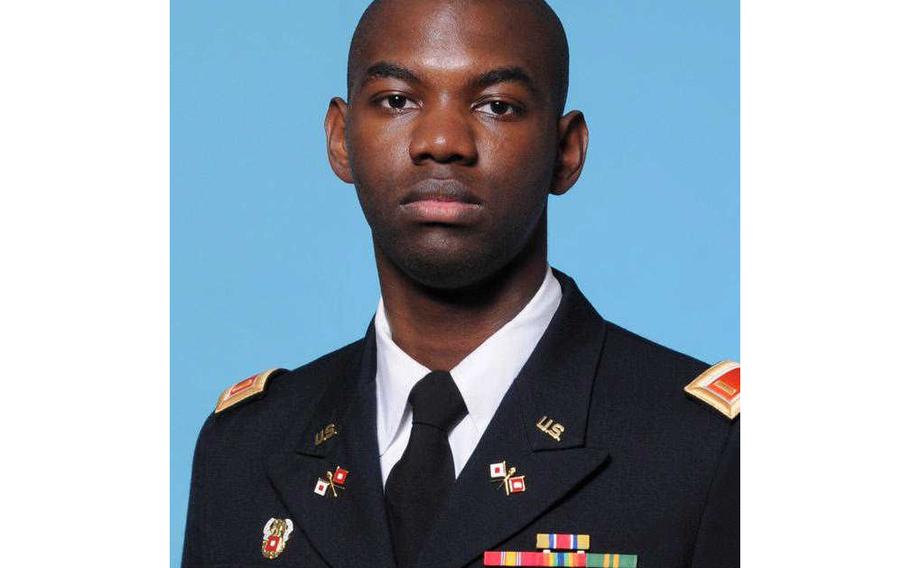 A National Guardsman from South Carolina died in a noncombat incident in Afghanistan this week, the Pentagon said Thursday.
First Lt. Trevarius Ravon Bowman, 25, from Spartanburg, S.C., died at Bagram Airfield on Tuesday, the Defense Department said in a statement.
The Pentagon did not give a cause of death, but a spokeswoman for the South Carolina National Guard, Capt. Jessica Donnelly told Stars and Stripes by phone that it was not related to the coronavirus, which has been spreading rapidly in Afghanistan.
She confirmed that an investigation has been launched into the death, which is the fourth non-combat fatality of a U.S. service member in Afghanistan and brings to eight the total number of American troops who have died in the country this year.
Bowman was with Company B, 198th Signal Battalion, 261st Signal Brigade out of Newberry, S.C. The unit is attached to the South Carolina National Guard's 228th Theater Tactical Signal Brigade. Among awards he earned during his service were the Army Achievement Medal and Army Commendation Medal.
"It is with heavy hearts and deepest condolences that we announce the passing of 1LT Trevarius Bowman," the commanding general for the South Carolina National Guard, Maj. Gen. Van McCarty, said in a statement. "This is never an outcome we as soldiers, leaders, and family members wish to experience. Please keep the service members in his unit in your thoughts and prayers, as well as his family as they work through this difficult time."
Bowman's sister Kierra Bowman said on Facebook that the death had taken the family by surprise.
A fellow soldier with the Facebook name Stubaby Rogers posted that he and Bowman had talked about the future when they saw each other recently in Kuwait.
"You inspired me to continue to reach for new heights in the military," Rogers' post said. "Your life was cut short but your mark on the world was definitely felt by many."
Bowman earned a bachelor's degree in information management systems from the University of South Carolina Upstate and joined the university's Palmetto College campus as an IT specialist in 2018, according to the USC website.