Green Beret killed in combat in Afghanistan leaves behind daughter, pregnant wife
by
Corey Dickstein Chad Garland Wyatt Olson
August 30, 2019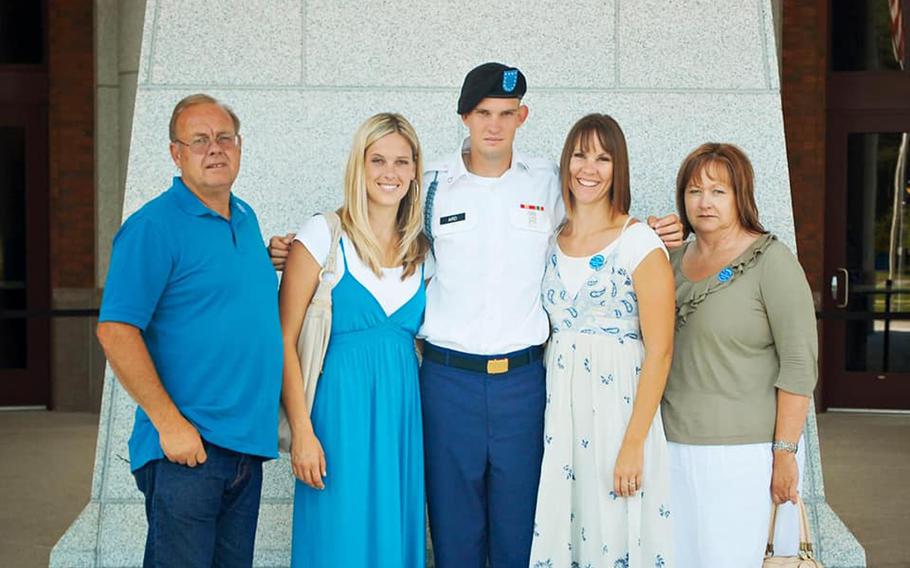 A U.S. Army Green Beret killed in action Thursday in Afghanistan left behind a pregnant wife and 3-year-old daughter, his family has announced.
Sgt. 1st Class Dustin Ard, 31, who was officially identified by the military Saturday, became the 15th U.S. combat casualty this year in Afghanistan, as the Pentagon prepares to draw down its forces there after 18 years of war.
Ard, who was from Idaho Falls, Idaho, was on his second deployment to the country, U.S. Army Special Operations Command said in a statement Saturday.
On Friday the sergeant's father confirmed his son's death in a message posted on Facebook by Idaho Rep. Rod Furniss.
"My heart has a hole so big, I can hardly stand it," wrote the father, Bruce Ard, former mayor of the Idaho Falls suburb of Ammon. "He was the finest young man I have ever known. Not because he was my son, but because of the person he is."
He was "a warrior — an accomplished, respected and loved Special Forces Soldier that could strike up a friendship with anyone, anywhere," Col. Owen G. Ray, 1st SFG(A) commander, said in a post shared on the Chapter 16 Special Forces Association's Facebook page, the Idaho Post Register reported.
The slain soldier is survived by his wife Mary and 3-year-old daughter Reagan, the newspaper reported, citing Ray. His wife is pregnant and expecting a son, it said.
Ard had joined the Army in Utah to be a Green Beret in 2011 and completed the Special Forces Qualification Course in 2015, USASOC spokesman Lt. Col. Loren Bymer said. He was then assigned to 2nd Battalion, 1st Special Forces Group (Airborne) at Washington's Joint Base Lewis-McChord as a Special Forces communications sergeant.
Dustin Ard died of wounds he received in combat in southern Zabul province, the Pentagon said, saying the incident was under investigation.
The incident follows the deaths of two Green Berets during a raid on Taliban forces in northern Afghanistan's Faryab province on Aug. 21. Special Forces Master Sgts. Jose J. Gonzalez and Luis F. Deleon-Figueroa were killed by small arms fire. Three U.S. soldiers were also killed in action in July in two separate engagements.
In total, 17 American troops have died in Afghanistan in 2019, all but two in combat. It marks the deadliest year for American troops serving in Afghanistan since 2014, the year then-President Barack Obama ended formal combat operations against the Taliban, when the U.S. lost 39 troops to combat action.
State Department and Taliban officials in Doha, Qatar, have been working toward an agreement that is expected to exchange the partial pullout of U.S. troops for Taliban assurances that they would not harbor terrorist groups in Afghanistan. The agreement would also call for the insurgent group to meet with Afghan leadership to negotiate a ceasefire.
Ard's death came on the same day that President Donald Trump announced he would reduce the U.S. military footprint in Afghanistan from about 14,000 to about 8,600 once a peace agreement with the Taliban is reached. That is roughly the number of troops who were in the country when Trump took office.
Trump is a longtime critic of the war in Afghanistan and at times has said he intends to pull all U.S. forces from that country entirely. He said Thursday he had decided to leave some troops there for now, primarily to conduct counterterrorism operations and gather intelligence.
The United States has been fighting in Afghanistan since October 2001 when it launched operations to drive the Taliban from power after the 9/11 attacks. More than 2,400 U.S. troops have been killed in combat there and more than 20,000 others wounded in action, Pentagon statistics show.
Ard had joined the Army after college, hoping to find a new challenge, Bruce Ard told the Post Register.
"He was still just Dustin," Bruce Ard said. "He was a loving, kind, gentle soul, and he knew what he had to do."
In addition to his two deployments to Afghanistan, Dustin Ard had participated in multiple Joint Combined Exchange Training exercises in Indonesia, Bymer said.
He had been promoted to sergeant first class on Aug. 1 and his awards and decorations include the Bronze Star Medal, Army Achievement Medal and Combat Infantry Badge. He was posthumously awarded a Bronze Star and a Purple Heart.
dickstein.corey@stripes.com Twitter: @CDicksteinDC
Twitter: @chadgarland