Eager Lion exercise ends with a bang in Jordan
---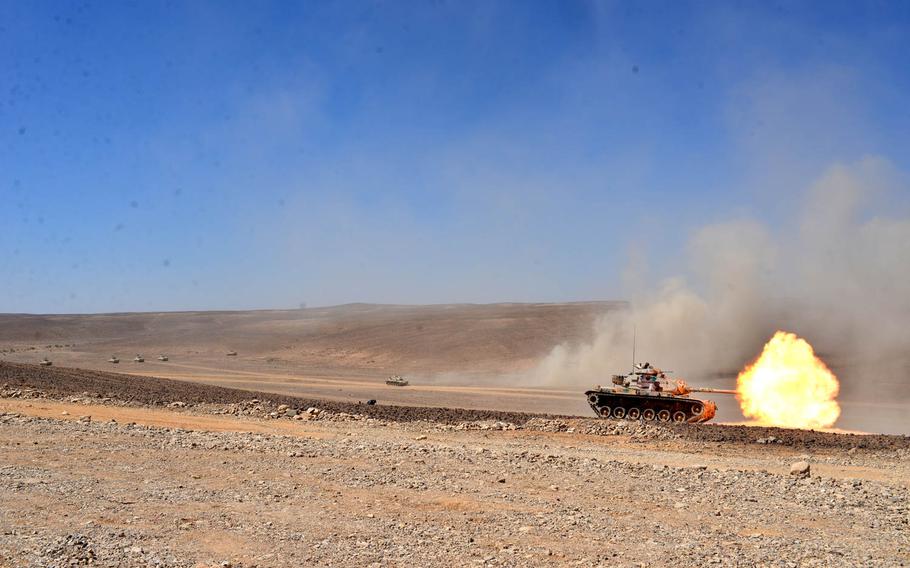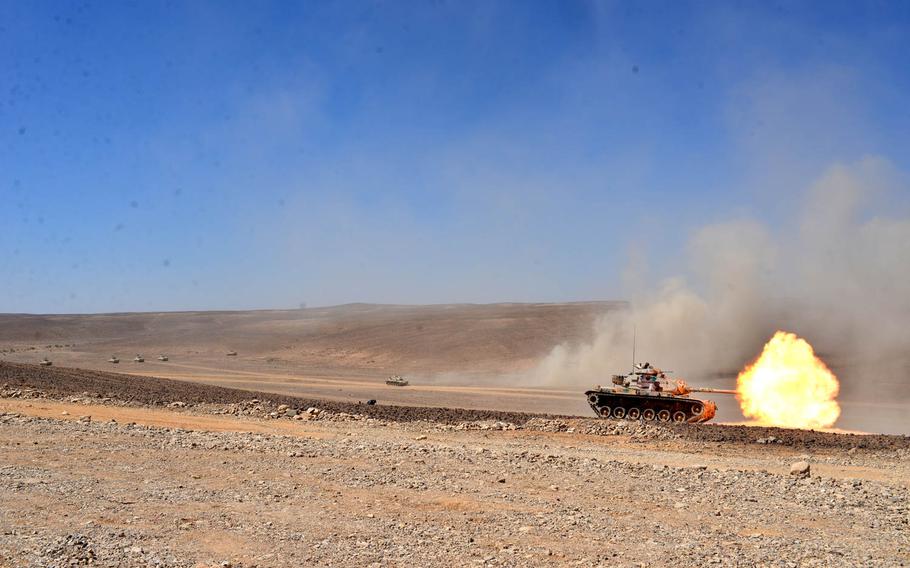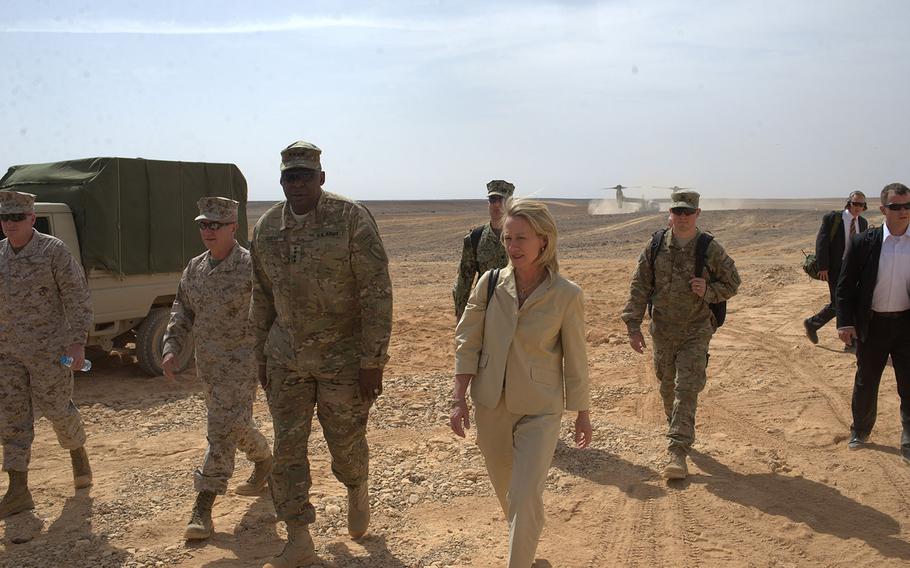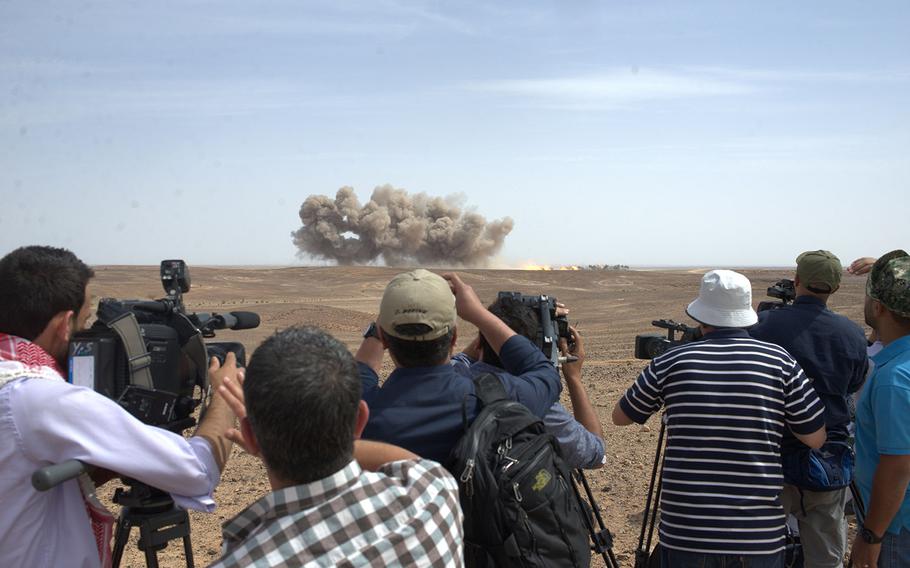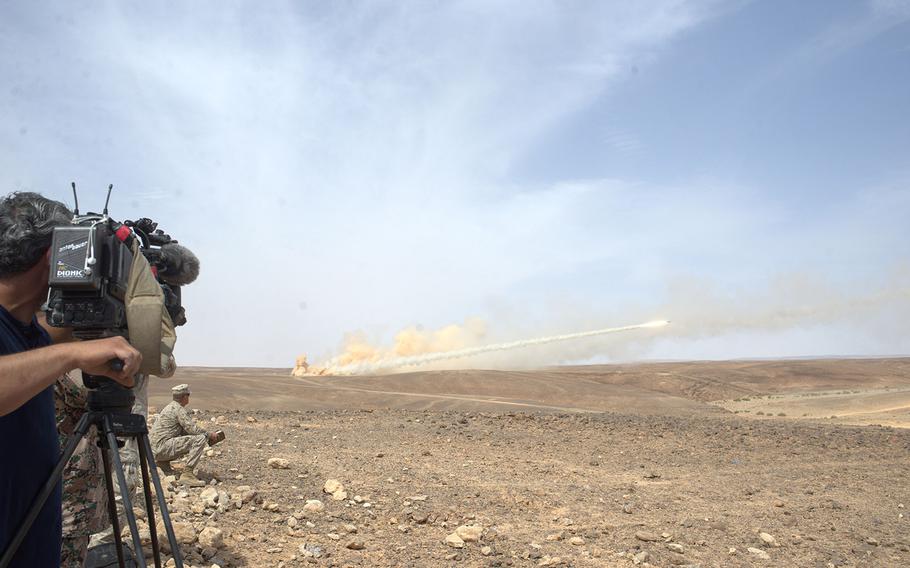 AQABA, Jordan — It began with a thunderous bombing run by high-flying B-52s and ended with a surge of ground forces firing automatic weapons and rockets against a bank of targets.
The massive display of military firepower in a desert range about 70 miles northeast of this port city on Monday was the culminating act of Eager Lion, an annual two-week exercise planned by U.S. Marines and the Jordanian military to reassure the Mideast kingdom of American military support.
Although U.S. forces were stretched this year because of operations off Yemen and in Iraq and Syria, roughly 5,000 American servicemembers participated in the exercise, which was attended by top Jordanian military officials, as well as U.S. Army Gen. Lloyd Austin, commander of U.S. Central Command, and U.S. Ambassador to Jordan Alice Wells.
The recent rise of the Islamic State group and the war in neighboring Syria have made Jordan's security a special concern to Washington, which has traditionally viewed Amman as a reliable ally in the region.
More than a million Syrian refugees are believed to be living in Jordan as a result of the four-year war, and Islamic State militants have attempted to infiltrate the country and conduct attacks, such as the car bombing at a border crossing with Iraq last month that killed four Iraqi soldiers.
King Abdullah has recently warned that the civil war in Syria is spiraling further out of control, posing even greater threats to the security of Jordan, which shares a long border with parts of Syria and Iraq that are now under Islamic State control.
U.S. military attention in the Mideast is divided among operations against Islamic State fighters in those two nations, support to Saudi Arabia in its airstrikes against anti-government forces in Yemen, and ongoing maritime patrols in the Persian Gulf.
Pulling out of Eager Lion would have sent the wrong message to a critical ally, said Marine Maj. Gen. Burke Whitman, who led the exercise's joint land-maritime force.
"The fact that we're so busy almost made it even more important to carry it out, make it be robust," he said, "so that everybody watching us — the Jordanians, our friends in the region and those who would do us harm in the region — could see that, yeah, look, even with everything that's going on, we can still get forces and put them here."
Whitman was a last-minute replacement for Marine Maj. Gen. Carl E. Mundy III, deputy commander of Marine Corps Forces Central Command, who remains in Saudi Arabia working with that country's military on its Yemen operations.
Marines with the 24th Marine Expeditionary Unit were also pulled from the exercise because of needs off the coast of Yemen and in the Persian Gulf. The 24th MEU, a force of about 2,500 Marines, is embarked aboard three amphibious warships.
Late calls to the 2nd Battalion, 2nd Marines, at Camp Lejeune, N.C., filled some of the gaps, while other roles were left vacant. The exercise scenario originally called for a force of surface ships, which planners were forced to scrap without the amphibious vessels.
The exercise was held among five sites across Jordan. It was based on the scenario of a friendly force coming to the aid of an ally under threat by an aggressive neighbor. A Navy command out of Bahrain deployed explosive ordnance disposal techs, Seabees and patrol craft from both countries to role-play port security in Aqaba, Jordan's only coastal city. A Marine crisis-response force out of Kuwait also plugged into the exercise to practice noncombatant evacuation in the north.
Exercise planners say there is no connection between the training and the military operation against the Islamic State group. Jordan is currently playing a key role in that effort by hosting one of the training sites for moderate Syrian rebels. American trainers are working with the fighters to counter Islamic State militants in the country, a program that has drawn some skepticism from observers.
In addition to U.S. and Jordanian troops, contingents from 16 other countries took part in the exercise for a total force of about 10,000 troops.
beardsley.steven@stripes.com Twitter: @sjbeardsley
---
---
---
---