Destroyer USS Stout breaks Navy record with 208 consecutive days at sea
by
Wyatt Olson
September 30, 2020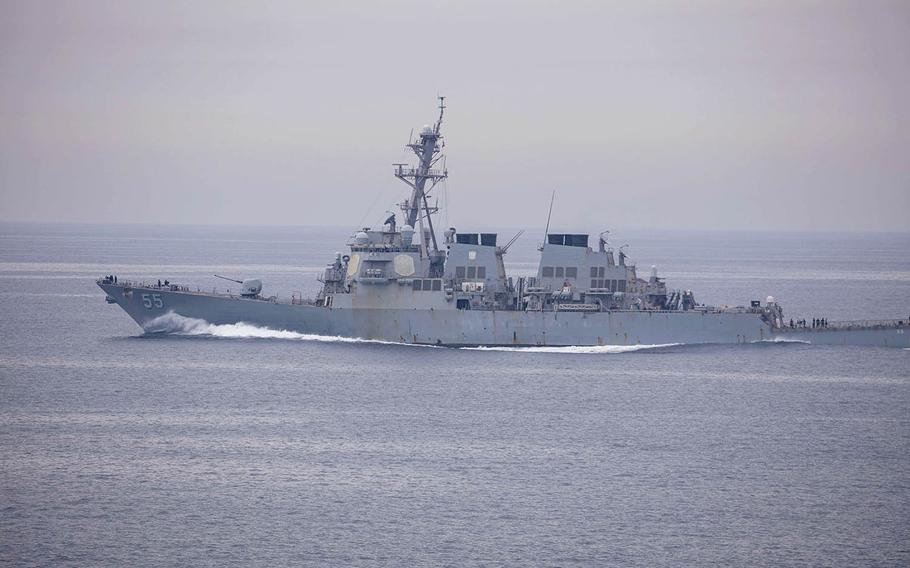 The guided-missile destroyer USS Stout broke a U.S. Navy record Saturday for remaining at sea for almost seven months, the Navy said.
The ship, commissioned in 1994, has been deployed in the 5th Fleet's area of operations, which includes the Arabian Gulf, Gulf of Oman, Red Sea and parts of the Indian Ocean.
When Stout reached 208 consecutive days at sea on Saturday, it surpassed the Navy's known record previously held by the Dwight D. Eisenhower Carrier Strike Group and USS San Jacinto, which had remained at sea this year as a result of the coronavirus and operational requirements, the Navy said in a news release Tuesday.
The strike group returned to its homeport in Norfolk, Va., in August, but the Stout remained in theater, the Navy said.
Stout is part of Destroyer Squadron 26 under the Eisenhower Carrier Strike Group, the Navy said.
"USS Stout has been instrumental in maintaining freedom of navigation in the region," Commodore Rob Bellfield, commander of Coalition Task Force Sentinel, said in the news release. "Its regular presence has helped to deter potential threats and provide reassurance to the global merchant community."
The Sentinel task force is the operational arm of the International Maritime Security Construct, a consortium that includes the United Kingdom, Australia, Albania, Saudi Arabia, Bahrain, Lithuania, the United Arab Emirates and the United States.
Stout spent 139 days at sea in support of the task force, providing overwatch for more than 550 vessels transiting maritime chokepoints, the Navy said.
The ship patrolled the Bab el Mandeb and Strait of Hormuz in support of the Eisenhower and Nimitz carrier strike groups, the Navy said.
"Stout also conducted the first-ever Mid-Deployment Voyage Repair period at sea and executed significant repairs, preservation and preventative maintenance," the Navy said.
olson.wyatt@stripes.com Twitter: @WyattWOlson