Dempsey: Iraqis weren't driven out of Ramadi; they drove themselves
---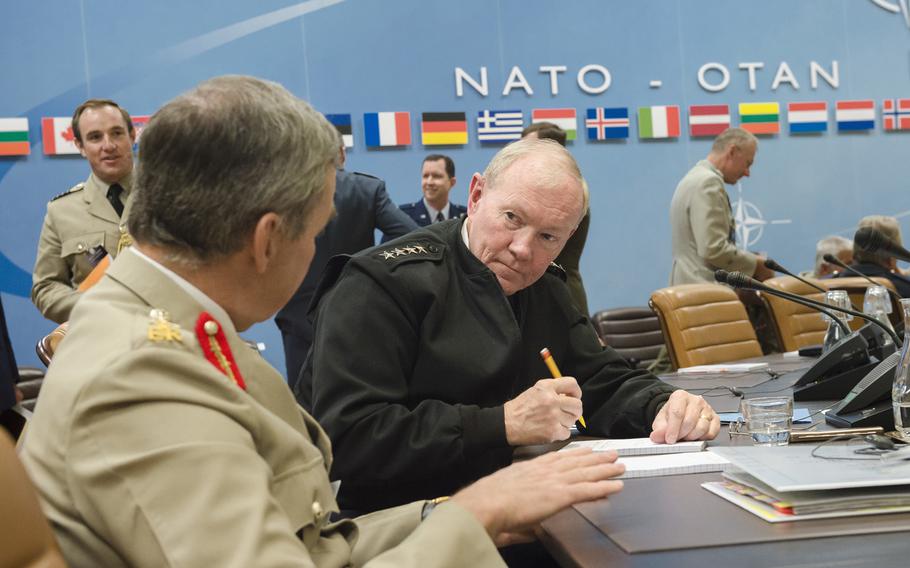 America's top military officer says Iraqi government forces weren't driven out of Ramadi. They drove.
Gen. Martin Dempsey, chairman of the Joint Chiefs of Staff, told reporters Wednesday on a trip to Brussels that Iraqi security forces commanders made a tactical decision to withdraw from Ramadi last weekend as Islamic State fighters broke through defenses and swarmed through the city, capital of Anbar province.
A sandstorm was reported in the area at the time of the Islamic State assault, but Central Command spokesman Col. Patrick Ryder described it as "minor dust and haze" which had "zero impact," on coalition air operations.
It was the most significant setback in the war against the Islamic State since the militants seized Mosul during last summer's offensive that overran about a third of Iraqi territory. As in Mosul, Iraqi troops abandoned some of their U.S.-supplied equipment as they fled.
"The ISF was not driven out of Ramadi," Dempsey insisted. "They drove out of Ramadi."
He said the Iraqi commander made "what appears to be a unilateral decision to move to what he perceived to be a more defensible position" near Habbaniyah east of Ramadi.
He said Iraqi forces inside Ramadi "were less well-supported" than other government units. At the same time, Sunni tribes in Anbar, which the U.S. has been hoping would join the fight against the Islamic State, have not yet "allied themselves" with the Shiite-dominated government in Baghdad, Dempsey said.
Sunni tribal leaders have complained that the Iraqi government has failed to provide enough weapons and equipment to fight the extremists. The U.S. has been urging the Iraqis to arm the Sunnis, but Shiites in the government oppose the move for fear the Sunni fighters will either hand the weapons over to the Islamic State or turn them against the Shiites.
Some members of the U.S. Congress have been urging the Obama administration to provide weapons directly to the Sunnis and Kurds — a proposal which has drawn fire from influential Shiite politicians.
Dempsey said he had believed since the start of last year's campaign that it would take years to defeat the Islamic State, known variously as ISIL, ISIS and Daesh, which is also making significant gains in neighboring Syria.
Dempsey has said he believed it would take at least three years to degrade and destroy ISIL in Iraq. He hinted Wednesday that the effort may take even longer.
"At the start I said three years," he said. "That still might be the case. We may be able to achieve our objectives in three years. But I said then, and I reiterate now, that there may be tactical exchanges — some of which go the way of Iraqi security forces and others which go the way of ISIL. But the coalition has all the strategic advantages over time."
---
---
---
---