Dempsey, allied military chiefs meet in Jordan amid escalating Syrian crisis
By
Slobodan Lekic lekic.slobodan@stripes.com
August 25, 2013
---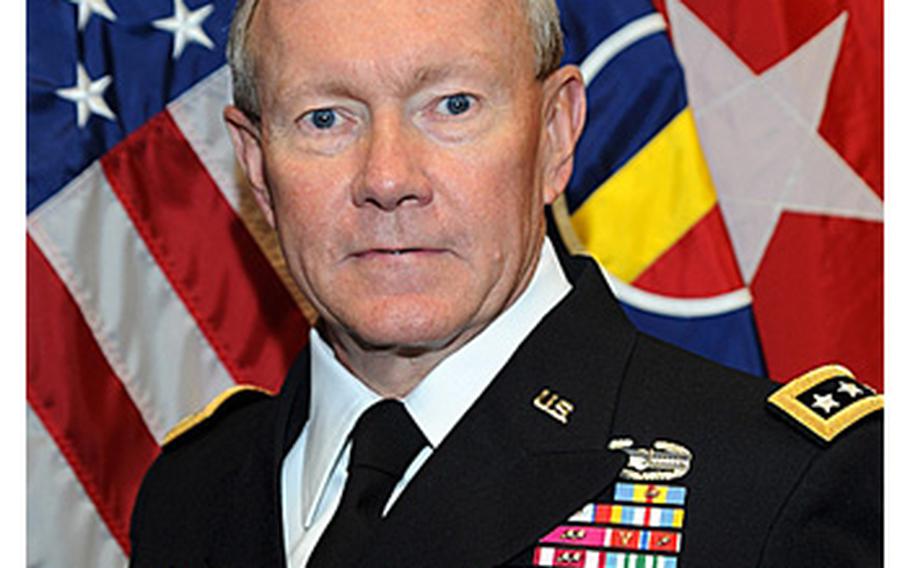 AMMAN, Jordan — Gen. Martin Dempsey, chairman of the Joint Chiefs of Staff, is co-hosting an emergency meeting here of defense chiefs from 10 nations aimed at ensuring the security of this moderate, pro-Western kingdom and preventing a spillover of the escalating war in neighboring Syria, officials said.
The three-day meeting, which opened Sunday, is being co-hosted by Jordan's chief of staff, Lt. Gen. Mishaal Zaben, U.S. and Jordanian officials said. It also brings together top generals from Saudi Arabia, Qatar, Turkey, the United Kingdom, France, Germany, Italy and Canada, the semi-official Petra news agency reported, citing Jordanian military sources. It said the commanders "would discuss regional security and implications of the ongoing crisis in Syria."
The conference comes amid rising tensions as the U.S., France and Britain mull their response to allegations that the Syrian regime of President Bashar al-Assad was responsible for a chemical attack Wednesday on the eastern outskirts of Damascus that killed hundreds of people.
In Washington, Defense Department spokesman George Little told The Associated Press that the gathering in Amman was designed in part to increase the collective understanding of the impact of regional conflicts on nations.
Dempsey is accompanied by Gen. Lloyd J. Austin III, commander of U.S. Central Command.
Meanwhile, the U.S. Navy has deployed an extra destroyer to the eastern Mediterranean, bringing to four the number of missile warships in the area capable of firing cruise missiles against land targets.
The Associated Press reported that Secretary of Defense Chuck Hagel offered nothing Sunday about how the United States might respond to Syria's purported use of chemical weapons. He said President Barack Obama was still assessing intelligence information on the deadly attack.
"When we have more information, that answer will become clear," he told a reporter, according to AP.
President Barack Obama has said that a hasty intervention in the 2½-year-old Syrian civil war was problematic because of the international considerations that should precede a military strike.
Obama discussed the situation in Syria by telephone with British Prime Minister David Cameron, the AP reported. It was Obama's first known conversation with a foreign leader about Syria since reports of the alleged chemical attack. The White House said the two leaders expressed "grave concern" about the reported use of chemical weapons, which both countries oppose.
Damascus has vehemently denied that it carried out toxic gas attacks on the rebel-held areas and accused the insurgents of mounting a chemical attack on its own troops in the area. Syrian television has said its troops found tunnels in which chemicals were stored in rebel areas overrun by government forces. Russia and Iran, Syria's main allies, have supported calls for a United Nations inquiry into the attack, with both accusing jihadist groups of having carried it out.
The Jordanian military, numbering about 120,000 troops, has been redeploying a large part of its combat units to the northern border with Syria to prevent a spillover of the fighting. Jordanian officials say about 560,000 Syrians have already fled across the frontier.
The United States is believed to have about 1,000 troops based in Jordan, including a headquarters unit, an F-16 fighter detachment at Mafraq air base, as well as Patriot anti-missiles at two sites in the kingdom. In addition, the USS Kearsarge, a Marine amphibious assault ship, is reported to be steaming near Jordan's only port of Aqaba.
---
---
---
---