Democrats question more troops for Afghanistan
---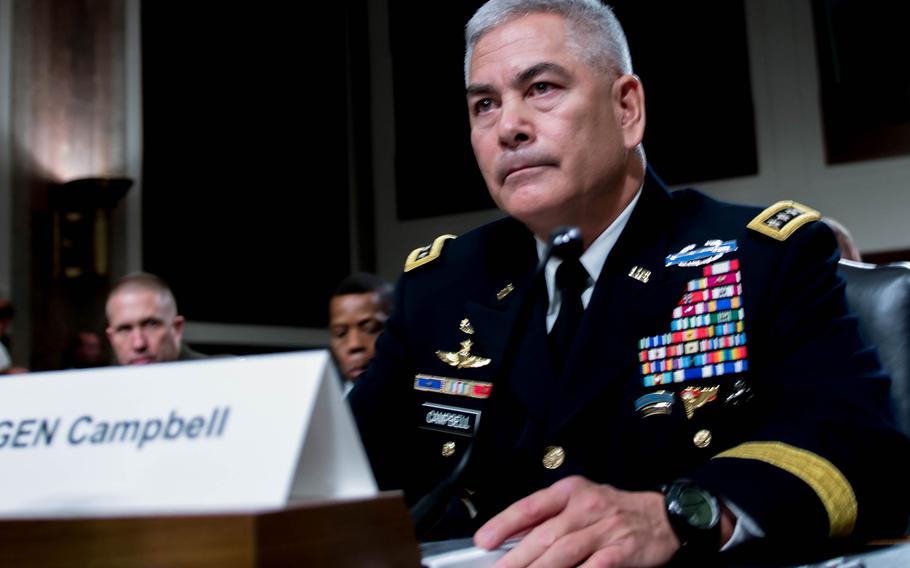 WASHINGTON — House lawmakers weary of the war pushed back Thursday against the top U.S. commander in Afghanistan who has advised the White House to keep more troops deployed there and abandon a plan to end the conflict.
Members of the House Armed Services Committee, many of them Democrats, said they are frustrated by a lack of progress in training a capable Afghan army and police force to take over security, despite a 14-year war, now the longest in American history.
The comments came during testimony by Gen. John Campbell, who urged the committee to have patience with the security forces, which are still unable to protect the entire country from a resurgent Taliban. Earlier this week, he told the Senate that he has advised President Barack Obama to maintain higher troop levels in 2016 and remain in the war.
As Campbell spoke in Congress on Thursday, Defense Secretary Ash Carter met with NATO officials. They indicated a U.S. military presence larger than the planned embassy force will remain past 2016, thought the final troop numbers were yet to be decided.
"General, I've heard this for 14 years," Rep. Loretta Sanchez, D-Calif., said, referring to Campbell's assurances Afghans are increasingly capable of security operations but not quite yet ready to operate on their own.
President Barack Obama had planned to end the war by the end of his second term, but the continuing shortcomings of Afghan forces and new Taliban attacks have pushed him to slow the drawdown. Earlier this year, he made an agreement with the Afghan government to keep the 9,800 troops in the country through this year, instead of 5,000.
Now, Campbell has advised against a planned drawdown to an embassy force by the end of 2016 following a tough fighting season for the Afghans and a surprise Taliban siege of the provincial capital of Kunduz last week.
He said the Afghans are still deficient in key military abilities, such as command-and-control and intelligence gathering.
"I think we're sick and tired of being sick and tired of the same thing happening in Afghanistan, and I think we need to close up shop," Rep. Hank Johnson, D-Ga., said.
Rep. Walter Jones, R-N.C., a rare Republican opposing continued intervention, said the United States has spent $686 billion since its invasion in 2001 and wasted billions of dollars on rebuilding the country, despite an $18-trillion national debt.
"The American taxpayer has got to know at some point in time there is going to be an end in this investment. Money, blood, there has got to be an end to it," he said.
Many Republicans opposed the position, saying continued support and troops are critical to avoiding a collapse and holding off future attacks on the United States similar to those by al-Qaeda, which were orchestrated from a sanctuary in Afghanistan.
"Right now, we face the danger of repeating the mistake of Iraq, where a new, more virulent terrorist threat has grown after we left too soon," Chairman Mac Thornberry, R-Texas, said in a released statement. "If we make the same mistake in Afghanistan, the danger to the homeland and to American citizens and interests around the world will grow significantly."
On Monday, 23 lawmakers on the Armed Services Committee sent a letter to Obama urging him to maintain the current troop levels through 2016.
In Brussels, Carter and NATO's defense ministers discussed future NATO troop levels and funding levels to support Afghan forces "both in 2016 and in the years thereafter."
"I think there's complete agreement within the alliance of the need to continue to do both of those," Carter said.
NATO Secretary General Jens Stoltenberg said the allies are assessing the needs and are still dedicated to supporting the Afghans.
"So, what we are discussing is not whether we are going to leave or to stay, because we are going to stay," he said.
Reporter Tara Copp contributed to this story.
---
---
---
---