COVID-19 restrictions leave contractors stranded for months without pay on Afghanistan base
by
Phillip Walter Wellman
July 15, 2020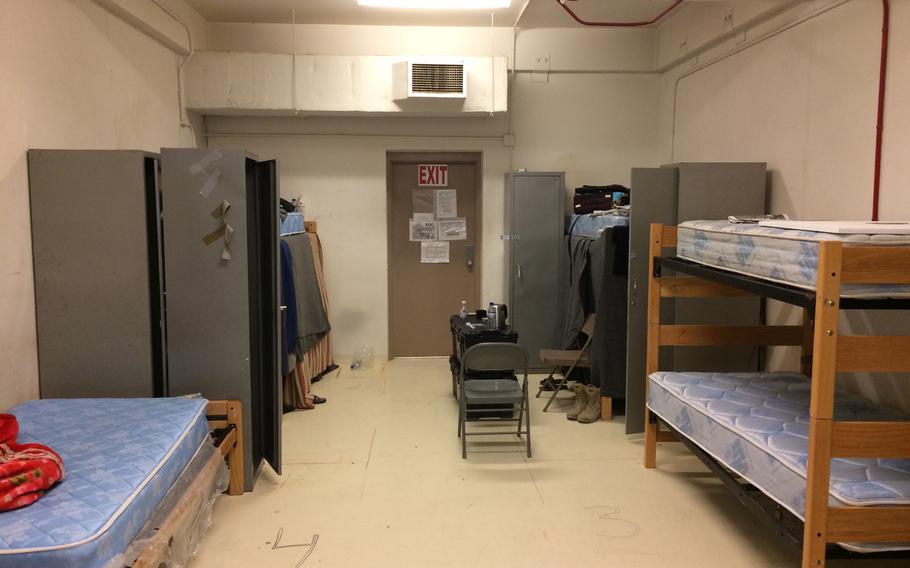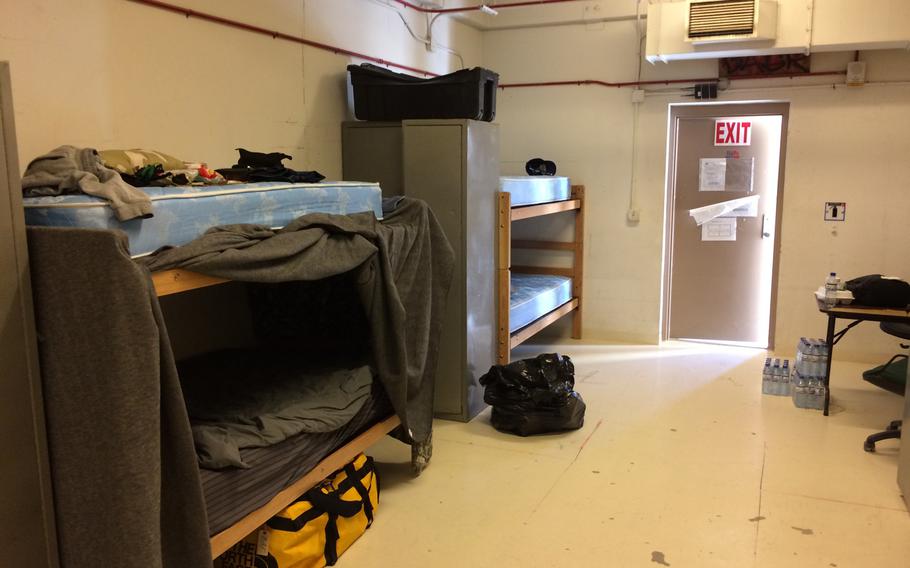 Stars and Stripes is making stories on the coronavirus pandemic available free of charge. See other free reports here. Sign up for our daily coronavirus newsletter here. Please support our journalism with a subscription.
KABUL, Afghanistan — Some foreign workers stuck at the largest U.S. airfield in Afghanistan have been living in what they describe as jail-like conditions for months after their jobs were cut, but they've been unable to return home.
"Red-badged" employees of the U.S.-based Fluor Corp., which the military contracts with for services including construction, security and food services, have been confined to temporary lodging quarters at Bagram Airfield, where they are constantly monitored by security guards, several contractors said.
Visitors to Bagram who don't meet certain security criteria are given red badges — as opposed to green badges, which allow more freedom — and are not allowed mobile phones, regular internet access or trips to the store.
Due to COVID-19-related travel restrictions, some workers have lived in these conditions for up to four months. They haven't been paid since their jobs were terminated, they said.
Fluor is one of two companies in Afghanistan operating the umbrella service contract LOGCAP IV. Those services were to be reduced after the U.S. agreed to shut down five bases and withdraw thousands of troops earlier this year, U.S. military officials said in April.
The military has acknowledged that foreign contractors from several countries have been unable to leave Bagram because of travel restrictions related to COVID-19.
Fluor was trying to repatriate about 200 people from the base last week, according to an official from the company who was not authorized to disclose the figure.
By Wednesday, most of those employees had returned home, company spokesman Brian Mershon said.
However, a Kenyan contractor who was red-badged two months ago told Stars and Stripes on Wednesday that at least 19 people he knew of were still living in the austere transit conditions at the base.
He was among several contractors stuck at Bagram who contacted Stars and Stripes to report the conditions after one of their former co-workers, a Macedonian, was found dead earlier this month in the showers — one of the few places where they are allowed privacy. He had taken his own life.
"We are depressed, we can't call our families [who] are suffering back home, we are the ones who provide for them," another Kenyan who also has been waiting two months to return home said in an email. All the contractors who spoke insisted on anonymity for fear of reprisal.
The Kenyan contractors said in addition to their compatriots, Indians and Nepalese nationals were sharing their living quarters. All three countries have prevented the return of their nationals from Bagram.
Another Macedonian is also in their room, the Kenyans said. North Macedonia is allowing its nationals to return. However, repatriation to countries welcoming their citizens back has been delayed because of the travel disruption caused by COVID-19, Fluor said, calling the situation "extraordinary, unprecedented and unforeseen" in a statement.
The Macedonian who died by suicide did so after waiting two months to return home, his colleagues said.
Officials have begun conducting welfare checks at least twice a week and are making efforts to improve access to communications, exercise options and other amenities, Pentagon spokeswoman Lisa Lawrence said late Friday, days after Stars and Stripes first inquired about the situation.
Military officials in Afghanistan did not offer an explanation as to why some of the men couldn't be given green badges after a certain period.
More than 10,000 U.S. and 11,000 foreign contractors worked for the U.S. military in Afghanistan as of April, U.S. Central Command data show. At the time, the U.S. military denied a Bagram newsletter forecast of $30 million in looming cuts to the LOGCAP contract, telling Stars and Stripes that such decisions "have not been finalized."
But the military had begun shuttering the base in March, as agreed under a U.S. peace deal with the Taliban signed Feb. 29, and last month it said 4,000 troops had been withdrawn from the country. Also last month, the Army halted various Fluor services at a base near the city of Jalalabad in eastern Afghanistan, demanding many of its workers also leave the facility, citing COVID-19 countermeasures.
The Federal Acquisition Regulation requires companies like Fluor to provide return travel for workers brought to foreign countries under government contracts.
"We recognize and understand that this has been a very difficult time for employees who have not been able to travel freely, and we appreciate their patience and understanding," said Fluor's statement, adding it was "deeply saddened" over the death.
The badging system at Bagram is a long-standing U.S. military security measure, Fluor said.
Fluor, with assets of about $9 billion, did not say whether it would compensate the contractors for the time they've been stuck in Afghanistan.
Diplomatic efforts have been launched to get the contractors from countries not accepting their citizens exempted from travel bans, U.S. Forces Afghanistan said in a statement.
DOD officials are working with investigators to determine whether any of the activity at Bagram violated human trafficking laws, said Lawrence, the Pentagon spokeswoman. But as long as Fluor repatriates the workers, it's unlikely any of the activity would amount to trafficking, several labor experts said.
Given that their jobs were eliminated and the travel restrictions are out of Fluor's hands, the company might not be obliged to compensate them for their time awaiting departure from Bagram, said the labor experts, who declined to be named because they did not have firsthand knowledge of the situation.
Concerns of importing COVID-19 from Afghanistan come as 28 Georgian soldiers supporting NATO's Resolute Support mission tested positive and returned to their home country last week, Georgia's Defense Ministry said. North Macedonia reported Saturday that an unspecified number of Macedonians returning from Afghanistan also tested positive for the virus, quoting the country's health ministry.
As of Wednesday, the official count of coronavirus cases in Afghanistan stood at over 34,700 with over 1,000 deaths. Resolute Support declined to disclose how many infections there have been on foreign bases in Afghanistan.
The contractor who took his own life had repeatedly told company officials and medical personnel that he suffered from depression and anxiety, his still-stranded colleagues said.
He killed himself because of "the stress and anxiety … due to being restrained from earning a living wage and feeling, by his own words, that he was a prisoner being held against his will," said a British contractor who knew him.
"This could have been prevented," said the Briton, who spent a few weeks in limbo at the base before managing to fly out.
The workers' allegations of misconduct should be investigated, said Patricia Gossman, Human Rights Watch associate director for Asia, "particularly in light of the reported suicide."
Stars and Stripes reporter J.P. Lawrence contributed to this report.
Twitter: @pwwellman