Coalition strike kills senior ISIS leader wanted by the US
by
Chad Garland
May 29, 2020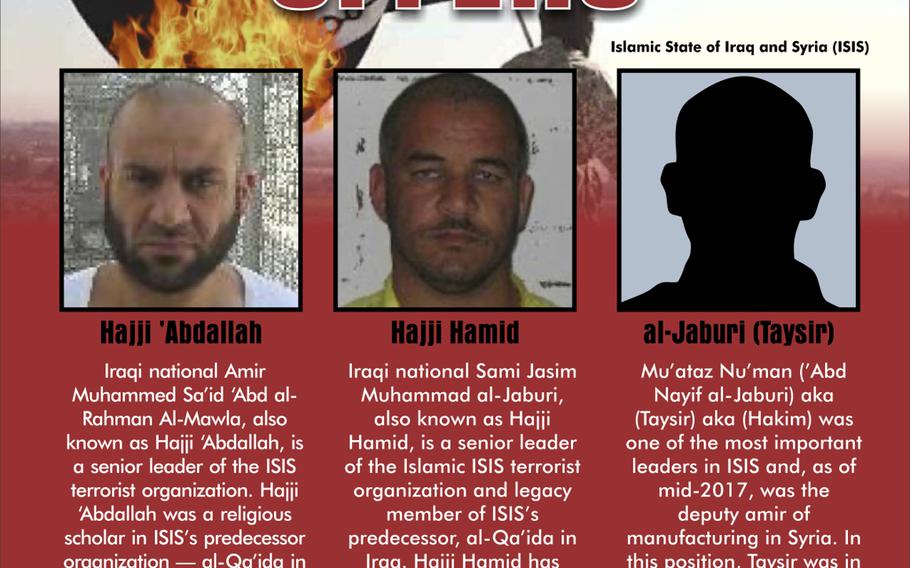 A senior Islamic State leader the U.S. had put a $5 million bounty on was killed this week in a coalition airstrike aided by Syrian partner forces, officials said.
Mutaz Numan Abd Nayif Najm al-Jaburi, believed to be one of the top three leaders of the terrorist group, was killed Tuesday in Syria's Deir al-Zour province, the Syrian Democratic Forces said in a statement.
Before the strike, SDF counterterrorism forces had tracked his movements in Syria and elsewhere, the statement released Thursday said.
Also known as Hajji Taysir, ISIS considered Jaburi its governor of Iraq. He was responsible for planning and coordinating external terrorist operations, the Kurdish-led partner forces said.
The elite Iraqi Counter-Terrorism Service had announced the killing Tuesday, saying on social media it had provided intelligence to support the operation.
The U.S.-led Operation Inherent Resolve declined to offer details in response to a query about the strike that killed Jaburi.
The State Department in August offered a $5 million reward for information that would lead to Jaburi and two other high-level ISIS leaders, including the man who would become the group's top leader after founder Abu Bakr al-Baghdadi was killed two months later.
The Treasury Department also sanctioned the three men as specially designated global terrorists.
With ties to ISIS's predecessor, al-Qaida in Iraq, Jaburi was one of the group's most important leaders and oversaw bomb-making and insurgent activities, the State Department said. He's believed to have been born in Iraq in 1987.
As of mid-2017, he helped lead ISIS manufacturing operations in Syria, including research into chemical and biological weapons, the U.S. said in a poster announcing the bounty on him, Sami Jasim Muhammad al-Jaburi and Amir Mohammed Abdul Rahman al-Mawli al-Salbi, Baghdadi's eventual successor.
"This reward is an important moment in our fight against ISIS," the State Department's Rewards for Justice website said. "As ISIS is defeated on the battlefield, we are determined to identify and find the group's leaders so that the global coalition of nations fighting to defeat ISIS can continue to destroy ISIS remnants and thwart its global ambitions."
While ISIS no longer controls the large swaths of territory it once did in Iraq and Syria, the top U.S. diplomat for the coalition said in January that the militants remain a threat as both an insurgency and terrorist operation, with some 14,000 to 18,000 members spread across both countries.
The ranks of ISIS leaders are dwindling under military pressure in the region, OIR said last week.
A joint coalition-SDF raid killed two senior ISIS regional leaders in Deir al-Zour province earlier this month, reports said. On Thursday, the SDF and coalition troops arrested two ISIS members in another raid in Deir al-Zour, OIR spokesman Col. Myles B. Caggins III said on Twitter.
Last week, officials in Baghdad said senior ISIS member Abdul Nasser Qardash, who the Iraqi government says led ISIS forces during battles in the Syrian towns of Kobane and Baghouz, was in their custody. Qardash had turned himself in to Syrian forces more than a year ago.
The Iraqi CTS pledged to pursue ISIS remnants "wherever they are," according to an online translation of its post announcing Jaburi's death.
"We will not stop harvesting their rotten heads one by one," the post said.
garland.chad@stripes.com Twitter: @chadgarland