Coalition partners in Afghanistan got years of free lunches because of military mix-up, IG says
by
Phillip Wellman
June 27, 2020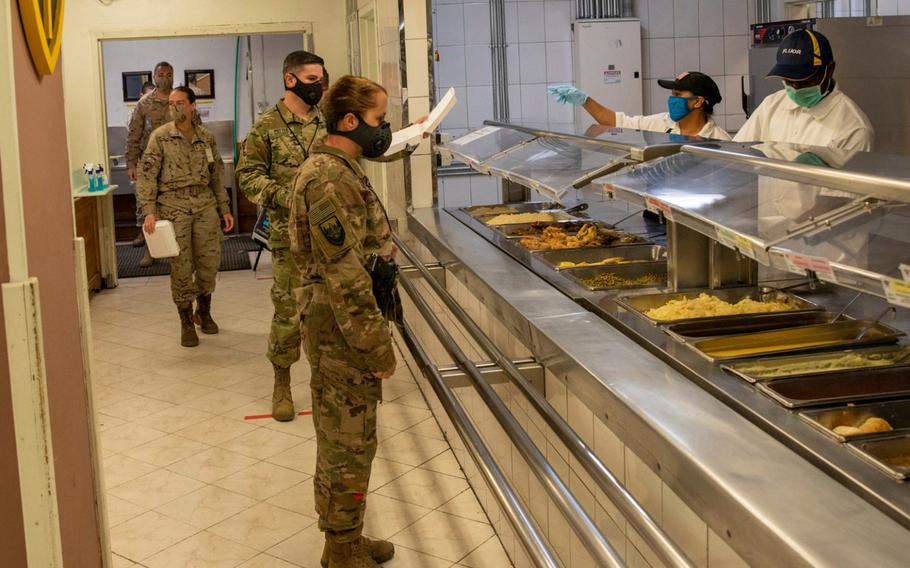 KABUL, Afghanistan — For more than three years, coalition partners in Afghanistan got free meals at U.S. expense because of billing mistakes made by the military, a new report says.
The problem was discovered at NATO's Afghanistan headquarters in Kabul, where the U.S. provides dining facility services for the coalition with the intention of getting reimbursed by 17 member countries each month.
However, the military only billed those countries for about half of the months between January 2016 and September 2019, resulting in a deficit of more than $6 million, according to the report released Friday by the Defense Department Inspector General.
Further mistakes in the bills that were delivered undercharged recipients by nearly $3 million, meaning the DOD was short by more than $9 million during the period examined, the report said. The report only looked at the situation at NATO's Resolute Support headquarters in Kabul, not other bases in Afghanistan.
U.S. Forces-Afghanistan Multinational Logistics is primarily responsible for dealing with the reimbursement agreements with coalition partners at the Kabul base.
The Inspector General blamed personnel for failing to establish terms and conditions — including rates and calculation method — with each partner country before dining services were provided. This came after the manager in charge of the agreements failed to develop a training program for personnel.
"Unless USFOR-A establishes terms and conditions with coalition partners before providing services, develops training specific to Afghanistan and performs oversight, the DOD will continue to not initiate bills for the full reimbursable amount for dining facility services," the Inspector General said.
Fifteen Western European countries, Australia and New Zealand reimburse the DOD for dining services at NATO's Resolute Support headquarters. The DOD covers the costs for more than 20 other coalition countries who would be unable to assist the mission without financial help.
The Inspector General encouraged USFOR-A to collect the missing payments, develop agreements with each coalition partner and update personnel training.
USFOR-A was complying with the recommendations, the Inspector General said. It had already billed its partners for 2019 and earlier this year began distributing bills for 2018, with bills for 2016 and 2017 also expected to be delivered, the report said.
wellman.phillip@stripes.com Twitter: @pwwellman