Coalition forces in Afghanistan establish quarantine areas, say no confirmed cases of coronavirus
---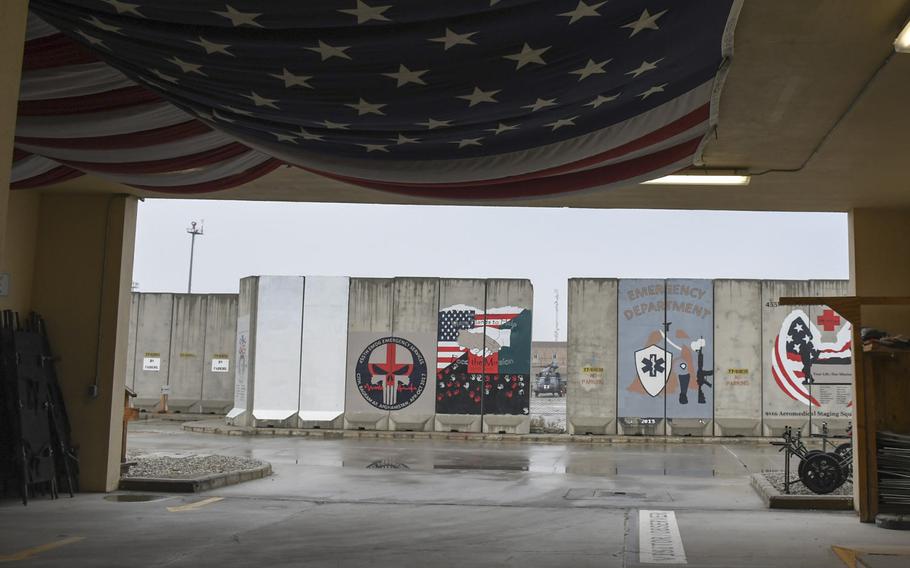 Read more coronavirus coverage from Stars and Stripes.
KABUL, Afghanistan — The U.S.-led international coalition in Afghanistan said there were no confirmed cases of coronavirus infections among coalition troops and personnel in the country as of Sunday, but quarantine areas have been established for those awaiting tests.
"Our military medical facilities in Afghanistan are prepared to implement appropriate quarantine or isolation measures, as appropriate, while awaiting test results," a statement from NATO's Resolute Support said.
Resolute Support declined to disclose how many personnel are in quarantine.
Those who believe they're at risk or have flu-like symptoms have "immediate access to on-base medical care," the statement said.
Personnel considered at high-risk of having the coronavirus who show symptoms will have saliva samples sent to Landstuhl Regional Medical Center in Germany for further testing, the statement said.
U.S. lawmakers last week expressed concerns that troops in Afghanistan were not properly protected from what has become a global pandemic.
Sen. Tammy Baldwin, D-Wis., and Rep. Mark Pocan, D-Wis., said troops from their state deployed to Afghanistan were experiencing symptoms of the disease but were denied testing.
The lawmakers' statements came amid rising concerns of a coronavirus outbreak in Afghanistan, which has 21 confirmed cases, Wahidullah Mayar, spokesman for the nation's health ministry, said Monday morning. The figure is up from 10 reported cases on the World Health Organization website Sunday.
The country borders Iran, which as of Monday has had 12,729 cases and 608 deaths, the WHO said. An estimated 15,000 Afghans return from Iran a day, despite Kabul closing the border, The New York Times reported Monday.
The bulk of U.S. troops are based in the country's east and south, hundreds of miles from the Iranian border. On Saturday, 300 soldiers from the 82nd Airborne Division returning to the U.S. from Afghanistan began a 14-day quarantine, the division said in a statement.
The coronavirus pandemic is expected to add another complication to Afghanistan's tenuous peace process.
The virus makes holding another peace summit very difficult, and movements of armed fighters may spread infection, Barnett Rubin, director at the Center on International Cooperation at New York University, said in a Twitter thread last week.
The Taliban issued a statement Monday calling on the Afghan government to release its prisoners, stating that the disease could easily spread within jails. The prisoner release, a condition of the U.S.'s deal with the militant group, has so far been delayed over Afghan government objections.
The militant group asked its prisoners to follow advice on handwashing and said it was the duty of every Afghan to stop the disease from spreading.
The worldwide outbreak has sickened more than 153,000 people and left almost 6,000 dead, the WHO said Sunday.
Zubair Babakarkhail contributed to this report.
lawrence.jp@stripes.com Twitter: @jplawrence3
---
---
---
---