CENTCOM general blames Iran-backed militia for deadly rocket attack, Esper vows revenge
---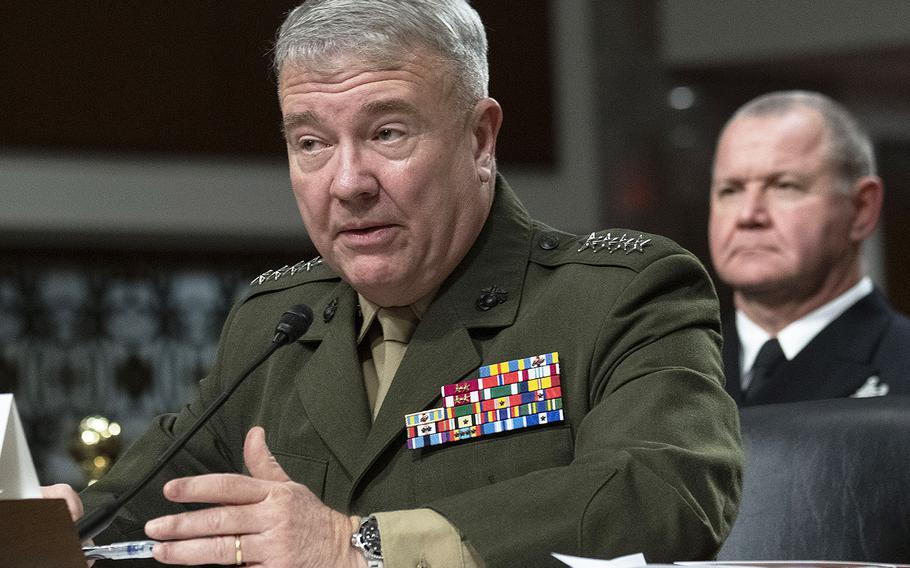 WASHINGTON – A top U.S. general on Thursday fingered an Iranian-linked Shia militia group as likely responsible for the rocket attack on an Iraqi base that killed two American troops and a British service member, potentially reigniting tensions between the United States and Iran.
Marine Gen. Kenneth McKenzie, the commander of the U.S. Central Command, said the investigation into the deadly attack Wednesday on Camp Taji north of Baghdad was ongoing, but Kataeb Hezbollah is probably the culprit. Kataeb Hezbollah is an Iran-controlled militia known to target American troops and their allies in Iraq, especially using small Iranian-supplied rockets.
"I will note that the Iranian proxy group Kataeb Hezbollah is the only group known to have previously conducted an indirect fire attack of this scale against U.S. and coalition forces in Iraq," McKenzie said while testifying before the Senate Armed Services Committee.
He also warned attacks resulting in the deaths of American and coalition troops, such as the Wednesday attack, would cross a "red line," foreshadowing some forthcoming American military response to the incident.
Defense Secretary Mark Esper, later Thursday, vowed such retaliation, telling reporters at the Pentagon that he had spoken with President Donald Trump about the attacks and "all options are on the table."
"You don't get to shoot at our bases and kill and wound Americans and get away with it," Esper said, stopping short of naming Kataeb Hezbollah as responsible. However, the defense secretary said retaliation would be focused on "the [Iran-linked] group or groups we believed perpetrated this in Iraq."
The Kataeb Hezbollah group has been blamed for a series of recent rocket attacks on Iraqi bases hosting American troops and the Green Zone in Baghdad, which houses the U.S. Embassy in Iraq. The group was also deemed responsible for a similar attack on a U.S.-Iraqi base in Kirkuk in northern Iraq in December that killed an American defense contractor and ignited tensions that brought the United States and Iran to the brink of war in January.
The attack Wednesday saw nearly 20 107mm Katyusha rockets strike Camp Taji where American and other troops with the anti-Islamic State coalition train Iraqi forces, according to the coalition. McKenzie confirmed two U.S. service members were killed in the attack and several more were wounded. The United Kingdom on Wednesday said one of its troops, from the Royal Army Medical Corps, was also killed.
Names of the fallen troops had not been released as of Thursday morning, pending the family notification process.
Army Gen. Mark Milley, the chairman of the Joint Chiefs of Staff, said 14 other coalition troops were injured in the attack, including five who required urgent care. He said the wounded included American, British and Polish service members and contractors. Milley said the attack also damaged buildings and structures on the base.
The attack came on what would have been the 63rd birthday of Qassem Soleimani, the powerful Iranian major general and Quds Force commander killed Jan. 3 in an American drone strike in Baghdad. Soleimani's killing came after Kataeb Hezbollah attacked the U.S. Embassy in Baghdad, seemingly a response to an American airstrike on the militia's positions in Iraq and Syria that killed some 25 militiamen two days after their rocket attack killed the American contractor.
Iran retaliated for Soleimani's death by launching more than a dozen ballistic missiles into Iraq's al Asad Air Base on Jan. 8, which did not kill or maim any troops but left more than 100 with traumatic brain injuries. After the attack, President Donald Trump said Iran appeared to be "standing down," and he did not order further violent retaliation against the regime. But defense officials have said since that attack that Iran's proxy forces were likely to launch their own retaliation for Soleimani's killing.
As Quds Force commander, Soleimani was intimately involved in the training, supplying and controlling of Kataeb Hezbollah and other Iranian proxy forces across the Middle East, and he was highly revered by those groups.
McKenzie and other top American officials have repeatedly said Soleimani's killing ultimately would deter aggressive acts by Iran's own troops.
He stood by that assessment Thursday, saying attacks by Iran's proxy forces should be expected but he did not believe further overt attacks by Iran's own forces, such as firing ballistic missiles, were likely.
Iran "never doubted our [military] capability. They've often doubted our will," the general said. The brazen strike on Soleimani, who was also a close confident of Iranian supreme leader Ali Khamenei, "gave them something to think about."
Dickstein.corey@stripes.com Twitter: @CDicksteinDC
---
---
---
---