CENTCOM chief says Syrian refugee camp is a breeding ground for ISIS 2.0
by
Corey Dickstein
August 13, 2020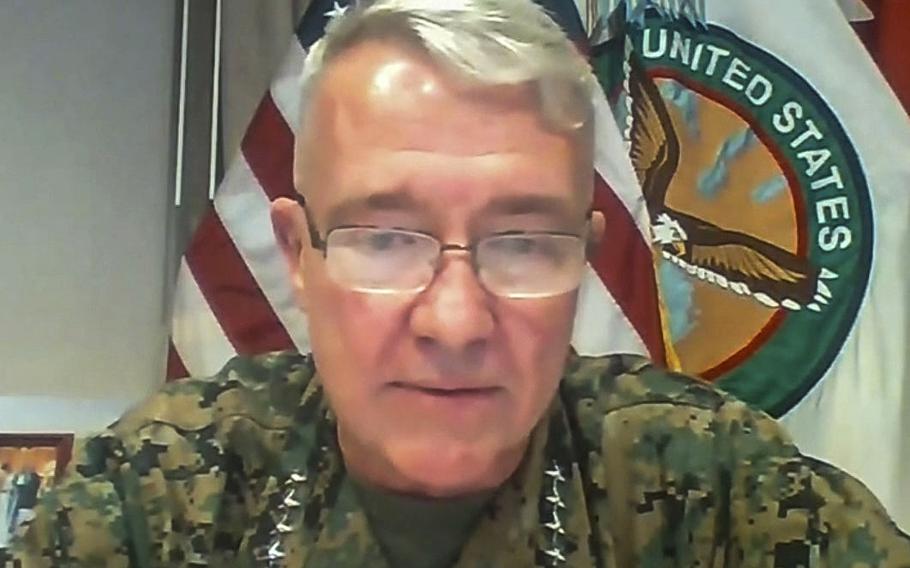 WASHINGTON — The top U.S. general overseeing military efforts across the Middle East said Wednesday that he worries a massive refugee camp in northern Syria holding families of former Islamic State fighters could be a breeding ground for future terrorists, calling the issue one of his chief concerns.
Marine Gen. Kenneth McKenzie urged partner nations to repatriate their citizens, especially children, held at the overcrowded al-Hol camp run by U.S.-backed Syrian Democratic Forces, where he fears horrid conditions put them at risk for radicalization by ISIS. He warned that without intervention and new de-radicalization efforts, the United States and its allies would likely be fighting the children of al-Hol on the battlefield in 10 to 15 years.
"We're going to do this all over again," McKenzie said Wednesday, speaking during a virtual event hosted by the Washington think tank U.S. Institute of Peace. "And I would prefer to avoid that."
His comments come as the fight against ISIS in Syria and Iraq has largely been confined to a counter-terrorist effort to root out underground cells of its loyalists in those countries where it once held a swath of land the size of the United Kingdom. McKenzie said the group retains global influence through internet channels and likely still seeks to recover land and establish a caliphate.
The war against ISIS will likely never come to a clean end, he said. But eventually, he believes, the problem of ISIS will be small enough that local, U.S.-trained forces — the SDF in Syria and Iraqi forces — can handle it without the need for American troops.
Currently, the U.S. retains 5,200 troops in Iraq, where their anti-ISIS mission has been complicated by tensions with neighboring Iran. Militias backed by Iran have routinely fired rockets and other weapons in recent months at locations where American service members operate. The two sides neared war in January after an American drone killed one of Iran's top military officials in Baghdad, and Tehran retaliated by firing ballistic missiles into a base housing U.S. troops, injuring more than 100, who suffered brain injuries in the barrage.
Pentagon officials have repeatedly declined to say how many U.S. troops operate in Syria, but at least several hundred remain in the eastern part of that country. President Donald Trump last October ordered a withdrawal of troops from Syria, but officials elected to retain a small presence centered on key oil fields controlled by the SDF.
"I don't think we're going to be in Syria forever," McKenzie said Wednesday. "I don't know how long we're going to be in Syria. That's going to be a political decision. Not a military decision to be made by a uniformed officer."
But, the general said, if the refugees at al-Hol are not move to better conditions, the U.S. will find itself dragged into fighting the next phase of radical ideology in the Middle East. The camp of 70,000 women and children, he said, is "one of the worst places in the world."
Most of those held at al-Hol are Iraqis and Syrians, according to the United Nations. But thousands of the women and children held in the camp traveled from other countries alongside ISIS fighters or to join the cause themselves. The United Nations estimates there are about 28,000 non-Syrian children in the camp, including 20,000 from Iraq.
Human Rights Watch estimated in April that at least 500 people, mostly children, died in the al-Hol camp last year.
McKenzie on Wednesday said the U.S. military was prepared to return those women and children to their home countries, if they would agree to take them. Most European countries, and other including Australia, have said they would not take back those who traveled to join ISIS.
"I'm happy to provide the resources to move them," McKenzie said Wednesday. "I can move them anywhere in the world and very quickly in a safe and transparent manner."
He urged others — including leaders in the Middle East — to consider new methods to deradicalize children of ISIS fighters and reintroduce them into society. Without such measures, he worried, those kids will likely become the next generation of jihadist to take up arms against the United States and others.
"Bad things are going to happen if you keep people [at al-Holl] — bad things are going to happen in terms of radicalization," he said. "Unless we solve that problem we are setting a strategic barrier for ourselves … in 15 or so years."
dickstein.corey@stripes.com Twitter: @CDicksteinDC