Video
'Cell Block 68:' Nimitz sailor's song reveals a slice of life aboard ship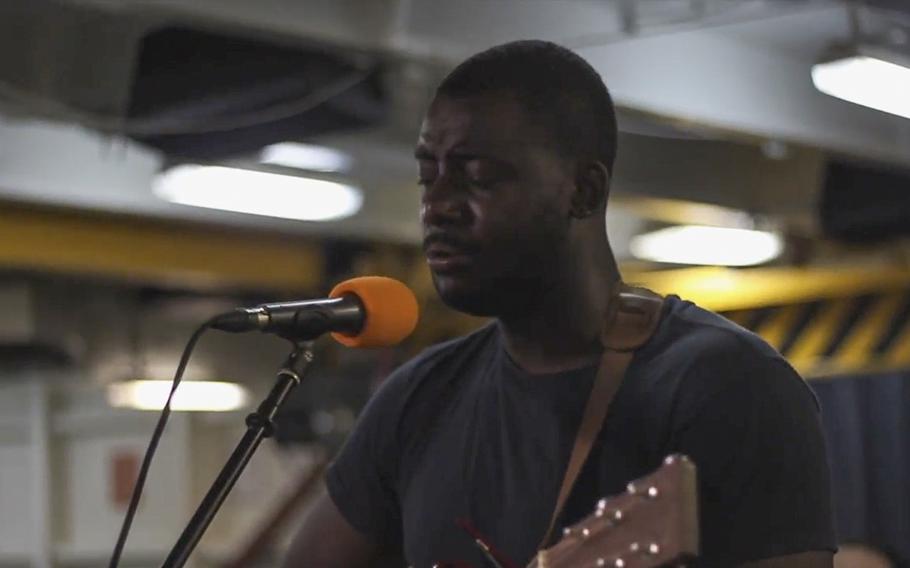 Editor's note: A video posted to YouTube on Aug. 1 that depicted sailors performing on the USS Nimitz was linked to this story on Aug. 3. Afterwards, the video was taken down by the user, according to a notice on YouTube. A second video from a solo March 2017 performcance is now embedded on this story.
The USS Nimitz recently entered the Persian Gulf where the ship, its crew and assets are joining the fight against Islamic State militants in Iraq and Syria.
As many sailors can testify, it's not always easy being deployed at sea for months at a time away from home, family and friends. A song written by Nimitz sailor Seaman Maxwell "Emay" Holmes captures some of the emotional toil of such an experience.
During an instrumental "jam night" event aboard the aircraft carrier, a group of sailor-musicians gathered to perform Holmes' song "Cell Block 68." The song title refers to the aircraft carrier's hull number, CVN 68, and implies that sailors sometimes feel like prisoners while they are deployed.
The performance was held below deck in a compartment in the forward part of the ship known as the fo'c'sle or fore castle.
According to a recent Navy release, "life aboard the aircraft carrier involves long, hot days for sailors who work hard and don't stop until the job is done, keeping everything running as it should."
Jam nights are part of a host of events prepared by the ship's Morale Welfare and Recreation department to provide sailors fun activities to participate in when they are off duty.