ANALYSIS
Carrier deployment likely long-planned but that doesn't diminish Iran tensions, analysts say
by
Joshua Karsten
May 6, 2019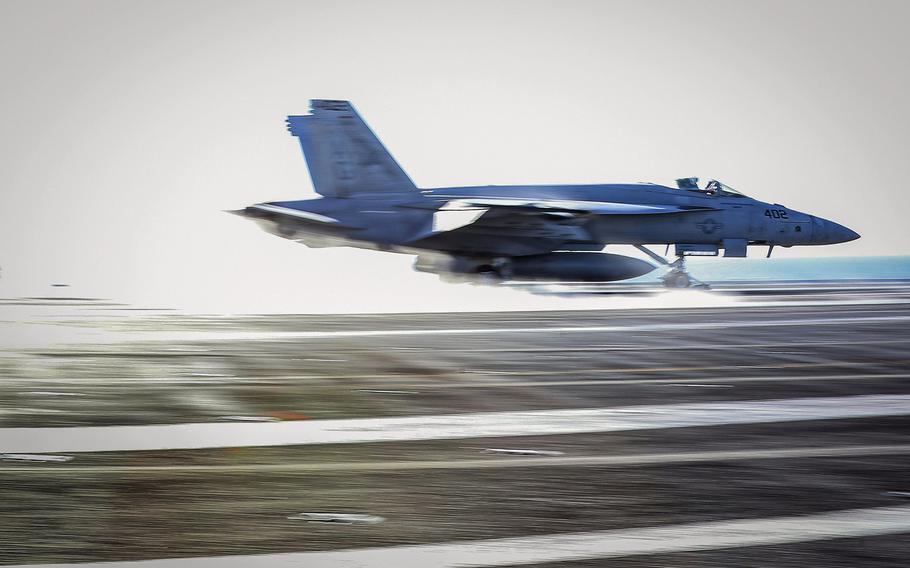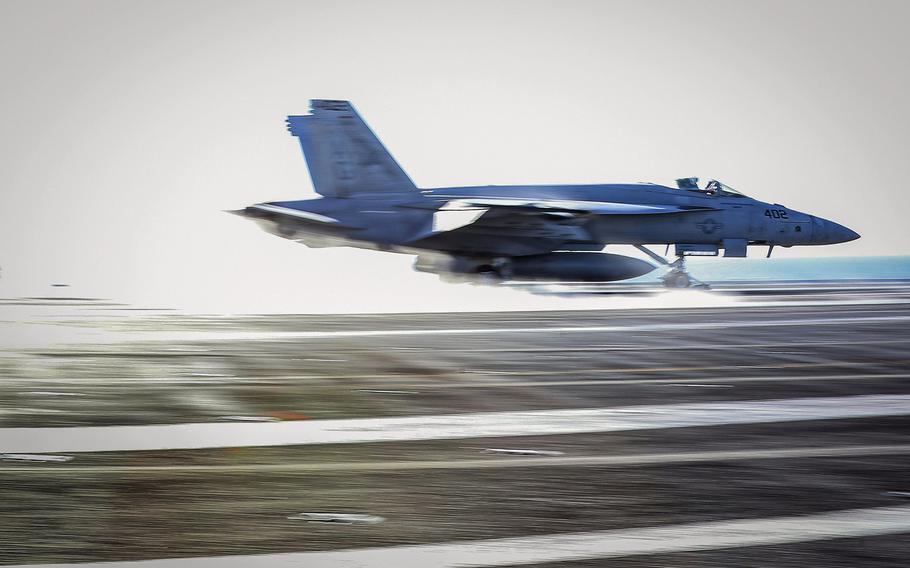 MANAMA, Bahrain — The deployment of the USS Abraham Lincoln carrier strike group and a bomber task force to the Middle East was meant to "send a clear and unmistakable message to the Iranian regime," but some analysts said the U.S. could be trying to frame long-planned movements as increased pressure on Tehran.
White House national security adviser John Bolton said Sunday the deployment followed a "number of troubling and escalatory indications and warnings" from Iran, adding that any attack on U.S. interests would be met with "unrelenting force."
The announcement came after "clear indications" Iran and Iranian proxy forces were preparing to possibly attack U.S. forces at sea and on land in the region, anonymous officials told The Associated Press on Monday, while declining to provide specifics.
But Bolton's announcement seems to be a "clever example of reverse-engineering a message to fit the operational situation," said Bryan Clark, a Washington-based analyst and senior fellow at the Center for Strategic and Budgetary Assessments.
"The administration may be trying to increase pressure on Iran's leaders by characterizing the Lincoln deployment as an action intended to deter unspecified Iranian actions," Clark said.
Speaking to reporters on a flight to Europe, Secretary of State Mike Pompeo said the U.S. response had been in the works for a little while but was based on "escalatory actions from the Iranians," AP reported. He also said it was not connected to violence in Gaza and Israel on Sunday.
For months, the Trump administration has been ratcheting up pressure on Iran, often prompting threats or other responses from Tehran.
A year ago, President Donald Trump withdrew from the Obama administration's landmark nuclear deal with Iran, which led to punishing sanctions being reimposed, including those targeting Iran's oil, shipping and banking sectors.
Last month, the administration announced that the U.S. will no longer exempt any countries from U.S. sanctions if they continue to buy Iranian oil. The waivers for those sanctions expired Friday, AP reported.
Tehran, meanwhile, has said it is poised to restart its nuclear program and, in response to the end of the waivers, has threatened to close the Strait of Hormuz — the only passage between the Persian Gulf and the ocean.
Still, the deployment of a carrier to the U.S. Central Command area isn't unusual and was likely routine and long-planned, Ilan Goldenberg, Middle East director at the Washington-based think tank Center for a New Security, said on Twitter on Monday.
"The inflammatory language from Bolton is unusual/provocative but my guess is just an opportunity to try to intimidate the Iranians," Goldenberg said. "Nothing more."
The region has been without a U.S. carrier since the USS John C. Stennis left early last month.
Though the Navy did not announce a route for the scheduled deployment of the Lincoln when it departed its homeport in Virginia last month, the ship was expected to circumnavigate the globe en route to its new homeport of San Diego, The Virginian-Pilot reported at the time.
But while it may have already had plans to transit the Middle East, that does not mean the Iranian threat is not real, Clark said by email.
Iran's Revolutionary Guard Corps recently changed leadership, and the successor to longtime commander Mohammad Ali Jafari, whose tenure lasted 11 years, may want to make a statement with aggressive actions against U.S. forces, Clark said.
"Alternatively, Bolton may want to test the new commander by characterizing the Lincoln deployment as being specifically about Iran," he said.
It's also not uncommon for bombers to be deployed to the region, where the U.S. has been at war since 2001.
Bolton's comments about a bomber force suggest land-based aircraft in the region, but officials at Al Udeid Air Base in Qatar referred comment back to Washington. B-1 Lancers deployed to Qatar returned home to Dyess Air Force Base, Texas, leaving the Middle East without a bomber presence, Air Force Magazine reported in late March.
Bolton could be responding to another recent escalation — Iran's recent designation of all U.S. military personnel stationed in the Middle East as terrorists — said Mahmoud Abdulghaffar, a research analyst for Derasat, Bahrain's Center for Strategic, International and Energy Studies. Tehran was itself responding to the United States designation last month of Iran's Revolutionary Guard Corps, or IRGC, as a foreign terrorist group.
Through its Quds Force, headed by Gen. Qassem Soleimani, the Revolutionary Guard recruits and trains thousands of fighters abroad. Iran-backed militias continue to operate in Iraq and Syria and took part in the battle against the Islamic State.
The group also oversees a volunteer force of several million drawn from poor men in rural areas and city outskirts, including in countries such as Afghanistan, Pakistan, Lebanon and Iraq, who have fought in Tehran's proxy wars.
If Iran did attack U.S. forces, it would likely involve familiar tactics, including the use of proxies, Abdulghaffar said.
That includes traditional maritime harassment of U.S. naval vessels, naval drills simulating a Hormuz blockade or activization of regional proxies to harass U.S. allies in the region.
The IRGC could also use its Houthi militant allies in Yemen to disrupt routes from the Red Sea into the Gulf of Aden, Abdulghaffar said.
karsten.joshua@stripes.com Twitter: @joshua_karsten
---
---
---
---