Car bomb kills three US servicemembers outside Bagram Air Field
by
J.P. Lawrence
April 8, 2019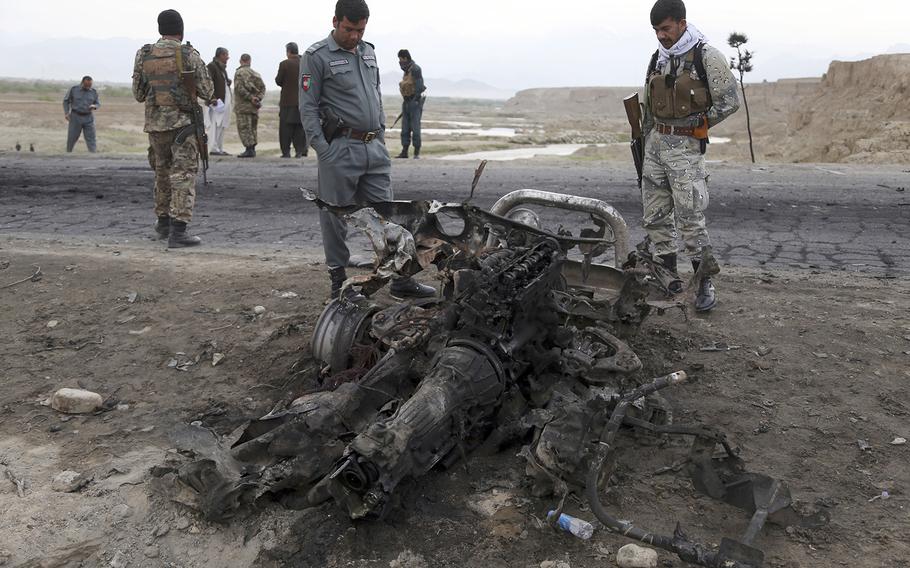 EDITOR'S NOTE: An earlier version of this story stated that a civilian Afghan contractor was reportedly killed Monday in a car bomb blast outside Bagram Air Field. Military officials said Tuesday that the contractor was found alive.
___
KABUL, Afghanistan — A bomb blast outside America's largest military base in Afghanistan killed three American servicemembers on Monday, the U.S. military said.
Three other American servicemembers were wounded in the attack, which occurred late Monday near one of the Bagram Air Field's gates, the military's Resolute Support command said in a statement.
The area outside Bagram, about 40 miles north of Kabul, was cordoned off following the blast, said Abdul Shakoor Qudoosi, the local district governor.
The Taliban claimed responsibility for the attack, stating on Twitter that the suicide car bombing destroyed one armored vehicle and killed or injured several foreign troops.
The bombing was the deadliest incident for Americans in Afghanistan since November, when a roadside bomb attack in the country's eastern Ghazni province led to the deaths of four U.S. servicemembers.
The three deaths bring the number of U.S. servicemembers killed in Afghanistan this year to seven. The Defense Department said it was withholding the names of the fallen Americans until 24 hours after their families had been notified, per normal Pentagon policy.
The airfield is home to thousands of U.S. and allied troops and contractors. U.S. and other coalition troops routinely patrol the area surrounding the airfield in armored vehicles and sometimes on foot.
The deadly bombing comes amid ongoing talks between the U.S. and the Taliban aimed at reaching a peace agreement to end the war, now in its 18th year. It also comes just one day after the U.S. envoy charged with negotiating with the Taliban, Zalmay Khalilzad, met with Afghan President Ashraf Ghani in Kabul.
Khalilzad met with Taliban negotiators most recently last month in Doha, Qatar, and both parties reported progress following the talks. However, the Afghan government has not been directly involved in the negotiations, which it has insisted it must be to ensure a peace deal. The Taliban has balked at negotiating with the Afghans, which the group views as an American puppet organization.
Negotiations between Khalilzad and the Taliban are expected to continue in Doha later this month.
Zubair Babakarkhail and Corey Dickstein contributed to this report.lawrence.jp@stripes.com Twitter: @jplawrence