Camp Leatherneck group to 'climb' Everest one pull-up at a time
By
Matthew M. Burke burke.matt@stripes.com
August 2, 2013
---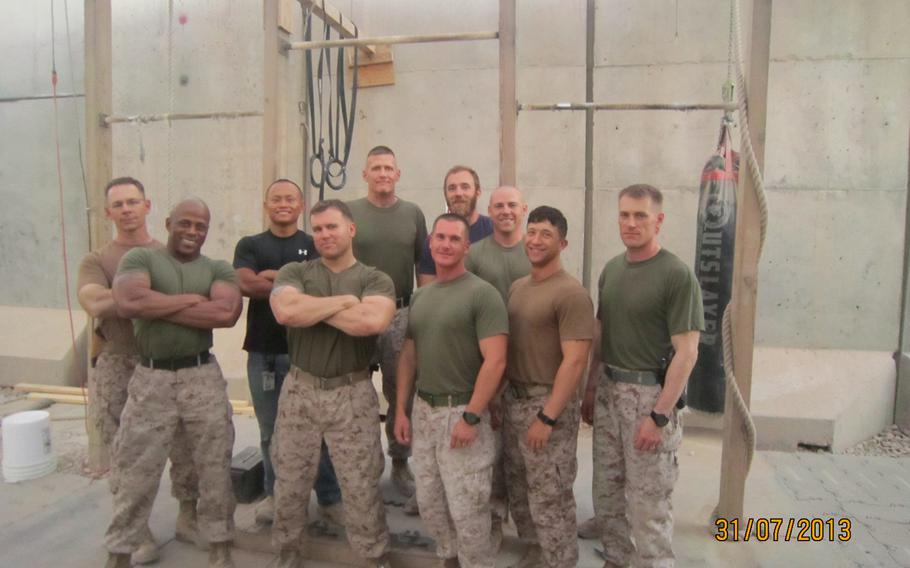 A group from Camp Leatherneck is symbolically climbing Mount Everest in a day — one pull-up at a time — to raise money for the Wounded Warrior Project.
The world's highest peak is roughly 29,030 feet, so the 15 team members from Camp Leatherneck in Afghanistan will have to average 1,000 pull-ups — at two feet per repetition — to reach their target on Aug. 10. They hope to raise a dollar for every foot "climbed" and will do extra pull-ups for every dollar they take in over their goal.
"We all know Marines who have been killed or wounded during the last 12 years of combat operations," said Marine Chief Warrant Officer Aaron McKee, a 36-year-old engineer equipment officer who is on his fifth combat deployment. "We've survived unharmed for numerous tours, and this was a way for us to help our brothers and sisters in arms. We haven't forgotten them."
McKee will be working with 14 other Marines, Navy Seabees, Air Force Reservists and civilian engineers. The idea for the "Regional Command Southwest (Afghanistan) C-7 Engineer Mt. Everest Pull Up Challenge" was born early in their deployment, McKee said. The men began meeting for a nightly pull-up workout as a way of breaking up the day and building camaraderie.
A British Royal Engineer became an integral member of the nightly group. With him leaving in September, the team decided to do something special, so they came up with the challenge and began formal training in March.
Raising money for the Wounded Warrior Project was a no-brainer, they said.
"Doing this for the Wounded Warrior Project helps keep me really motivated," said Air Force Tech Sgt. Paul Silao, a reservist and civil engineer from San Francisco. "Knowing that all the proceeds go to help out my brothers and sisters in arms really keeps everything in a positive perspective."
The group has been slowly ramping up for the big day by taking on smaller challenges, 250 and 500 pull-ups in the allotted time. There have been a lot of sore hands.
"This pushing my limits is an understatement," Silao said. "One thousand plus pull-ups is something that I would have never dreamed to even attempt, but as the day draws closer, there is a bit of excitement, and I can't wait to get it completed."
McKee said that although it will be challenging for all of the team members involved, some are stronger than others and can do more pull-ups. Like the Wounded Warrior Project logo, they will carry each other on their backs to the finish line if necessary.
"Thinking about raising money for the Wounded Warrior Project will help push me through," Navy Seabee and civil engineer officer Lt. Christopher Waldrop added. "It won't be without blisters, tore up hands and sore muscles, but we will do it."
For more information, check out the group's Facebook page https://www.facebook.com/pages/Mt-Everest-Pull-Up-Challenge/590466157640492.
To donate, visit http://www.active.com/donations/campaign_public.cfm?key=PullUpChallenge&force_a2=y.
---
---
---
---