Reporter's Notebook
Cafe aiming to offer Afghan experience to Bagram troops is 'a work in progress'
---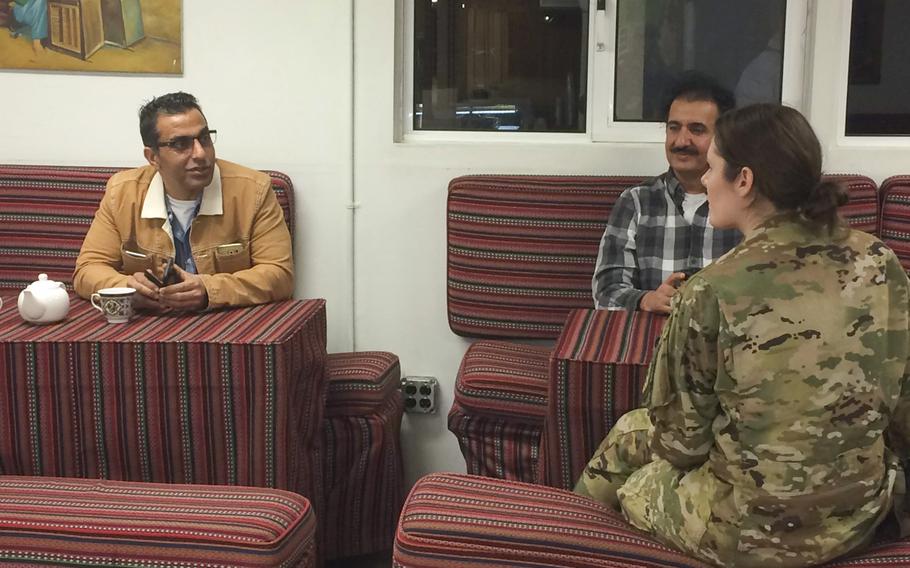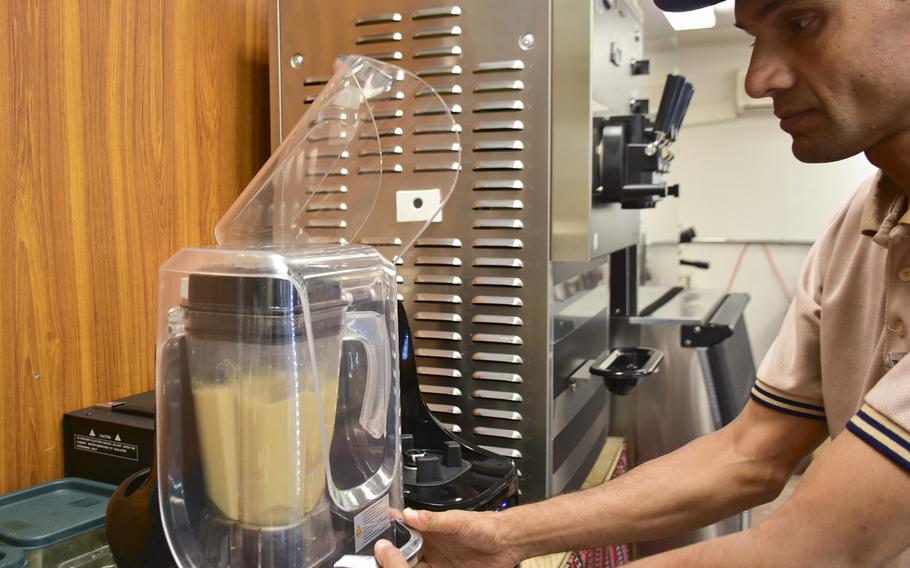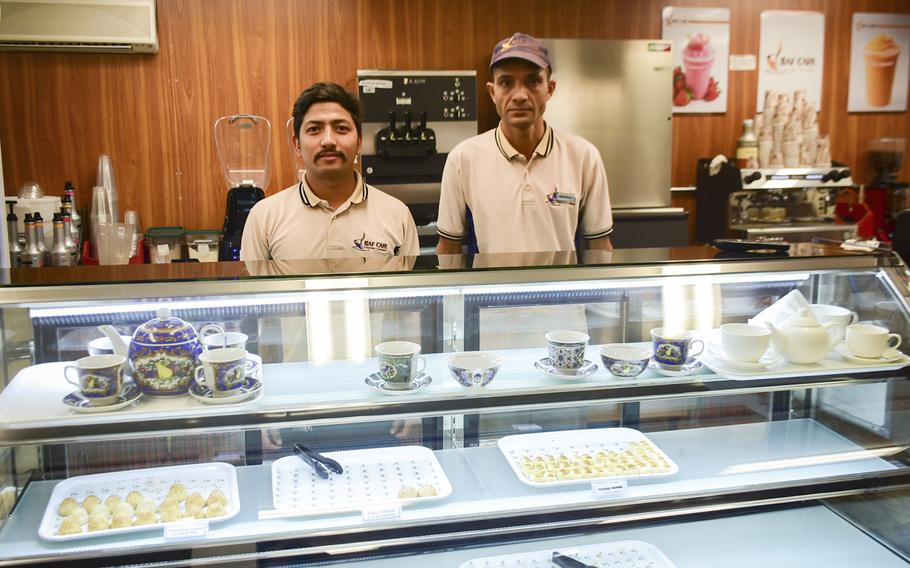 BAGRAM AIRFIELD, Afghanistan — The paintings that line the walls at Bagram's newest eatery depict peaceful mountain vistas, old men having tea, the site of the great Buddha statutes in Bamiyan province.
Handing me my tea, BAF Cafe manager Sushil told me the pictures were meant to show troops what Afghanistan is like outside the blast walls that surround the largest American base in the country.
"Most of the people don't know about the culture, you know?" said Sushil, a native of Nepal.
Servicemembers, Pentagon civilians and contractors from the U.S. and elsewhere can spend months, if not years, at big bases in the Middle East without ever discovering life outside the installations.
Kabul-born Riza Rahmdel, the owner of the cafe, wants it to "create cultural awareness" of Afghan life, he said by phone from Canada, where he now lives.
"I want to get it as close as possible to how it's supposed to be: a traditional Afghan tea shop," Rahmdel said.
But it's not quite there yet.
"It's a work in progress," said Maria Berrios Borges, general manager of the Army and Air Force Exchange Service in Afghanistan.
Yes, troops can sip saffron tea while surrounded by framed paintings showing the country's beautiful landscapes, but contrary to Rahmdel's vision, little of the food is locally sourced.
Instead of the traditional Afghan "toshaks" — raised cushioned platforms that allow people to sit on the floor with their food — that Rahmdel had hoped to furnish it with, BAF Cafe has Western tables and chairs.
And security concerns meant Rahmdel could not hire Afghans to work at the cafe, as he'd have liked.
Still, I enjoyed my saffron tea, even if it was not as flavorful as what I'd tasted in cafes in Herat, where much of Afghanistan's saffron is grown.
The cafe opened in February, Sushil said. Near the main post exchange and some shops, it competes with an established food court featuring an American-style coffee shop and a Pizza Hut — and Wi-Fi, which the cafe lacks.
When I stopped in at about noon one recent Thursday, I was the only customer at first.
But as I sipped some invigorating green tea a little later, soldiers and airmen entered — initially a few and then a group of half-a-dozen. Some played a board game, while others chatted with Afghan contractors.
Sergio Sanchez, a Defense Department civilian employee, comes here most Thursday nights, he told me. He likes that the cafe is quiet, unlike the bustling food court.
The pictures of peaceful, rural Afghanistan help him unwind as he drinks his tea, he said.
Even if the place is not as authentic as its proprietor and AAFES had hoped, the tea was steaming hot and delicious.
"It's the closest you're going to be able to get to a real Afghan experience here," one airman told me.
lawrence.jp@stripes.com Twitter: @jplawrence3
---
---
---
---