Bomb explodes near site of crucial meeting in Kabul
by
Heath Druzin Alex Pena
November 16, 2013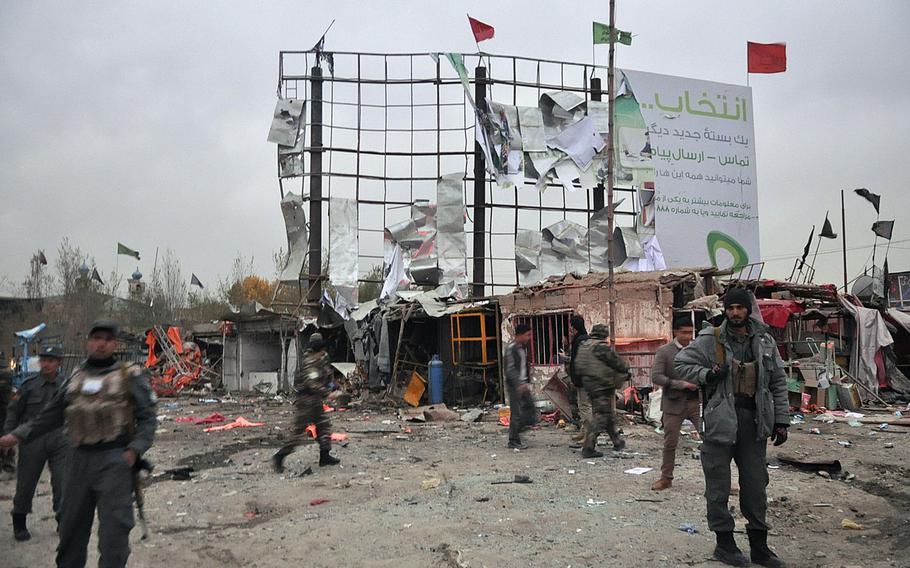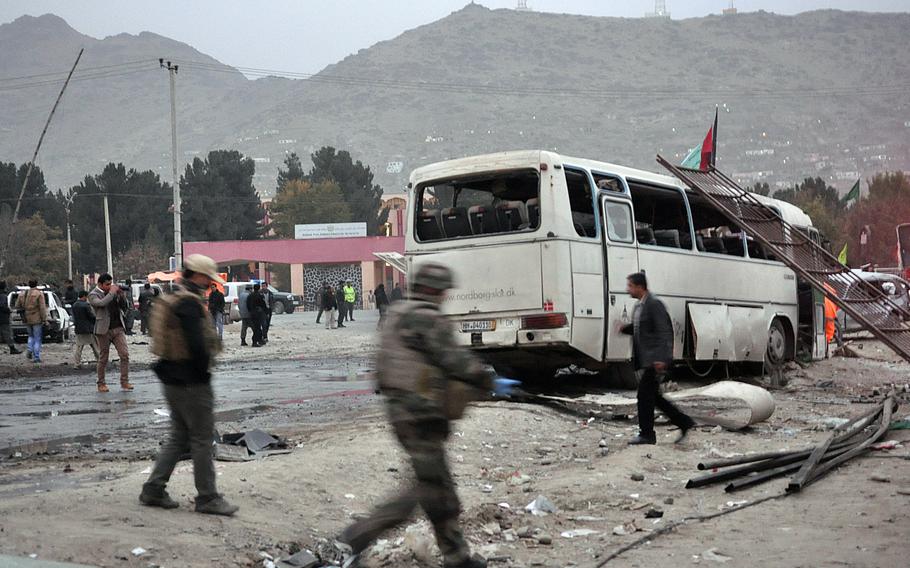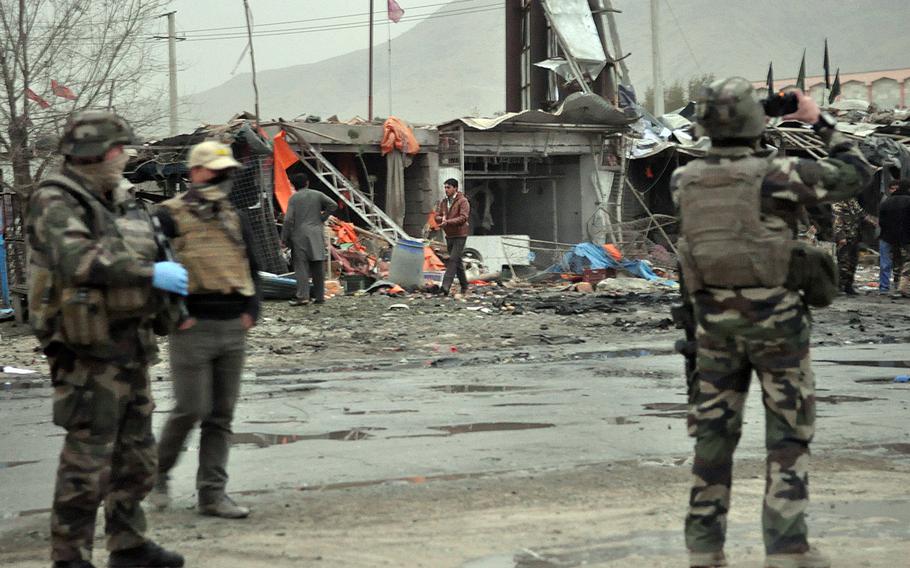 KABUL — A suicide car bombing Saturday killed at least six people and injured more than 20 others near the site of a government-sponsored conference of elders convening in days to discuss a security pact that will determine whether U.S. troops stay in Afghanistan past 2014.
The attack happened around 3:15 p.m., when a man driving a Toyota Corolla was stopped at a checkpoint outside a literature university. When the driver tried to drive past the checkpoint, police opened fire and the car detonated.
Ministry of Interior spokesman Sediq Sediqqi confirmed that one Afghan soldier, one policeman, and four civilians were killed, and 22 others were injured.
At the scene of the bombing were the charred remains of a large bus and a minivan. Nearby shops were heavily damaged.
The Interior Ministry said the soldiers were providing stepped up security in the area ahead of a Loya Jirga, a consultative assembly of tribal elders, set to meet Thursday to discuss a possible deal that would pave the way for some international troops to stay in Afghanistan beyond the end of 2014.
The Loya Jirga is to debate a bilateral security agreement with the United States defining the terms of a follow-on mission for about 10,000 U.S. troops to train and advise Afghan forces after NATO withdraws all combat troops from the country by the end of 2014. A key issue that has stalled talks on the agreement is that of legal jurisdiction. The U.S. is demanding that it retain jurisdiction over its troops, meaning that any U.S. troops accused of crimes in Afghanistan can be tried in American courts.
Afghan President Hamid Karzai told reporters in Kabul Saturday that a draft of the agreement was ready to be presented to the Loya Jirga, but said disagreements remained; he did not elaborate on what those were, The Associated Press reported.
Without the jurisdiction agreement, the U.S. will not keep troops in Afghanistan and without American involvement, no other NATO nations are likely to stay as the alliance sees the U.S. agreement as a precondition for its own status of forces agreement with Afghanistan.
A similar dispute about immunity for U.S. troops between Washington and Baghdad two years ago derailed plans to keep a residual force in Iraq.
Karzai could have agreed to the demand directly but instead called for the Loya Jirga to decide the issue. The accord will then be submitted to parliament for final approval. Though any decision the Loya Jirga makes will be non-binding, Parliament is expected to give great weight to its decision.
There was no immediate claim of responsibility for Saturday's attack.
The Taliban and other insurgent groups have taken hard stances against any further involvement of foreign troops in Afghanistan, saying there can be no peace deal while international troops remain on Afghan soil.
Alex Pena reported from Kabul. Heath Druzin reported from Bamiyan, Afghanistan.
Zubair Babakarkhail contributed to this report.
druzin.heath@stripes.com Twitter: @Druzin_Stripes
pena.alex@stripes.com Twitter: @AlexanderMPena