GALLERY
At 95, 1st Cav set to 'ride' in support of Afghanistan mission
---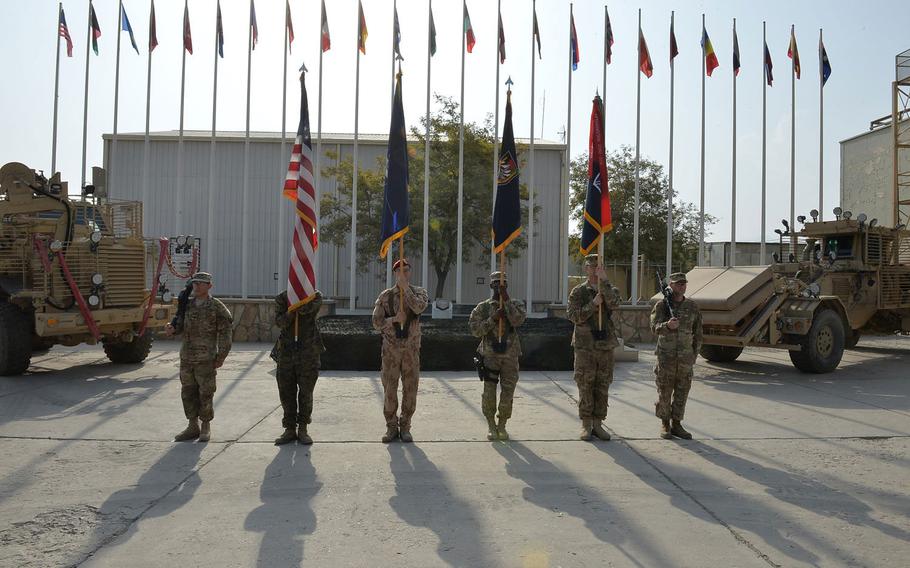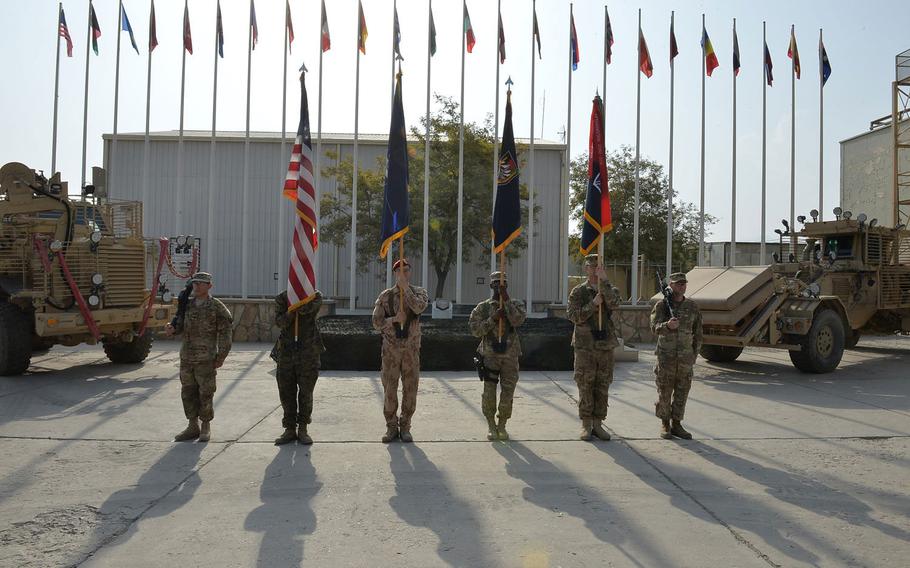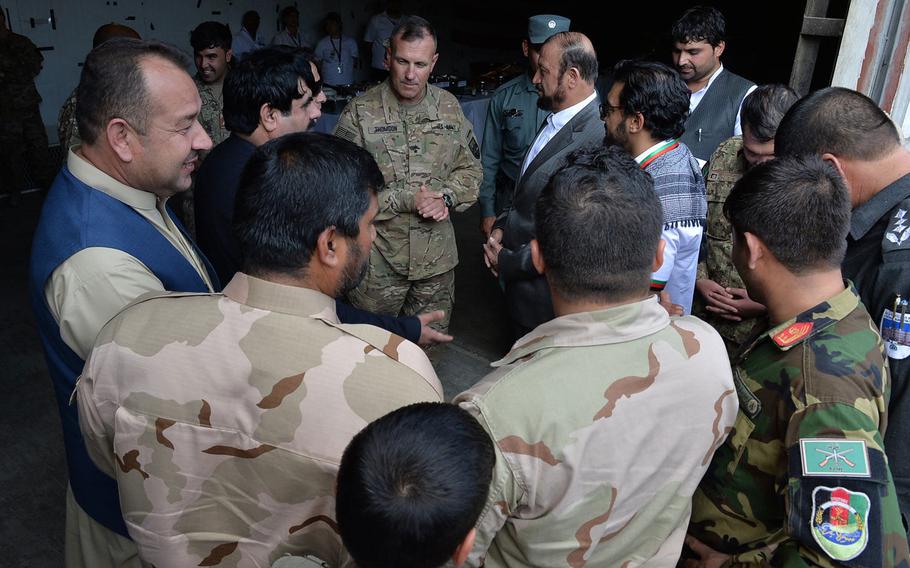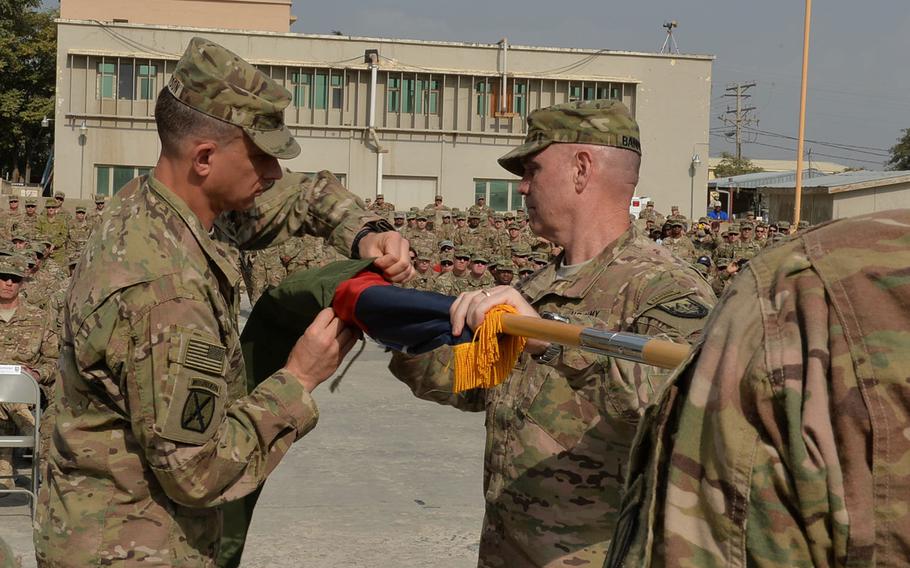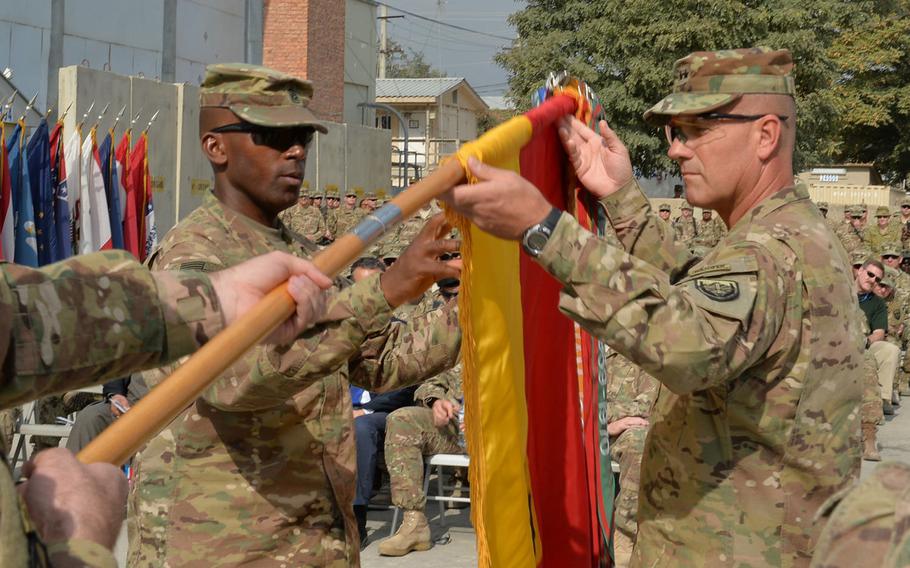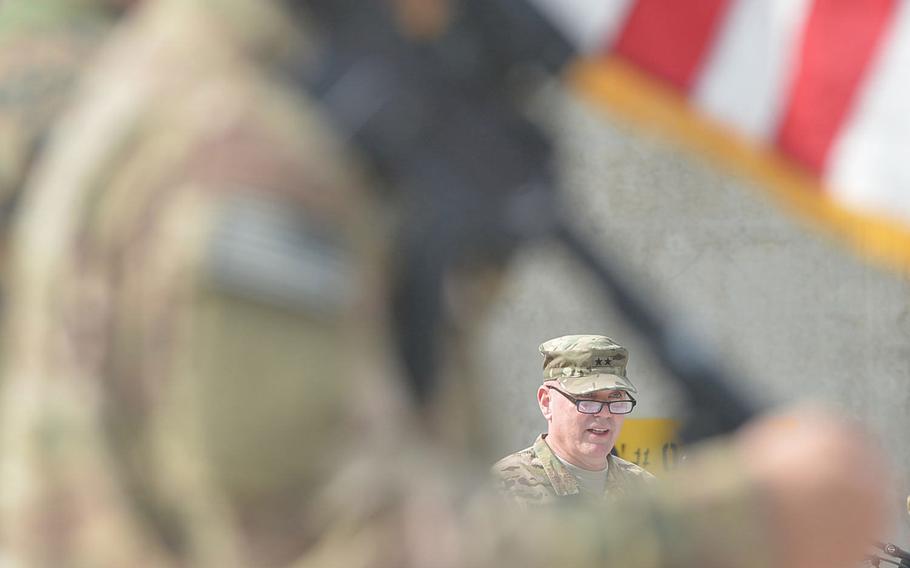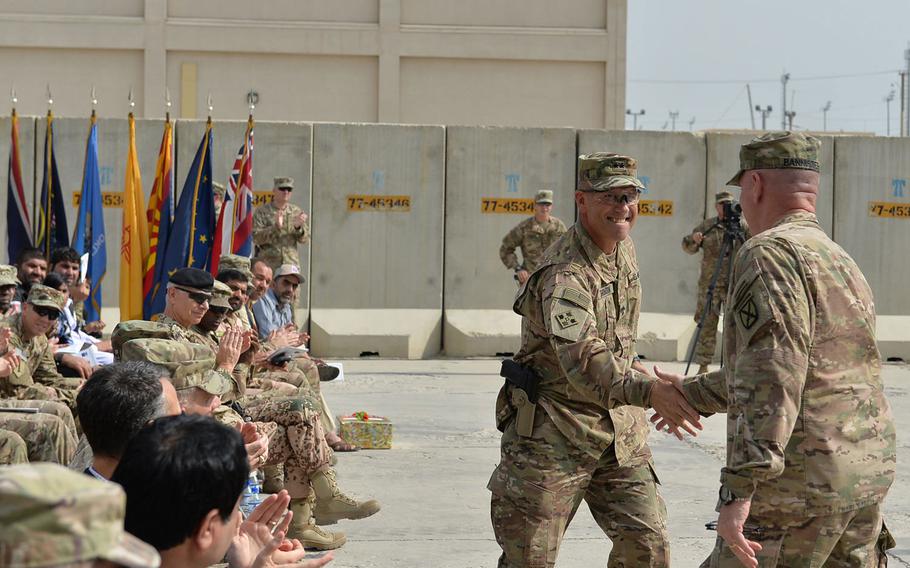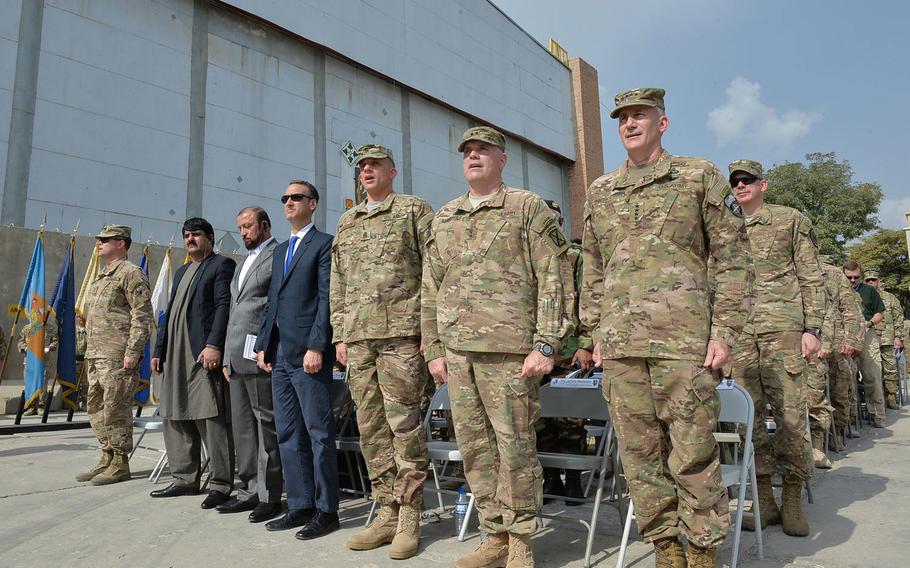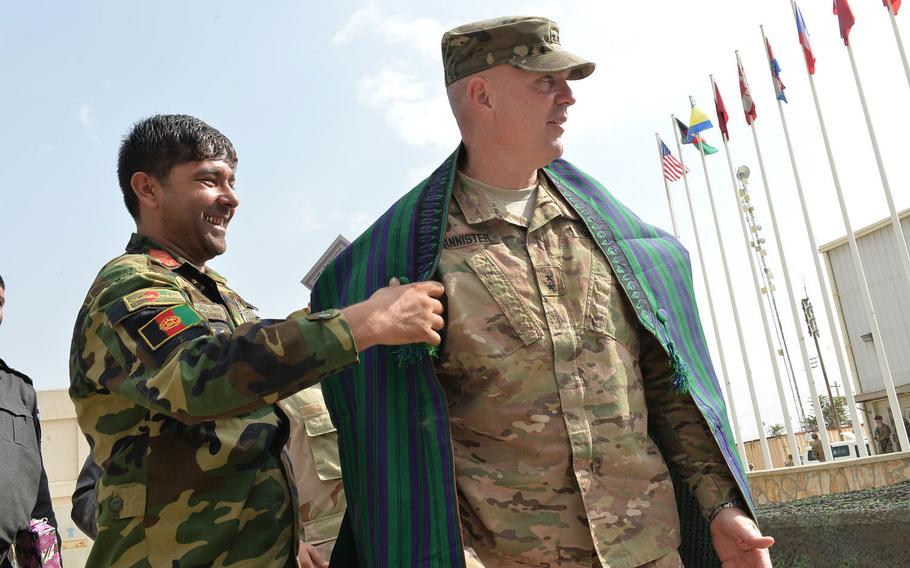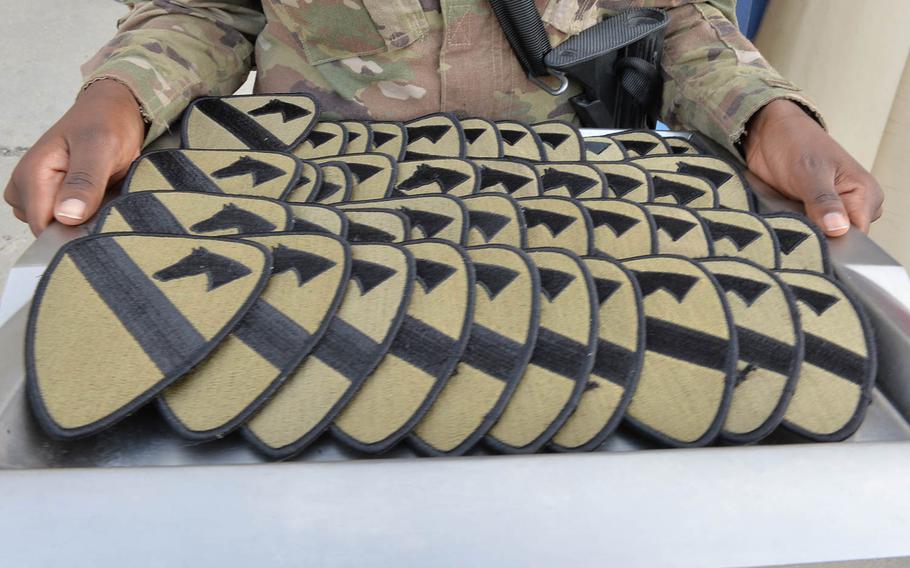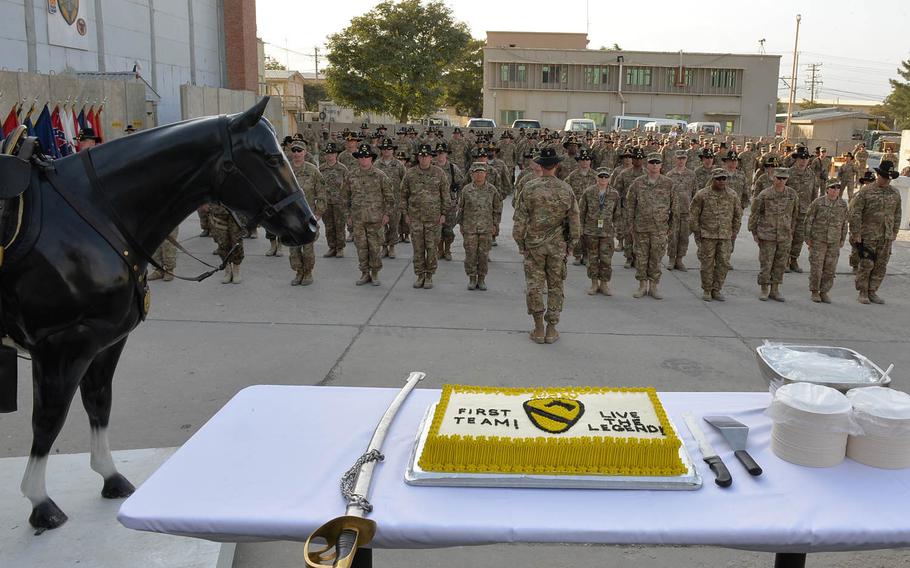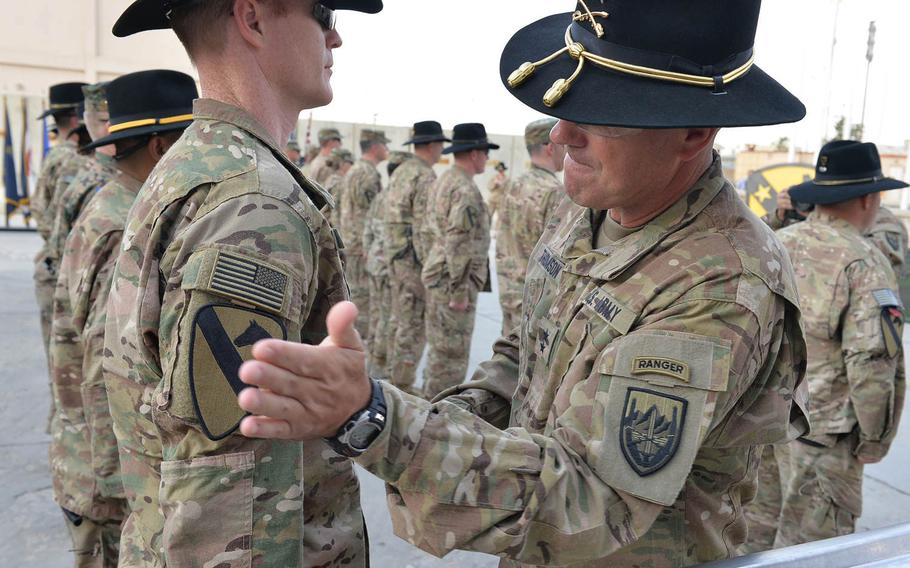 BAGRAM AIR FIELD, Afghanistan — On its 95th birthday, the Army's 1st Cavalry Division uncased its colors here Tuesday as Maj. Gen. John C. Thomson III took authority of U.S. Forces-Afghanistan's national support element.
Thomson took over from Maj. Gen. Jeffrey Bannister, who leads the Fort Drum, N.Y.-based 10th Mountain Division. Under Bannister, the national support element prepared a comprehensive plan for President Barack Obama's proposed drawdown of U.S. troops from 9,800 to 5,500 and multiple base closures by early 2017, or what Bannister called an "ugly cliff."
"Amateurs talk about strategy; professionals talk about logistics," Bannister said, paraphrasing Gen. Omar Bradley, a former five-star General of the Army. The quote "seems perfect to capture this past year, as the mechanics of logistics informed much of the strategy."
Logistics also informed work the support element did to assist Gen. John W. Nicholson in preparing an assessment of the force posture earlier this year, which led Obama to amend his planned reduction to 8,400 troops instead.
Nicholson, who spoke at the ceremony, praised Bannister's leadership and the element's work over the past year, including rolling up their sleeves to rework the earlier plan, reduce redundancies and create a new theater-wide advising structure.
The team "quickly translated ... into reality" new authorities Obama granted in early June that allowed U.S. forces to provide combat enablers to Afghan security forces, Nicholson said. It also supported more than 19,000 U.S. and coalition forces in the country, fielded equipment to 18 bases and processed $1.4 billion in contracts, he said.
Those efforts are a lasting contribution to the future of Afghanistan, Nicholson said, thanking Bannister for his "long service in this long war." He also welcomed the soldiers of the 1st Cavalry Division to "NATO's largest and longest military coalition."
The transition came just days after the U.S. forces in Afghanistan marked the 15th anniversary of the Sept. 11, 2001, attacks, which al-Qaida had planned from Taliban-ruled Afghanistan.
The 10th Mountain's headquarters has been sent to Afghanistan six times since then and once to Iraq.
The latest deployment marks the sixth for the headquarters of the Fort Hood, Texas-based 1st Cavalry Division, since the 2001 attacks, and its third to Afghanistan.
It will have the responsibility of implementing the drawdown plans 10th Mountain created while continuing its work to ensure Resolute Support has what it needs to carry out its train, advise and assist mission — from lunch to clean laundry to force protection technology.
Later in the day, 1st Cavalry Division soldiers, many wearing the traditional cavalry Stetson and spurs, celebrated its 95th birthday with a ceremony during which the division's leadership cut a cake with a cavalry saber.
Soldiers and counterparts from other services and coalition forces also received the division's distinctive patch, the largest in the Army, signifying their wartime service.
Though it started as horse cavalry patrolling the Mexican border, Thomson said the division left its horses in Texas, "but we did bring the cavalry spirit."
"It's time to quit talking and start riding the ride."
garland.chad@stripes.com Twitter: @chadgarland
---
---
---
---