As Afghanistan investigations rise, so do conflicts
by
Josh Smith smith.josh@stripes.com
September 11, 2013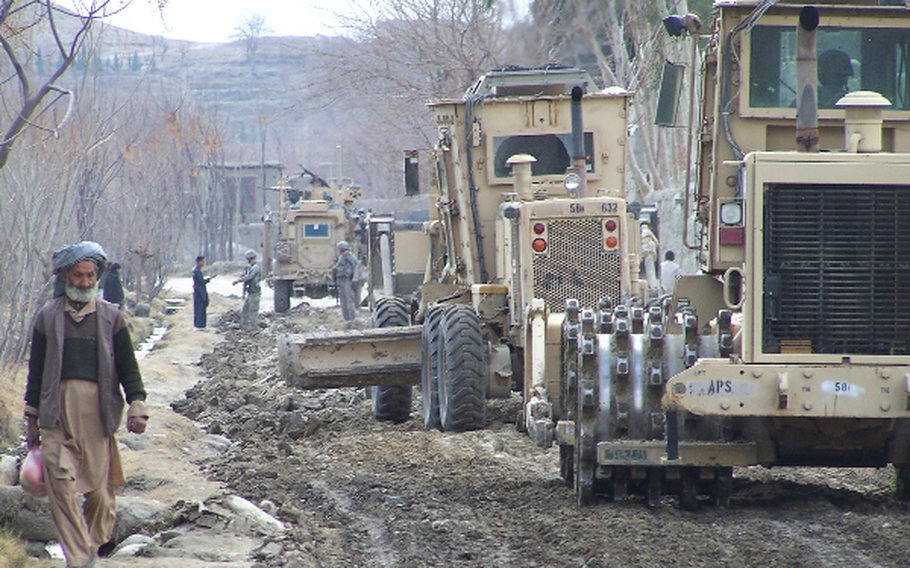 KABUL — As the number of reports issued by the Special Inspector General for Afghanistan Reconstruction have soared over the past year so have disagreements with U.S. foreign aid officials, who have rejected the majority of the watchdog's recommendations while accusing investigators of ignoring facts to shape conclusions.
Official dissent by the State Department and the U.S. Agency for International Development over the findings of SIGAR John Sopko have spiked six-fold since he took the job in summer 2012, as officials at both organizations push back at what they see as shortcomings in SIGAR's practices.
Top SIGAR investigators, meanwhile, say the complaints suggest the various departments and agencies can't stand the heat of repeated audits and reports that in many cases have been bluntly critical of U.S. reconstruction programs.
According to a summary of public data provided by a senior U.S. Embassy official — who briefed reporters on condition he not be further identified, the State Department and USAID have officially disagreed with 58 out of 91 of SIGAR's recommendations between Oct. 1, 2012, and Aug. 1, 2013. Statistics for the U.S. Department of Defense or other military programs were not provided.
That "non-concurrence" rate of nearly 64 percent is practically unheard of in the history of the agencies' relationships with inspectors general, the official said, speaking on background. For the year before Sopko took office, State and USAID rejected just three out of 35 recommendations, for a non-concurrence rate of roughly nine percent.
The two main reasons for the State Department and USAID's dissent were "because the recommendation had already been addressed or SIGAR's assertions were inaccurate," the official who provided the summary said, adding that SIGAR seems less likely than other inspectors general to take the agencies' views into consideration.
The latest spat came when USAID "strenuously objected" to language in a SIGAR report released last week that criticized a funding program for rural health care. The SIGAR report downplayed or did not mention a key unit within the Afghan Ministry of Public Health that USAID said mitigated any concerns about fraud or abuse.
In that instance, USAID officials accused SIGAR of intentionally ignoring information that might have changed the report's findings, and refused to concur with two out of three of the report's recommendations.
But SIGAR officials, speaking to Stars and Stripes by telephone from their Washington, D.C.-area offices, rejected the idea that the high rate of non-concurrence reflects on the validity of SIGAR's work.
"We think that's a false conclusion to draw," said Elizabeth Field, assistant inspector general for audits and inspections. "To us, that's just an indication that these agencies are not taking these recommendations seriously."
Officials at USAID and the State Department spelled out their complaints in private conversations as well as in the official comments included with SIGAR reports. However, spokespeople for the organizations declined to respond to Stars and Stripes queries on the issue or did not reply to requests to respond on the record.
The watchdog agency has issued more audits and reports under Sopko's management in the past year than in the previous four years combined since SIGAR's inception.
That, according to SIGAR deputy inspector general Gene Aloise, is what has the officials under the magnifying glass squirming.
"What I think you're seeing is a reaction against a very aggressive IG and I don't think they're used to that," he said. "After issuing 30 reports last quarter, I guess it got under their skin a little bit."
He said the backlash to SIGAR's findings seems to be especially strong at USAID, which oversees billions of dollars in U.S. government reconstruction aid and projects in Afghanistan.
While military units like the U.S. Army Corps of Engineers and U.S. Forces — Afghanistan regularly disagreed with SIGAR findings, they seem more often than not to concur with the recommendations.
For example, in one recent audit of taxes that may have been inappropriately levied by the Afghan government on contractors working for the U.S. government, the Army Corps of Engineers concurred with all three of the recommendations aimed at its programs, while USAID said all five of the recommendations for its programs were moot because the agency had already implemented fixes for the problems. The State Department also said SIGAR's recommendations did not reflect the situation at the time.
Answering the charge that SIGAR researchers are ignoring the input from the agencies they are investigating, Aloise insisted the reports are based on facts.
"They have to prove to us that what they're saying is actually reality," he said. "And if they can't, we don't take their word for it. And nobody should, it should all be based on facts."
After spending nearly 40 years at the Government Accountability Office before he came to SIGAR, Aloise said he's well versed in the tactics of agencies trying to avoid scrutiny. He called the complaints over SIGAR's reports a "smokescreen" designed to distract from the problems with programs in Afghanistan.
"This is typically what they do: they shoot the messenger instead of working on how to fix the problem," he said. "We're not saying these programs for the most part aren't worth the investment, we just want to make sure the money's spent wisely."
smith.josh@stripes.comTwitter: @joshjonsmith