Air Force special ops members 'fight, bleed and laugh' on nearly 7,000 days of deployments
by
Chad Garland
September 10, 2020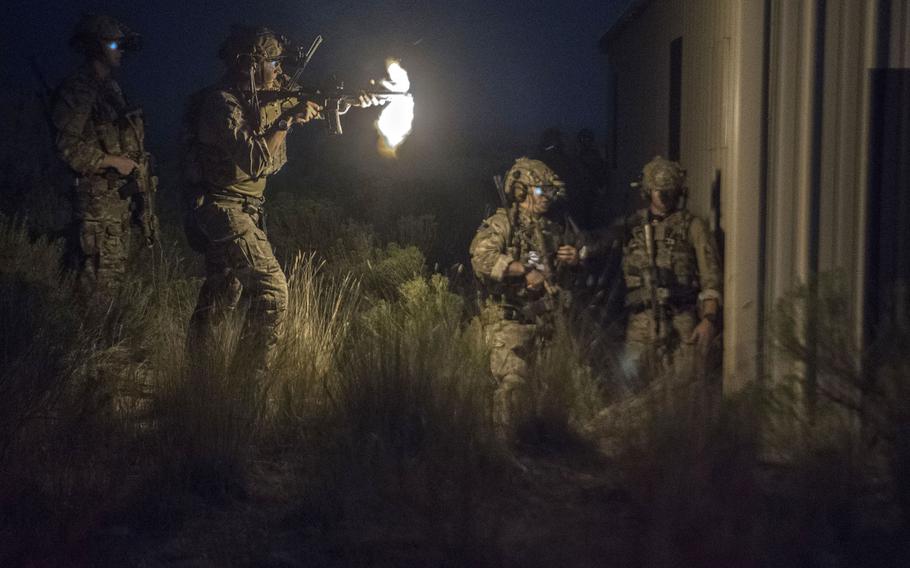 The U.S. response to the 9/11 attacks launched an Air Force special operations unit into more than 6,900 days, or nearly two decades, of continuous deployments and combat operations in the Middle East, officials said.
Within weeks of the terrorist attacks on the U.S., the 17th Special Tactics Squadron deployed with Army Rangers on raids into southern Afghanistan on Oct. 19, 2001. Since then, the squadron has had no breaks in deployment of its tactical air control party operators and other special tactics airmen to support Ranger battalions downrange, an Air Force statement said.
"We fight, bleed and laugh beside [the Rangers]," said Staff Sgt. Ryan Duhon, a tactical air control party operator quoted in last month's statement. "We win as a team or fail as a team."
The unbroken stretch of deployments to the wars in Afghanistan, Iraq and Syria appears to be matched by the 75th Ranger Regiment, which the Army has said is its only single unit to be continuously deployed since October 2001, when some 200 Rangers made an airborne assault south of Kandahar.
Many of the regiment's senior leaders have "double-digit deployments with years, not months" away from home, it said in a February statement.
Army Special Forces units have also been continuously deployed during that period — and since as far back as 1953 — an Army historian said Thursday, according to a 1st Special Forces Command spokesman responding to a Stars and Stripes inquiry. However, Green Beret, civil affairs and psychological operations units under the command have rotated since 2001, said Maj. Daniel Lessard, the spokesman.
The Air Force unit, which has detachments in three locations to train and deploy alongside the five 75th Ranger Regiment battalions, is primarily made up of selected TACP operators who call in air strikes and ordnance to support ground force raids. The squadron also provides special reconnaissance airmen, combat controllers, special tactics officers and combat support airmen to the elite Army units.
"No other unit in the [Air Force] offers the opportunity to close with and destroy enemies of the United States like those of us selected to support the Ranger Regiment," the Air Force statement quoted an unnamed member of the unit as saying.
Headquartered at Fort Benning, Ga., the squadron has detachments at Hunter Army Airfield, Ga., home of the 1st Ranger Battalion, and Joint Base Lewis-McChord, Wash., the 2nd Ranger Battalion's stomping grounds.
The Special Tactics community, whose airmen conduct personnel recovery, precision strike missions and battlefield surgery, is the most highly decorated in the Air Force since the Vietnam War. Since 9/11, it's members have earned one Medal of Honor, nine Air Force Crosses, 46 Silver Star Medals, over 250 Bronze Star Medals with valor and hundreds of Purple Hearts, Air Force Special Operations Command says on its website.
Of those honors, the 17th STS has earned more than 80 valor medals for actions in combat, including the Silver Star Medal awarded to Tech. Sgt. Cam Kelsch in April 2019 for actions in Afghanistan. The Silver Star is the country's third-highest combat valor award.
A TACP operator accompanying Rangers and Afghan commandos on a nighttime raid, Kelsch called in dozens of 40mm and 105mm strikes, some as close as 35 meters away, while battling through an ambush in a creek bed.
During the fighting, he recovered a wounded teammate and was shot in his armored chest plate while dragging him to safety. He then called in two 500-pound bombs to eliminate the enemy so a medevac helicopter could swoop in.
"Our operators are consistently providing desperately needed close air support at the most critical times in combat, while also coordinating insertion, extraction, and medical and casualty evacuation lift for critically wounded teammates," squadron commander Lt. Col. Travis Deutman said in the statement.
Members of the unit clock at least 275 days of training per year, the statement said. The grueling schedule of fast-paced and complex drills is designed to ensure a high number of repetitions in skills that are critical on the battlefield.
"As a team, we push each other beyond what we have all seen in combat," said Detachment 2 flight commander 1st Lt. Evan Patoray. "We understand that if this training does not save their own life, it will allow them to save the lives of the Rangers around them."
garland.chad@stripes.com Twitter: @chadgarland
---
---
---