Air Force part of the 'more' for Islamic State fight, Carter says
---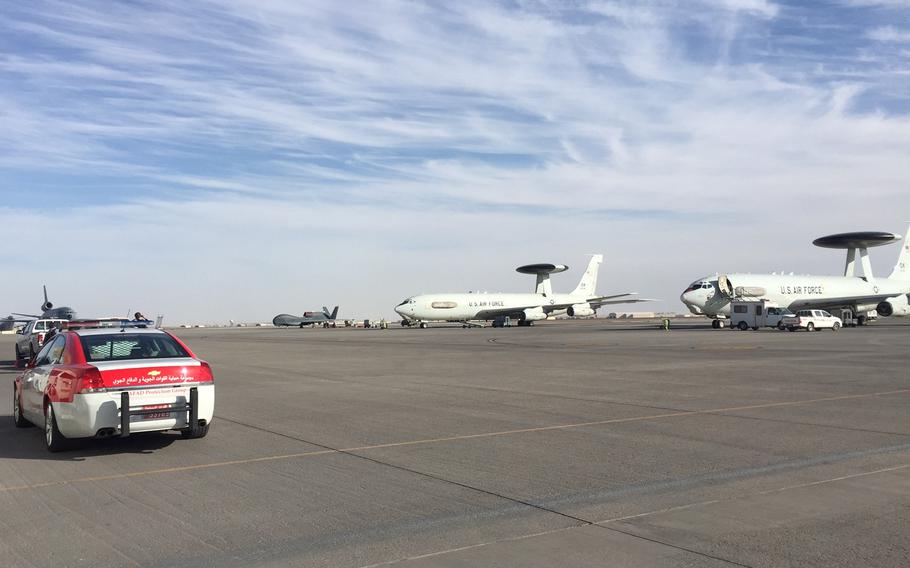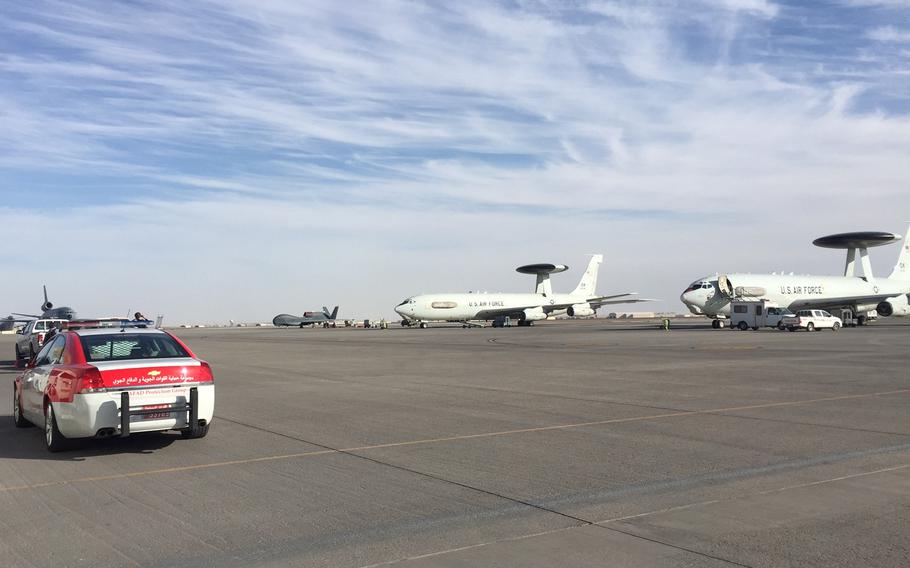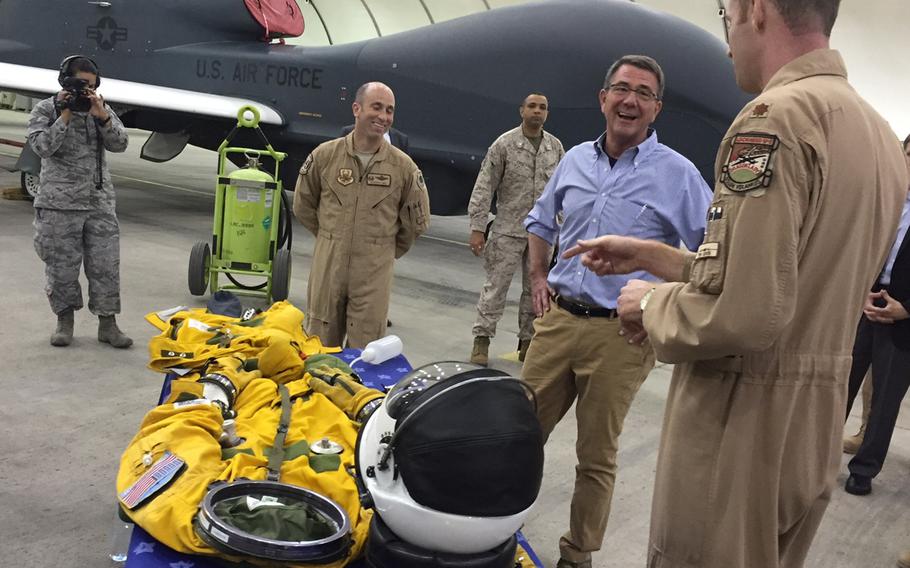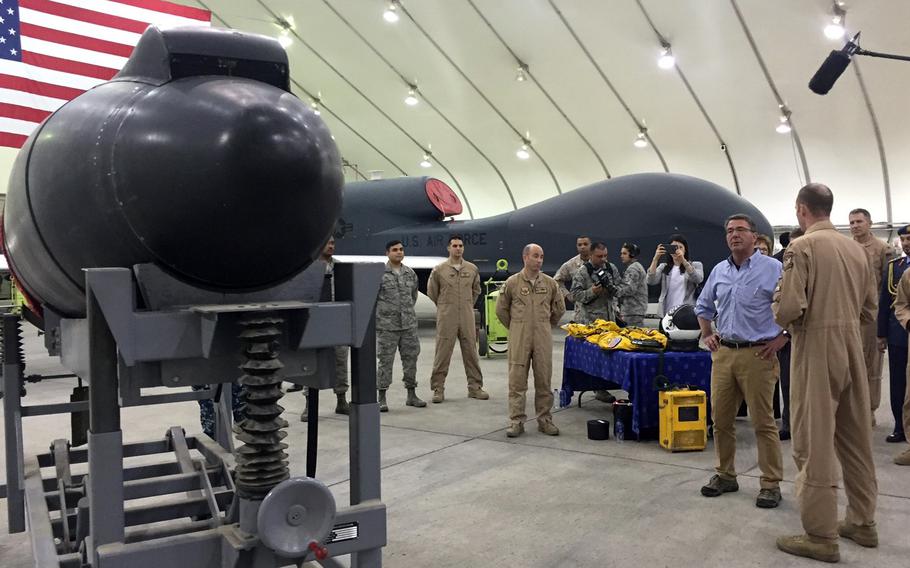 AL DHAFRA AIR BASE, United Arab Emirates – Operations at this Middle Eastern base – already the busiest base in the world for U.S. Air Force surveillance – could accelerate as the U.S. looks to intensify its campaign against Islamic State militants, Defense Secretary Ash Carter said Saturday.
Carter met this weekend with some of the approximately 3,500 to 3,800 U.S. troops deployed here as part of his six-day Middle East visit to the UAE and Saudi Arabia. During the trip, Carter is scheduled to meet with regional defense ministers in advance of President Barack Obama's arrival at the Gulf Cooperation Council talks in Riyadh later this week.
The assembled Gulf allies are expected to discuss what additional military, economic and political support they are willing to commit to defeat the Islamic State in Iraq and Syria militants. U.S. defense leaders have been hinting for weeks that a likely outcome is an announcement of additional U.S. forces and increased operations in Iraq.
"We are looking to do more," Carter said to reporters traveling with him at Al Dhafra. "That ranges from in the air to on the ground. You should expect to see us doing more."
For the troops here, many supporting or operating the more than 60 surveillance, refueling, and fighter jet aircraft based here, an increased U.S. commitment "could be more sorties, it can be a shift in the nature of their campaign," Carter said.
Carter said the increased intelligence picture over Iraq and Syria against the Islamic State is part of the "more," allowing the Air Force to do more dynamic targeting – targets that were not part of a pre-planned air tasking order.
"You see the family of aircraft here has grown over time," Carter said. While much of the discussion about what more should be done in Iraq has focused on ground forces, "these people here are in the fight, too," he said.
"Here at Al Dhafra, these people are pretty busy and some of them are in risky situations every single day," Carter said.
About a third of the aircraft deployed to this base are dedicated to surveillance over Iraq, Syria and Afghanistan. There are four U-2 Dragon Lady spy planes; at least three E-3 Sentry airborne warning and control system, or AWACS; seven RQ-4 Global Hawk unmanned surveillance aircraft; and two Navy Battle Area Management System aircraft, the Navy's variant of the Global Hawk.
Al Dhafra is the busiest of the three overseas locations of the U-2, which also includes locations in South Korea and the European Command area of operations, said Maj. Brian Staniszewski, director of operations for the 99th Air Expeditionary Reconnaissance Squadron.
"We are flying daily operations inside of Syria, Iraq and Afghanistan – about nine to ten hours in duration at altitudes in excess of 70,000 feet," Staniszewski said.
The same pace goes for the Global Hawk, said Lt. Col. Steven Fino, 99th Expeditionary Reconnaissance Squadron commander.
"We fly more than half the Global Hawk sorties in the world from this location," Fino said.
Since September, when Russia began deploying aircraft and an advanced air defense system to Syria to conduct operations in support of Syrian president Bashar Al-Assad, part of the 99th's mission has been to "de-conflict" the battle space for U.S. pilots.
The squadron uses its airborne reconnaissance and ground-based command centers – which take in all the radar feeds to generate an overall air picture to pilots – to keep them safe, Col. Johnny Barnes, vice commander of the 380th Air Expeditionary Wing, said.
"We de-conflict to make sure we don't have a tragic accident as a result of misunderstanding," Barnes said.
That job has gotten easier in the last few weeks as Russia has pulled out some of its aircraft it was operating over Syria, Barnes said.
copp.tara@stripes.comTwitter: @TaraCopp
---
---
---
---