Air Force crew that avoided rocket-propelled grenade in Afghanistan receives Combat Action Medals
by
J.P. Lawrence
May 20, 2020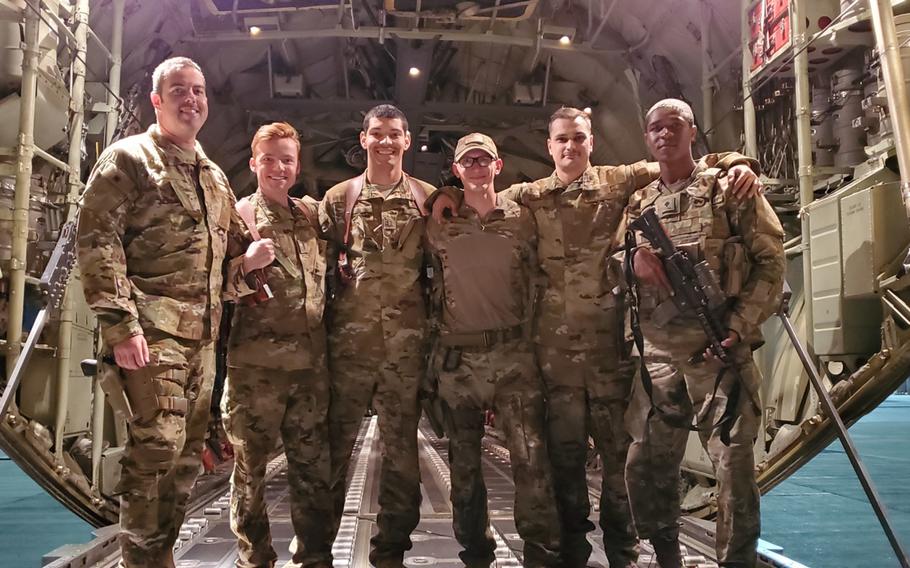 Five airmen have received Combat Action Medals after their C-130 cargo plane narrowly avoided being hit by a rocket-propelled grenade fired by militants last fall, the Air Force said.
The insurgents fired the round at the C-130J Super Hercules from the 39th Airlift Squadron, based out of Dyess Air Force Base, Texas, and deployed with the 774th Expeditionary Airlift Squadron, after it completed an emergency nighttime airdrop to Afghan troops in September, a May statement said.
"I noticed a flash of red behind the plane, but it was only for a second or two," said Senior Airman David Doran, loadmaster on the flight, as quoted in the statement. "At the time I wasn't scared because I didn't realize it was an RPG, but possibly a flare."
An infrared image of the incident released by the Air Force shows a bright white projectile zooming just behind the C-130.
The image appears to match video taken by a remotely piloted MQ-9 drone released by the Air Force in April. In it, two operators assigned to the 20th Attack Squadron share their perspective of watching the RPG streak toward a C-130.
"My heart was racing," Airman First Class Ashley said in the video, which did not provide the full names of either MQ-9 operator.
The MQ-9 operators said they tracked the people they said fired the shot, and after waiting 34 minutes for proper clearance, launched a strike on them.
"If we weren't there for the C-130 drop, the bad guys could have gotten away," Ashley said.
Members of the C-130 crew received the Combat Action Medal, which was introduced in 2007 for airmen engaged in air or ground fighting in combat zones.
Those receiving medals included Doran, Capt. Jean-Luc Duckworth, 1st Lt. Zachery Robinson, Capt. Glenn Garner and Senior Airman Nolan Brandt.
lawrence.jp@stripes.com Twitter: @jplawrence3