Afghanistan suicide attacks kill 25 and injure dozens
by
Phillip Walter Wellman
February 27, 2016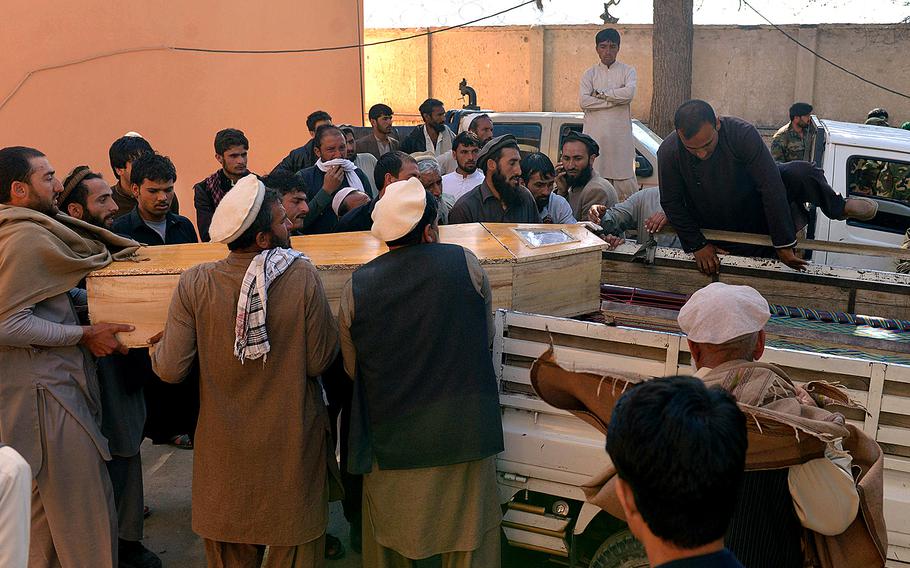 KABUL, Afghanistan — At least 12 people were killed and eight injured by a suicide attack near Afghanistan's Defense Ministry on Saturday, the ministry said in a statement.
The blast, which was heard throughout much of the capital, came just days before the possible resumption of talks aimed at ending the country's 15-year war.
It was the second suicide bombing on Saturday. An attack earlier in the day in Afghanistan's eastern Kunar province left 13 dead and wounded 40, said Ehsanullah Fazli, the province's public health director. Some of the injured were in critical condition.
In the Kabul blast, a man wearing civilian clothing detonated his suicide vest at the heavily guarded Defense Ministry entrance, said police spokesman Basir Mujahid.
"The attack was carried out just at the time when staff from the ministry were leaving for home," he said, adding that most of the casualties were civilians.
The 12 fatalities included several government employees, the Defense Ministry said.
Taliban insurgents immediately claimed responsibility.
"The attack was carried out by one of our fighters," the group's spokesman, Zabihullah Mujahid, wrote on Twitter.
The Kunar bombing, which occurred near the governor's compound in the provincial capital of Asad Abad, killed the leader of a pro-government militia.
Taliban guerrillas have stepped up attacks against government targets since the breakdown of exploratory peace talks with the Afghan government last summer.
Guerrilla offensives in the country's northeast and south have caused unprecedented casualties among security forces and the insurgents.
There have also been several high-profile attacks in Kabul since the start of the year.
In January, a Taliban suicide bomber killed 20 people and wounded 29 others when he blew himself up near the headquarters of the elite paramilitary police.
A new round of peace talks is tentatively scheduled to resume in the first week of March, according to a roadmap jointly agreed to by the Afghan government, the United States, Pakistan and China.
Zubair Babakarkhail contributed to this report.
wellman.phillip@stripes.com
---
---
---