Afghan women worry about future in wake of brutal killing
by
Josh Smith
March 28, 2015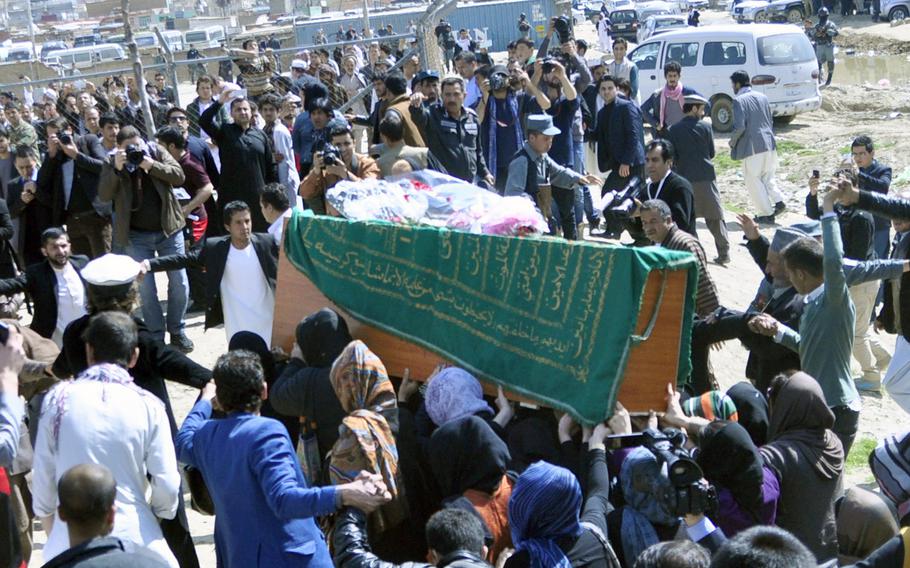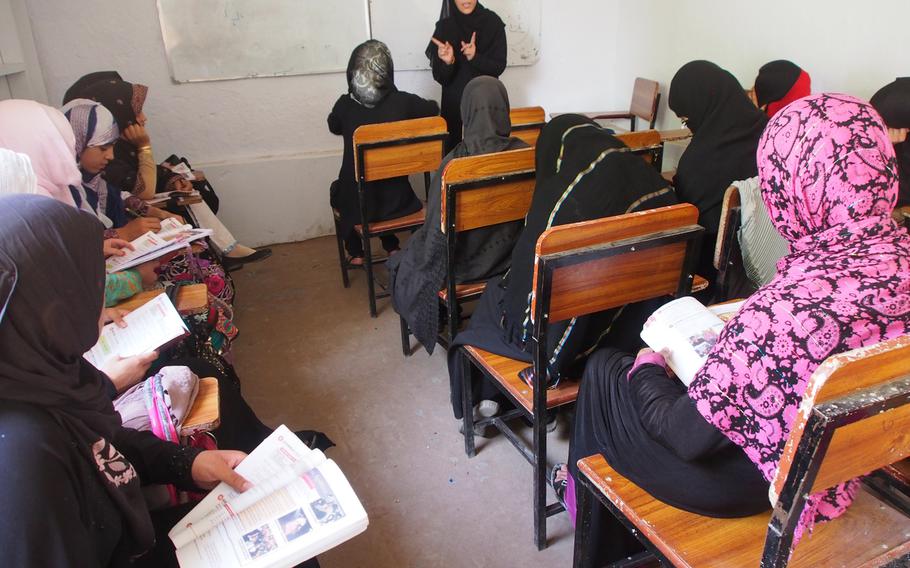 KABUL, Afghanistan — One individual's death rarely makes headlines in this country, which has experienced years of war and suffered thousands of casualties.
But a young woman's brutal murder on March 19 by a mob of men in the heart of downtown Kabul caused shock waves like few incidents in recent history.
According to media accounts of the murder — much of which was captured on cellphone cameras and shared on social media — 27-year-old Farkhunda became involved in a dispute with a religious cleric outside one of Kabul's iconic mosques.
The cleric accused her of burning pages of the Quran, a charge police officials later said was false. In a matter of minutes, however, the highly charged accusation had caught the attention of men standing nearby.
Sticks and stones began to rain down on the lone woman. For two hours, hundreds of people watched as Farkhunda was slowly beaten to death by the growing mob of men just blocks from the presidential palace. Police stood by and didn't intervene. Her body was dumped and then burned on the trash-strewed bank of the Kabul River.
The brutal incident highlighted a growing fear that the gains made by women since the fall of the Taliban regime are still limited and are in a very real danger of being reversed as international attention shifts elsewhere. The killing was especially shocking given the fact that most of the assailants appeared to be educated, cosmopolitan men from the country's capital. This added to the sense that the progress many women have experienced could easily be reversed.
"Women are still beaten, murdered, locked up at homes and sexually abused here, and no one can stop these violations," said Nahid Bashardost, an Afghan journalist who attended Farkhunda's funeral. She said the killing shattered any feelings of safety.
"The murder of Farkhunda has made us more worried about our future," Bashardost told Stars and Stripes. "Now every morning when I leave for work, I feel myself in danger. And I feel worried for my two young daughters at home."
Thousands of people poured into the streets to protest what they see as a culture of continued, unchecked violence, especially against women. In a move that went against the religious traditions here, women activists carried the coffin at her funeral, a role usually restricted to men.
Fragile gains The continued struggles of many women in everything from family decisions to access to education is widely acknowledged, but 14 years after the fall of the Taliban, members of the international coalition trumpet gains in women's rights as one of their signature achievements.
More than 3 million girls are reported to attend school, more women are being recruited to work in government, maternal mortality rates have dropped 80 percent, and women's life expectancy has improved markedly since 2001.
U.S. aid organizations late last year pledged $216 million in new programs to empower women, the largest investment to date. Between 2011 and 2013, U.S. agencies spent at least $64.8 million on 652 projects, programs, and initiatives to support Afghan women.
But a report by the Special Inspector General for Afghanistan Reconstruction released in December cast doubts on how effective international aid really has been at helping Afghan women. With no comprehensive assessment available, the watchdog said, it was impossible to confirm whether American aid programs were directly linked to any gains.
Nongovernmental aid organizations often have trouble making sure the money they pump into women's programs gets to its intended recipients. Some schools funded under a program for girls' education in southern Afghanistan, for example, were recently found to be educating only boys. Aid officials privately acknowledge that a lack of credible on-the-ground reporting makes it hard to confirm exactly how many girls actually attend a functional school.
Many view Kabul as an oasis of progress where many women wear jeans, long lines of young girls in black-and-white uniforms make their way to schools each day, and women make up about a quarter of the national parliament — a higher percentage than in the U.S. Congress.
But those gains are seen as increasingly tenuous.
Throughout Afghanistan a majority of girls still don't attend school, and of those who do often drop out early. Schools have been routinely destroyed in areas like Kunar province in the east. Literacy rates for young women are still just above 30 percent, according to the United Nations, and they're even lower for women in general.
Women in all walks of life face the threat of violence, with an estimated 87 percent experiencing abuse such as domestic violence in their lifetime, according to Human Rights Watch. And U.N. officials say such violence in on the rise. Women often face even more problems from the authorities. Amnesty International reports that "half of all women imprisoned were arrested for 'running away' from abusive family members." And women police and government officials have been assassinated on a regular basis over the past two years.
Despite the lingering challenges, foreign aid groups and Afghan activists say the situation stands to become much worse if international aid and attention shifts away from Afghanistan.
"Undoubtedly, there have been enormous gains for Afghan women in recent years," Oxfam officials stated in a report last year, citing significant progress in education, health care, and political empowerment since 2001. Still, the group warned, "There remains a very real danger that complacency on the part of both the international community and the Afghan government will undermine these efforts. This would allow the gap between the rhetoric of the international community and the reality for Afghan women to widen once more."
At all levels in the country there are indications of increasingly conservative attitudes that threaten to erode support for women's rights, Oxfam said, a fear highlighted by Farkhunda's murder. As rumors of peace talks with the Taliban have grown, many activists fear that women's rights could be sacrificed in the name of making peace with the conservative insurgents.
Seeking justice The murder came at an uncomfortable time for Afghan President Ashraf Ghani. At the time he was preparing for his first official trip to the United States to make the case that Afghanistan is committed to progress and worthy of continued international aid. The incident also dampened efforts by U.S. officials to highlight successes made in the country.
Ghani condemned the killing as "heinous" and established a commission to investigate the attack and police officers' failure to prevent it.
Nearly 30 men have been arrested in connection with the killing, but videos appear to show many more involved.
Thirteen police officers and officials were sacked in the attack's aftermath, and several high-ranking government officials faced criticism from media, activists, and others in the government after they said it was justified by Islam.
Bringing justice to those involved is key to helping protect women in the long term, said Shinkai Karokhel, a member of parliament and the commission investigating the murder.
"If the people involved in this murder are convicted, then it can stop more possible incidents," she said.
While some may have been hesitant to wade into the debate because of the religious nature of the attack, the actions of many women's rights activists have helped to embolden Afghan women, she said.
"When women participated in the burial ceremony of Farkhunda, that turned the issue into a broader call for women's rights in Afghanistan," Karokhel said.
In a statement released nearly a week after Farkhunda's death, the U.S. Embassy in Kabul condemned the killing and said the American government aims to help improve gender equality and prevent violence against women.
"Afghan women, like women around the world, have the right to live their lives free from fear of harassment, insecurity, and the threat of violence," the statement said. "We are committed to working with civil society, as well as the Government of Afghanistan, to make that vision a reality."
Bashardost said the real test of progress will be whether the attention on women's rights caused by Farkhunda's killing will outlast the media spotlight.
"So far the reaction by Afghans and people around the world has been huge," she said. "But this should not be an occasional reaction or a topic for just few days. There must be a focus on women's rights forever."
Zubair Babakarkhail contributed to this report.
smith.josh@stripes.com Twitter: @joshjonsmith