Afghan terrorist group to back Islamic State against Taliban
by
Carlo Munoz
July 7, 2015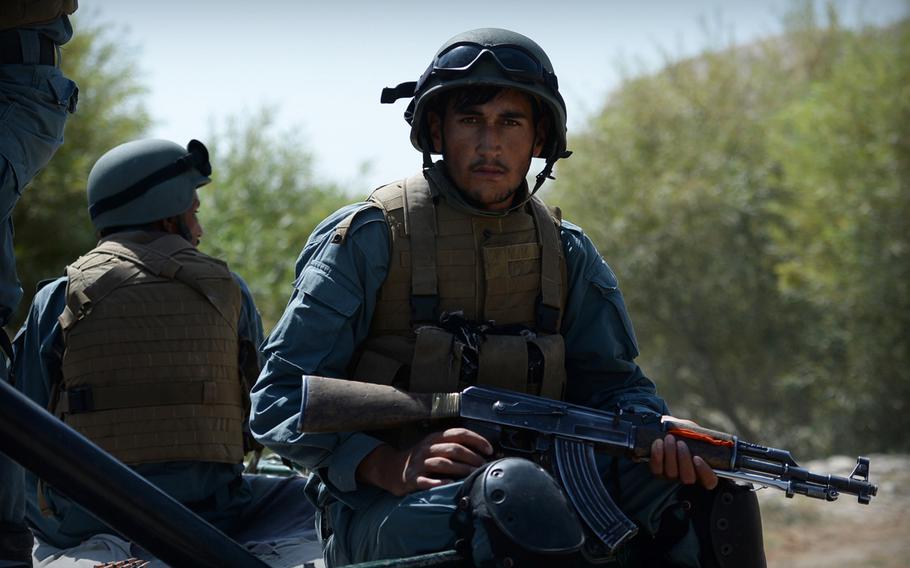 KABUL, Afghanistan — One of Afghanistan's largest insurgent organizations is joining forces with the Islamic State group to battle the Taliban for control of the country, prompting the Afghanistan's intelligence agency to create a special unit to combat the new threat.
Former Prime Minister Gulbuddin Hekmatyar, leader of Hezb-e-Islami and a major player through more than 40 years of Afghan wars, has ordered his forces to back Islamic State efforts to expand its influence in the country, according to a statement on the group's website.
"The Taliban views the Hezb-e-Islami as their top enemy" Hekmatyar said in the statement. "If there is fight between the Taliban of the Emirate and Islamic State, then support the Islamic State because the Taliban are the sworn enemies of the Hezb-e-Islami," he said.
Meanwhile, The Associated Press reported that an airstrike Monday killed the second-highest figure among militants loyal to the Islamic State in Afghanistan.
The AP reported National Security Directorate spokesman Abdul Hassib Sediqi as saying Gul Zaman and six others were killed in the Achin district of Nangahar province.
Hezb-e-Islami, which operates mainly in the north and east is considered the second-most powerful terrorist organizations in Afghanistan behind the Taliban, responsible for carrying out many terrorist and insider attacks against U.S. and NATO forces.
Hekmatyar fled Afghanistan for Iran in 1997 after the Taliban seized Kabul and stayed there for six years. After returning to Afghanistan, he emerged as a major insurgent figure in 2008. His fighters are believed to have carried out numerous high-profile attacks, including the January 2008 downing of a helicopter carrying U.S. troops in Laghman province.
More recently, in April, his group claimed credit for an insider attack against coalition forces in eastern Afghanistan. That attack ended in the death of U.S. Army Spc. John Dawson, the first official U.S. casualty since the official end of combat operations last December.
The group sent an unofficial delegation to Kabul in 2010 to discuss peace talks with Afghan and Western officials, but the initiative fell apart because of Hekmatyar's insistence that the government of President Hamid Karzai be replaced.
Hekmatyar's statement comes as Afghan and American military leaders are becoming increasingly concerned about the Iraq- and Syria-based organization's attempts to make inroads into Afghanistan.
Reported clashes between insurgents affiliated with Islamic State and the Taliban in eastern Afghanistan have only underlined those worries.
The Islamic State group "is a serious threat to the security of our country, and our personnel are working on this very seriously," National Directorate for Security spokesman Haseeb Sediqi said in announcing the new anti-terrorism unit.
The unit, part of the NDS, will be responsible for implementing the country's new strategy to prevent the Islamic State from establishing a presence in Afghanistan and Central Asia, Sediqi said.
He said that Islamic State has gained footholds in Helmand, Nangarhar and Farah provinces and that there have been skirmishes between the militants claiming to belong to the extremist group and government troops in Nangarhar.
"Coalition commanders in northern Afghanistan have seen shifting loyalties by disillusioned Taliban commanders and other insurgent groups to Islamic State, attracted to the group's spectacularly violent push across the Mideast," Brig. Gen. Andreas Hanneman, the Train Advise Assist Command-North commander, said in April.
But NATO commanders are less convinced of an Islamic State presence in Afghanistan. They say that some Taliban guerrilla bands have "rebranded" themselves in order to garner more funding and support, but they have yet to see any significant presence on the ground.
NATO spokesman Brig. Gen. Wilson Shoffner played down reports of Islamic State expansion into the country during a briefing last month at NATO headquarters in Kabul.
Besides recruiting efforts along the country's border regions, the terrorist group's influence in Afghanistan is limited at best, he told journalists.
Islamic State "is not operationally significant" in Afghanistan, Shoffner said.
Maj. Gen. Sean Swindell, head of U.S. and NATO special operations in Afghanistan, said last month that his forces had detected communications between Afghan insurgent groups and Islamic State leaders, "but we are not seeing what you are seeing in Iraq or Libya."
In June, the Taliban posted a letter to Islamic State chieftain Abu Bakr al-Baghdadi warning the group to stay out of Afghanistan, saying it would react "harshly" if anyone tried to undermine its achievements during the 14-year war here.
Zubair Babakarkhail contributed to this story.
munoz.carlo@stripes.com Twitter: @natseccarlo