Afghan forces face Taliban onslaught after US Marines depart
---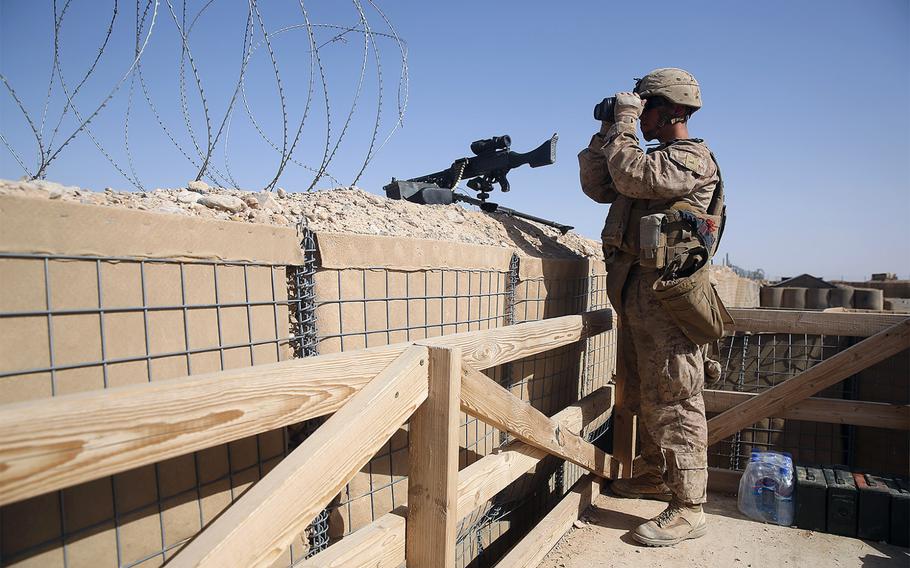 KABUL — An onslaught by hundreds of Taliban militants across a region of southern Afghanistan only recently vacated by U.S. Marines is testing the ability of government forces to secure the country's most volatile areas ahead of NATO's imminent withdrawal.
While years of operations by international and Afghan forces have left the Taliban largely restricted to guerilla-style operations, the offensive in Helmand province comes as the Afghan government seeks to prove that it can prevent insurgents from expanding their influence by force.
For nearly the past week, as many as 800 insurgents staged attacks across several districts in Helmand province, including the strategic district of Sangin, Afghan officials said.
"What's scary is that for years there was a direct correlation between the presence of foreign troops and the levels of violence," said Graeme Smith, senior analyst with the International Crisis Group. Operations by coalition forces generally led to higher levels of fighting as foreign troops launched offensive operations and insurgents found plenty of targets to attack, he explained. "But now we're seeing continued escalation in violence even as the number of foreign troops diminishes. This fighting season is shaping up to be as bad as 2011," when the U.S. troop "surge" in Afghanistan came to a close.
The last U.S. Marines pulled out of Sangin last month, after more than three years of bloody fighting. Before that, British troops also took high casualties in an attempt to subdue a stubborn insurgency in the Taliban stronghold.
There were conflicting casualty counts as the fighting continued on Wednesday. Omar Zwak, a spokesman for Helmand's provincial governor, told Stars and Stripes that at least 40 Taliban had been killed and another 40 injured. At least 22 Afghan soldiers and police had died, along with more than 30 civilians, he said.
Interior Ministry spokesman Siddiq Siddiqi put the number of Taliban dead at about 100. The offensive resulted in "no major loss of territory," he asserted.
Some 2,000 families were reported to have been displaced by the fighting.
By Tuesday, Zwak said, the Taliban thrust had been blunted and government reinforcements had arrived and were beginning clearing operations.
Sangin and surrounding areas are situated just north of the urban areas of Kandahar and Lashkar Gah, in Helmand. The relatively fertile area along the Helmand River has been a base of support for the Taliban and other insurgents.
"The main reason the insurgents wanted to capture strategic points in Sangin was that would allow them to threaten other districts," he said. "But they were pushed back."
Qari Yousaf Ahmadi, the spokesman for the Taliban in southern Afghanistan, offered a different account, claiming that only five insurgents had died while inflicting more than 50 casualties on the Afghan National Security Forces. He said that the insurgents held ground in Sangin, Kajaki, and Nawzad districts.
"Our target is not only capturing these districts, but giving a blow to the enemy," he said.
Militants concentrated on trying to capture the Sangin district government center, which would be a symbolic blow to the central government, said a Taliban commander, who spoke to Stripes on the condition that his name not be used for his own security.
"There are some enemy check posts in the higher locations that are still resisting, but we focus on capturing the district center, because if we capture the center, the remaining areas will come under our control easily," he said.
Citing Afghan officials, a spokesperson for NATO's International Security Assistance Force said all checkpoints in Sangin are under ANSF control.
"The Afghan National Security Forces have responded entirely on their own to insurgent attacks in Sangin," ISAF said in a statement provided to Stripes. "There are currently no ISAF troops involved."
The area is crucial for the Taliban because it serves as an economic hub that allows the insurgent group to maintain control over the drug trade, said the ICG's Smith.
"Unfortunately, we predicted district centers would come under pressure because the Afghan forces are stretched fairly thin and it's difficult for them to move things logistically as supply lines get stretched and the Taliban cut off the roads," he said.
In previous years, international troops, and especially air power, were able to prevent the Taliban from massing their fighters, said Smith, who spent many years living in southern Afghanistan. That kept insurgents from overrunning urban centers, but it led to more guerilla-style warfare.
"Even though (international troops) succeeded in holding those capitals, it stirred up a lot of resentment," Smith said.
Zubair Babakarkhail contributed to this report.
smith.josh@stripes.com Twitter: @joshjonsmith
---
---
---
---