A decadelong program to 'turn the tide' in Afghanistan is ending, long after military shifted its focus
by
J.P. Lawrence
August 17, 2019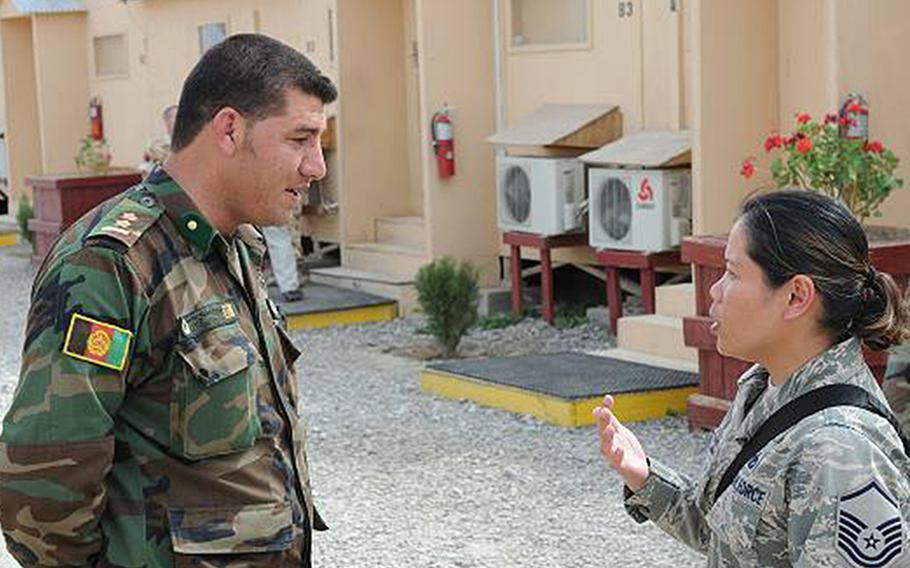 KABUL, Afghanistan — A 10-year military program aimed at creating cultural experts in Central Asia will shut down next year, ending what some Afghanistan veterans said was a once-promising effort that fell victim to shifting Pentagon priorities and leadership changes.
The Afghanistan-Pakistan Hands program trained about 1,000 troops in local languages before sending them as advisers on a four-year commitment with overseas rotations, a tour that promised to build expertise but chased away those worried it would kill their chances at reaching career milestones critical to promotions.
Gen. Joseph Dunford, Jr., chairman of the Joint Chiefs of Staff, earlier this year approved ending the program by fall 2020, said Richard Osial, his spokesman.
"Sunsetting the program in no way reduces our commitment of support to our Afghan partners or our emphasis on the importance of cultural training and expertise," Osial said.
The program's end comes as the U.S. looks to extract itself from its longest war, and as the Pentagon shifts focus to competition with Russia and China and to domains such as cyber and space.
But AfPak Hands has faced criticism since it was founded in 2009 with the expectation that training troops to speak Dari, Pashto or Urdu could give the war effort an edge in navigating regional complexities and more closely advising and influencing local partners.
Early recruits believed the program could help "turn the tide" and bring peace to Afghanistan, they said in Army statements at the time, but some who answered the military's call for "the best and the brightest" have since soured on program, saying it was stifled.
"The Army would rather lose a war than change its bureaucracy," said one former Hand, retired Air Force Col. Tim Kirk.
There were lofty ambitions at the outset, recalled Kirk, who from 2009 to 2010 was a speechwriter for then-Chairman of the Joint Chiefs of Staff Adm. Mike Mullen, the man who conceived the program.
But Hands would find their careers thwarted by their participation, the Special Inspector General for Afghanistan Reconstruction said in June. Some also complained that commanders did not allow them to do what they trained for.
When Kirk deployed in 2010, he said, his new boss pointed to a desk and said his job was writing reports like his predecessor had done. Kirk thought then, "I didn't sign up for this program to come and do these PowerPoint slides."
Kirk pointed to Gen. Stanley McChrystal's sudden 2010 firing from command of coalition forces in Afghanistan, shortly after the first cohort of Hands deployed there, as the moment the program went off the rails.
A vocal proponent of counterinsurgency, McChrystal had been the Hands' strongest champion, Kirk said.
Without the general's backing, they had no "top cover" when serving under officers who distrusted them or doubted their uncommon mission, Kirk and other Hands said.
"It never realized its full potential without McChrystal," Kirk said.
Little incentive, little support Over time, many would regard assignment to the program as a hindrance to career progression.
"The institutional bureaucracy of the military promotion system does not support the survival of programs like the (AfPak) Hands," said retired Navy Capt. James Muir, who from 2010 to 2012 oversaw the in-country office that managed the program in Afghanistan.
The lengthy commitment and the tempo of deployments pulled officers away from normal promotion paths, which require rotations through specific leadership positions.
"Doing a good job and advancing the national interest on the ground in Afghanistan won't advance your career, because you missed your window to be a battalion training officer," Muir said.
With few incentives to volunteer, by 2018 airmen were turning down retention bonuses and leaving the service rather than stay on and risk being assigned as a Hand, the chairman of the Air Mobility Command Aviation Retention Task Force wrote in Air Force Times last summer.
Christy Barry, in 2010 an Air Force lawyer in the first cohort, left AfPak Hands after one tour. She was the Hand who said the program could "turn the tide of the war."
"I felt that I wasn't getting the support (and continuing education) to be a better AF/PAK Hand, but yet was expected to still deploy again (knowing it would hurt my career) so I opted to separate from service," Barry said in an email.
Barry said that some Hands, who were forced into the program, had little drive to excel, and that the training was not as good as what she later received in Afghanistan as a civilian adviser in 2015. Reports by the Pentagon found the program's language training was better suited for soldiers in the field, rather than ministerial-level advising.
Despite the many challenges, Barry and some other participants were able to do work they were proud of.
The program mostly served its intended purpose, said Air Force Col. Steven R. Heffington, whose four years in the program included a stint advising Afghan police in 2014.
"Did any single AfPak Hand change the course of the conflict significantly? Probably," Heffington said. "Did the weight of their combined efforts, deployed and at home, have a positive impact? Almost certainly."
Air Force Lt. Cols. Darin Loftis and Frank "Bruiser" Bryant, gave their lives to the program. Loftis was gunned down while on duty in Afghanistan in 2012; Bryant in 2011.
End of an era There remain about 50 AfPak Hands, down from 200 when the program began, said Army Lt. Col. William J. Girard, the program's manager at U.S. Central Command.
By the end, the services argued they never envisioned having to send troops to staff the AfPak Hands for 10 years, he said, and newer efforts like the Army's Security Force Assistance Brigades took a higher priority.
SFAB members typically serve 36-month tours in a program that, unlike AfPak Hands, is Army-specific. Still, even with bonus offers and promotion opportunities, the Army has struggled to recruit and retain experienced soldiers for that advisory mission, the Special Inspector General for Afghanistan Reconstruction said recently.
The latest crop of Hands will deploy to Afghanistan for a year this fall, but their commitment to the program will end when they return home. Girard is working to find outgoing troops rewarding follow-on assignments, he said.
"We made a commitment," he said. "We're doing our best to live up to that obligation."
For Kirk and others, the program represented a move by the U.S. away from trying to kill or capture "bad guys" in Afghanistan to trying to address root causes.
"It didn't surprise me at all that this was poorly executed," Kirk said. "The military is always going to be a place where you get a gold star for killing a bad guy [but not] for avoiding making a bad guy."
At its inception, the initiative reflected "the notion that peace in Central Asia will not likely be achieved down the barrel of a gun, but rather through the lens of understanding," one high-ranking officer wrote at the time.
That same man, retired Adm. James Stavridis, more recently noted that the program's end comes as U.S. and Taliban leaders hash out a deal to end America's 18 years of war in Afghanistan. The agreement would reportedly leave few if any advisers behind.
"I think this was a worthy effort at the time," Stavridis said of the AfPak Hands program. "Going forward it appears unlikely we will retain a significant presence in Afghanistan."
lawrence.jp@stripes.com Twitter: @jplawrence3