'A blistering series of operations': Special operations task force earns nearly 50 combat awards in one deployment
---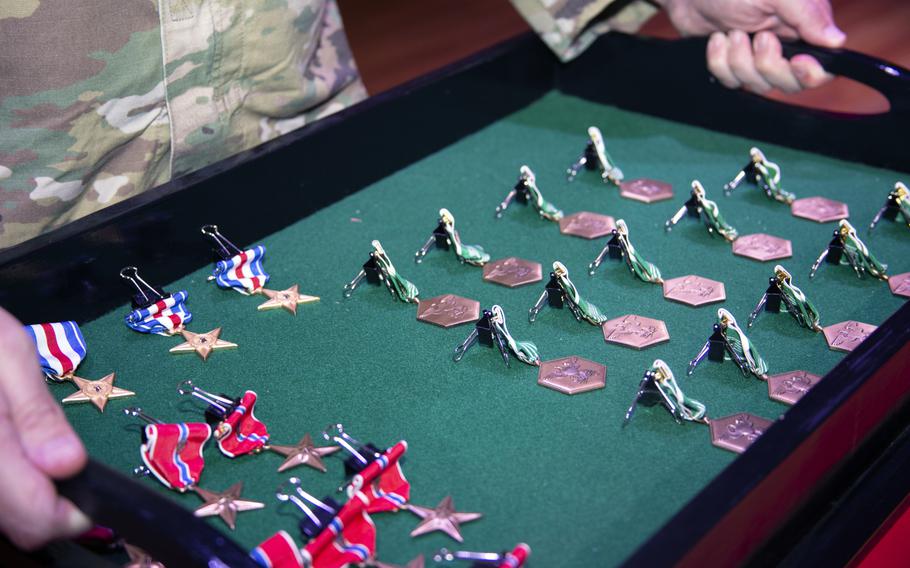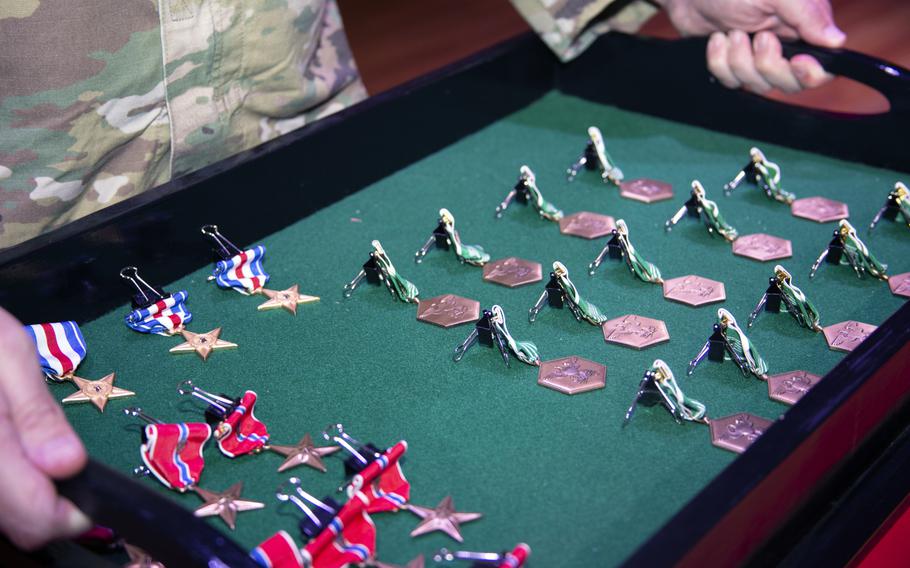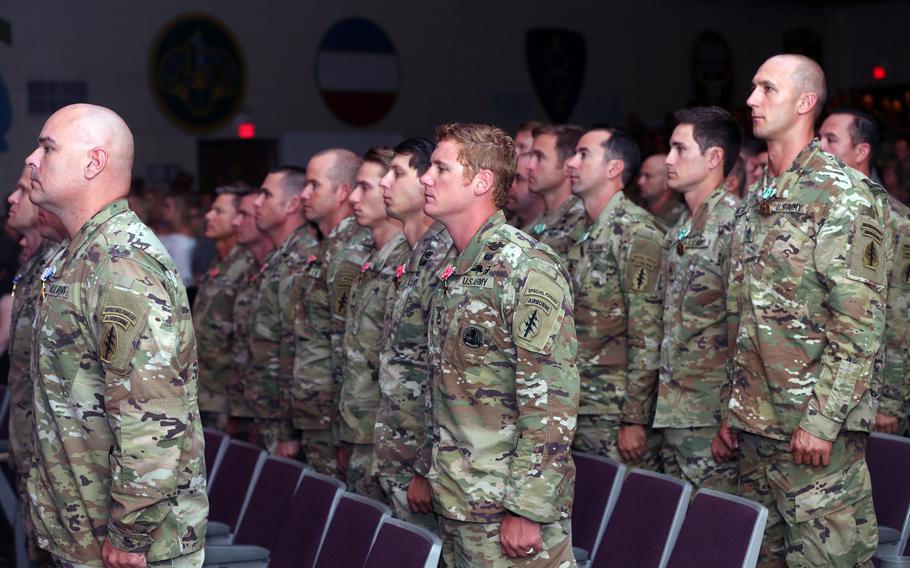 Members of a special operations task force distinguished themselves with "exceptional heroism, valor and dedication" on a recent six-month deployment to Afghanistan, officials said last week.
For their efforts, the soldiers of Special Operations Task Force 102 received five Silver Star medals, seven Bronze Star medals with Valor devices, 15 Army Commendation medals with Valor devices and 21 Purple Hearts. The medals were presented last week at a ceremony attended by soldiers, family and friends at Fort Carson, Colo.
"We come together as family and unit to honor the heroism and sacrifice of our soldiers and their families," Lt. Col. Justin Hufnagel, 2nd Battalion, 10th Special Forces Group (Airborne) commander, said in a statement. "For 170 days of a blistering series of operations, we focused on disrupting the enemy in their strongholds."
The task force was made up of soldiers assigned to 10th Group, 19th Special Forces Group (Airborne), 9th Psychological Operations Battalion and 71st Ordnance Group (Explosive Ordnance Disposal). U.S. Army Special Operations Command's Lt. Gen. Francis M. Beaudette, who presented the 48 awards, said he was "incredibly humbled" to be in their presence.
"These Green Beret heroes … embody all the values and attributes we hold dear in the ARSOF community," Beaudette was quoted as saying at the event.
The families of Sgt. 1st Class Will Lindsay and Sgt. Joseph Collette, two soldiers killed in combat in northern Afghanistan in March, received medals awarded posthumously to their loved ones.
Lindsay, a 33-year-old Green Beret with 10th Group, was awarded a Silver Star, the third-highest military combat decoration. Collette, 29, an EOD tech with the 71st Ordnance Group's 242nd Ordnance Battalion, received a Bronze Star with Valor.
Two other 10th Group members — Master Sgt. Micheal Riley and Sgt. 1st Class Elliott Robbins — were posthumously awarded Army Commendation medals with Valor. Riley was killed by small arms fire during combat operations in southern Uruzgan province in June. Robbins, a medic and new father, reportedly died in a noncombat incident that same month in Helmand province.
"This ceremony brings meaningful closure to such an incredible group of warriors," said Beaudette. "This is a warrior battalion, within a warrior formation and we get a sense of their love of country, unit and their teammates."
With three combat deaths and a noncombat fatality, 10th Group's 2nd Battalion suffered the most fatalities of any unit in Afghanistan this year, which has already been the deadliest year for U.S. forces in Afghanistan since 2014, when large-scale combat operations ended. Two soldiers with the 71st Ordnance Group were also killed alongside 10th Group soldiers there this year.
The U.S. mission in the country has focused on pressuring the Taliban on the battlefield into meaningful negotiations during peace talks that were abruptly ended by President Donald Trump in early September.
With most of the roughly 14,000 U.S. troops deployed to the country assisting NATO's training and advising mission, a relatively small number go into combat or serve on the front lines of the war. Most who do are special operations troops taking part in unilateral or joint operations with their Afghan counterparts as part of a separate U.S. counterterrorism mission.
SOTF-102 carried out "enduring, complex and sensitive operations" during its deployment, the 10th Group statement said. Videos played during the awards ceremony told the stories of several courageous acts during those missions, which the statement said were able to "penetrate the enemy's defenses."
"The task force produced unmatched effects against the Taliban, Islamic State of Iraq and Syria-Khorasan (ISIS-K), Haqqani, and Al-Qaeda," the statement said.
Very little has been made public about those missions or their effects. In recent years, the U.S. military gradually ceased making public most of the measures of progress in Afghanistan, and last year stopped publishing regular assessments of which districts in the country are under government or Taliban control, or neither.
Meanwhile, militant groups have gained attention through stunning attacks in crowded public areas in large cities, and by carrying out deadly attacks on Afghan forces posted at checkpoints throughout the country.
The U.S. has aligned its efforts in Afghanistan to prioritize the prevention of high-profile attacks, disrupting insurgent and terrorist networks, and defeating ISIS-K, the Pentagon said in a report to Congress in June.
The awards presented to the special operations task force members recognized their contributions to that fight, said Hufnagel, the 2nd Battalion commander.
"They earned these awards supporting one another, side-by-side, in battle," he said.
garland.chad@stripes.com Twitter: @chadgarland
---
---
---
---