2 Australian contractors among dozens wounded in Kabul blast
by
Phillip Walter Wellman
March 3, 2018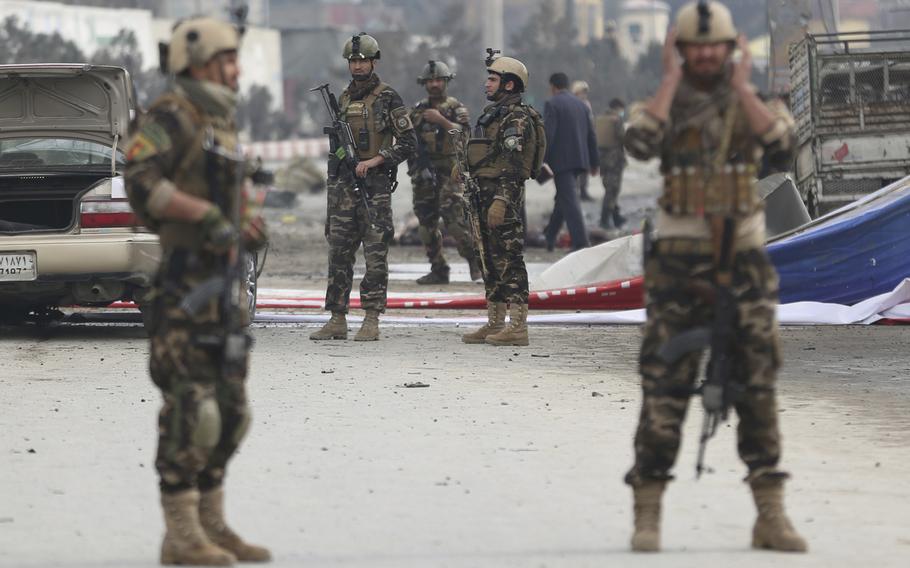 KABUL, Afghanistan — Two Australian security contractors were wounded Friday when a car bomb exploded in the Afghan capital, killing a child and injuring nearly two dozen Afghan civilians, officials said Saturday.
It was originally reported that no foreigners were wounded in the blast that appeared to target a convoy of Australian Embassy vehicles. On Saturday, Australia's Foreign Affairs Minister Julie Bishop said that while "all Australian Embassy staff are safe," two contractors from the country suffered minor injuries.
"The Australian government extends its sympathies to families and friends of people killed and injured by this attack," Bishop said.
In addition to the two injured Australians, the explosion killed a child and wounded 22 civilians, three of whom remained in critical condition on Saturday afternoon, Health Ministry spokesman Wahid Majrouh said. On Friday, the Health Ministry said 14 people were injured in the attack.
Majrouh was unable to confirm the identity of the child killed.
The Associated Press reported Friday that the victim was a young girl, but a mechanic in the Qabil Bay area, where the explosion occurred, told Stars and Stripes that the child was a boy selling vegetables on a horse-drawn cart.
"The horse was badly injured, too," said the mechanic, Masoud, who like many Afghans only uses one name. "It was limping and trying to stand up, but it couldn't."
No group claimed responsibility for the blast, but the Taliban and a local branch of the Islamic State have claimed responsiblity for a string of deadly attacks in the capital in recent months, which have taken a heavy toll on civilians.
The United Nations documented nearly 10,500 civilian casualties across Afghanistan last year, a 9 percent drop from 2016. The number is still significantly higher than pre-2014 figures, when NATO was engaged in combat operations in the country instead of solely training, advising and assisting national forces.
Zubair Babakarkhail contributed to this report.
wellman.phillip@stripes.com Twitter: @pwwellman