With fewer ships at their disposal, Marines turn to allies
by
Steven Beardsley
July 16, 2015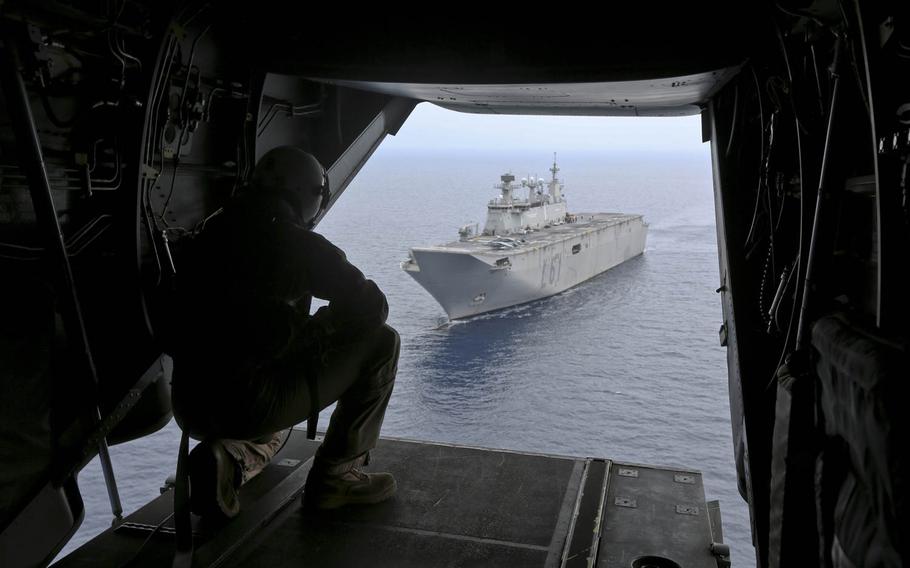 NAPLES, Italy — The HMS Ocean is the flagship of the British Royal Navy, a 22,000-ton amphibious assault ship that can launch helicopters, landing craft and — if U.S. Marines get their way — the MV-22 tilt-rotor Osprey.
The Corps is working with European allies, including the United Kingdom, to see if it can deploy small aviation-based quick-response task forces aboard ships like the Ocean during a crisis. The initiative is the latest effort to offset what Marine leaders say is a lack of sealift for the kind of missions the service is increasingly emphasizing.
The Allied Maritime Basing Initiative would center on quick-response teams with about 150 Marines and a minimum of three to four MV-22 Osprey tilt-rotor aircraft. It comes as Congress is hammering out a contentious defense bill and services are jockeying for more money by highlighting the dangers of operational deficits.
Yet Corps leaders say the new initiative is a creative response to a lack of resources in a region with big challenges. The 2012 attack against an American diplomatic facility in Benghazi, Libya, in which the U.S. ambassador and three others were killed, pointed to the need for fast-response military options in North Africa. The region's danger was underlined last month when a gunman killed 38 people at a beach resort in Tunisia, the majority of them British tourists.
Navy warships rarely spend much time in European or African waters. Alternatives such as converted cargo ships have yet to arrive in the fleet in substantial number. Meanwhile, land bases are limited and don't offer the flexibility of being afloat, said Brig. Gen. Norm Cooling, deputy commander of Marine Forces Europe-Africa in Stuttgart, Germany.
"None of those assets are currently here," Cooling said in a recent phone interview. "What is here that we can use?"
The Marines have singled out ships belonging to five nations so far: The U.K., the Netherlands, France, Spain and Italy. The Corps will test capabilities for the first time in November during the large NATO exercise Trident Juncture, Cooling said, putting Marines aboard the Ocean for two weeks and working on the Spanish amphibious ship Juan Carlos I for several days and then the Ocean for two weeks.
The Navy's aviation arm, Naval Air Systems Command, began working with Marines on the project in February, according to officials. Engineers will collect data and work with counterparts from each nation to certify the ships can work with Ospreys. They'll look at flight decks, aerodynamics and load capabilities. A fully loaded Osprey can weigh more than 60,000 pounds and create significant heat on takeoff and landing.
Hangar space, elevator availability and resources for maintenance also will be looked at, according to the command. Marines landed an Osprey on the Juan Carlos I last year and are already familiar with some of the other ships. Some ships may have to make adjustments to handle the Osprey, Cooling said.
"Some can do it right off the bat and some need modifications, and obviously that will be the decision of our allies about whether they choose to take that expense or not," Cooling said.
The general said even smaller foreign ships could be certified for Osprey flight operations, something that could come in handy for moving officials and resources between allied ships around an operation.
For years the Marines have said they need more ships to meet the demand from global commanders. With little relief in sight, they've created land-based task forces in Spain, Romania and Sicily. A heavy-weapons company is slated to arrive in Bulgaria later this year.
The Corps is also looking at adapting its large pre-positioning ships — cargo ships, essentially — to house Marines and handle Ospreys if they are needed in a pinch.
Marine leaders consider both alternatives stop-gaps to deploying more conventional warships to the region. Putting Marines on foreign ships is a similar workaround, Cooling said. "It gives us options we wouldn't otherwise have."
Twitter: @sjbeardsley