With eye on China and Russia, Foggo relinquishes Navy command with call for new Europe strategy
by
John Vandiver
July 17, 2020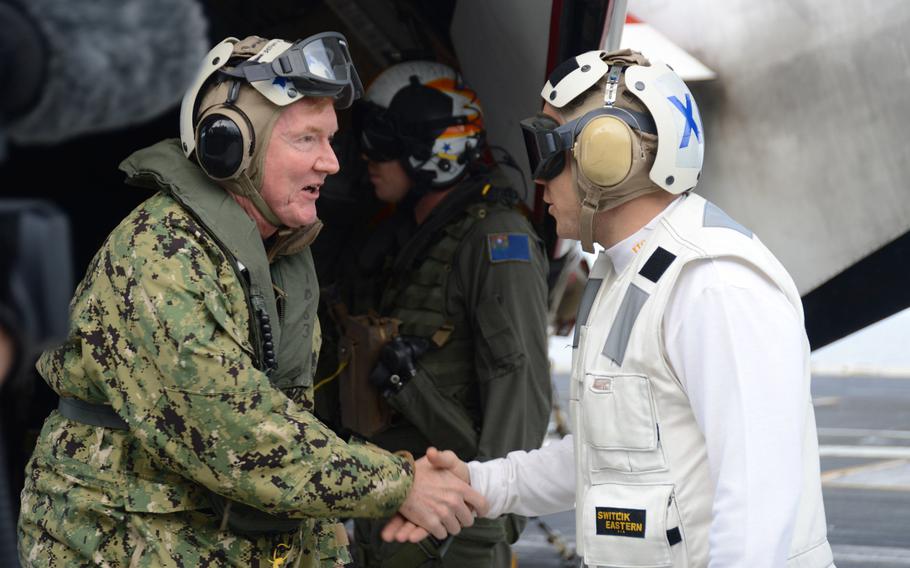 NATO needs a new maritime strategy to deal with the resurgence of Russia's submarine force and China's emergence as a military factor in Europe, the outgoing U.S. naval commander on the Continent said.
Adm. James Foggo, who relinquished command Friday of U.S. Naval Forces Europe-Africa, said the security situation has changed dramatically in the nine years since allies last crafted a formal sea strategy.
The current plan "misses the return, or the resurgence of the Russian submarine force … it misses the rise of China as a great power (and) it misses completely the illegal annexation of Ukraine," Foggo said in a phone interview ahead of Friday's change of command ceremony at Navy headquarters in Naples.
"That's not a criticism of NATO. That's just something that, you know, I'm making my colleagues aware of," he said. "I think we need to do a refresh."
Foggo, who will retire later this summer, is being replaced by Adm. Robert P. Burke, who also will lead NATO's Allied Joint Forces Command. The dual-hatted job means Burke will be a key voice should allies follow Foggo's call to formally adopt a new strategy.
Burke, in a statement Friday upon assuming command, said China and Russia pose "overt challenges to the free and open international order."
"Maritime forces are going to be key in this era of great power competition," he said.
For Foggo, commanding the Navy in Europe capped a 39-year career, much of it focused on countering Russia. As a young submariner in the 1980s, Foggo patrolled the Arctic at the height of the Cold War.
His time in Europe also included command of the Navy's three-star 6th Fleet headquarters in Naples from 2014-16, a time when a post-Cold War period of calm was upturned by a more assertive Russia.
Moscow's 2014 intervention in Ukraine and ramped up naval maneuvers stretching from the Arctic to the Mediterranean are the chief reasons why an updated strategy is needed, Foggo said. So is China, which now describes itself as a near-Arctic state despite being far from it.
China is a "new player in town," Foggo said. For Beijing, the Arctic is an aspect of its "Belt and Road" initiative, which aims to drive global commerce in the decades to come. But for allies, a challenge will be choosing regions to prioritize, Foggo said.
"Is it the Arctic?" he asked. "Is it the Baltics? Is it the Mediterranean? Is it the Black Sea? Or are we going to run to the sound of the guns, which we have a tendency to do?"
The so-called GIUK Gap, a passage in the North Atlantic regarded as a possible choke point in the event of conflict between Russian and allied warships and submarines, is another area of concern for military planners.
"There're a lot of hot spots out there nowadays," Foggo said. But by forming a new strategy, the U.S. and its allies would be better positioned to advocate for resources that can be directed at such threats, he added.
Still, the idea of pushing for a new NATO strategy comes at a time of political upheaval and questions about its durability, given President Donald Trump's frequent criticisms of the alliance. Trump's plan to cut 9,500 troops in Germany has renewed concerns among some in Europe about whether the U.S. remains strongly committed to the Continent.
Foggo, who is known to carry a copy of the alliance charter in his briefcase at all times, likes to say he was literally "born into NATO."
The son of a Canadian military officer, Foggo was born in Moenchengladbach-Rheindahlen, Germany, and spent time growing up on NATO bases.
Despite tensions among allies, he says he remains bullish on NATO's future.
"I'm not buying any of it," Foggo said of questions about NATO's longevity. "I think it'll be around for another 70 years."
vandiver.john@stripes.com Twitter: @john_vandiver