Waste plant blaze triggers pollution warnings at home to Aviano Air Base
by
Norman Llamas
September 22, 2020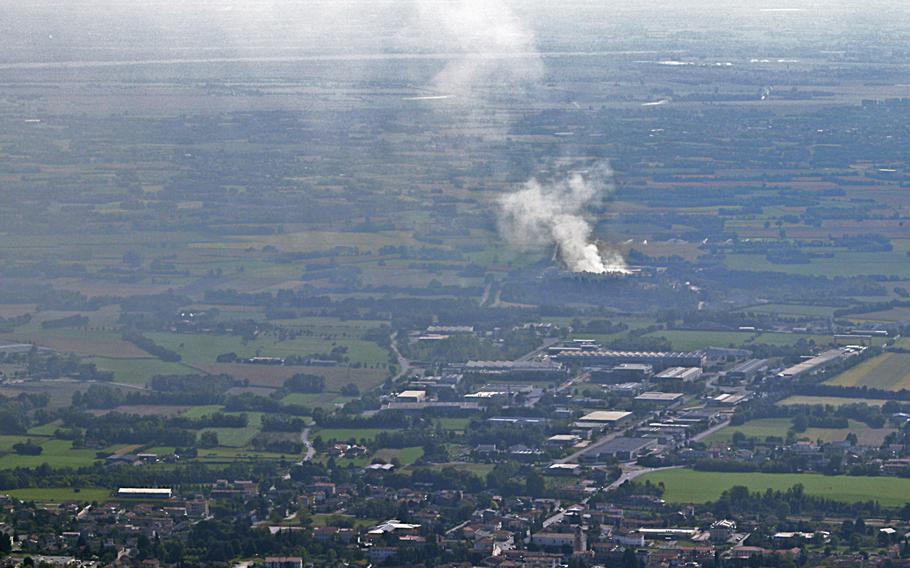 AVIANO AIR BASE, Italy — An Italian ordinance advising residents to avoid touching the grass and soil remained in place Tuesday pending environmental testing, following a weekend fire at a waste facility about 6 miles from the U.S. air base at Aviano.
The blaze, which began Saturday evening, filled the sky with dark smoke that could be seen for miles. One worker at the Servizio Nettezza Urbana Ed Affini plant was injured, Italian media reports said.
Twelve fire brigade teams from nearby towns had largely extinguished the fire by late Monday.
After the fire began, the Aviano municipality issued a warning to residents to remain indoors, close their windows, and avoid gardening and other activities that require touching the ground. It also instructed people to avoid eating garden-grown vegetables, or poultry and eggs produced at home.
Air pollution levels four times above normal were reported Sunday by the local environmental agency. Air quality had returned to normal by Monday, the agency said, adding that regular outdoor activities could resume.
Aviano Air Base carried the city warnings on its website.
"It's important to note that the city ordinance is still in effect and the mayor is waiting for further results on soil quality," wing spokesperson Maj. Sarah Babcock said Tuesday. The Aviano mayor expects to retract the warning in the next day or two pending test results, she said.
A tanker and four airmen from the 31st Civil Engineering Squadron fire department supported the Italian response, Babcock said.
"We're extremely proud of the efforts these airmen played," she said.
The Carabinieri is leading the investigation into the cause of the blaze at the site, the second since October last year, media reports said. They sealed off the area where the fire was centered, but not the full industrial site, where normal business had resumed, they said.
llamas.norman@stripes.com Twitter: @normanllamas