USS Normandy recovers ditched narcotics near Gibraltar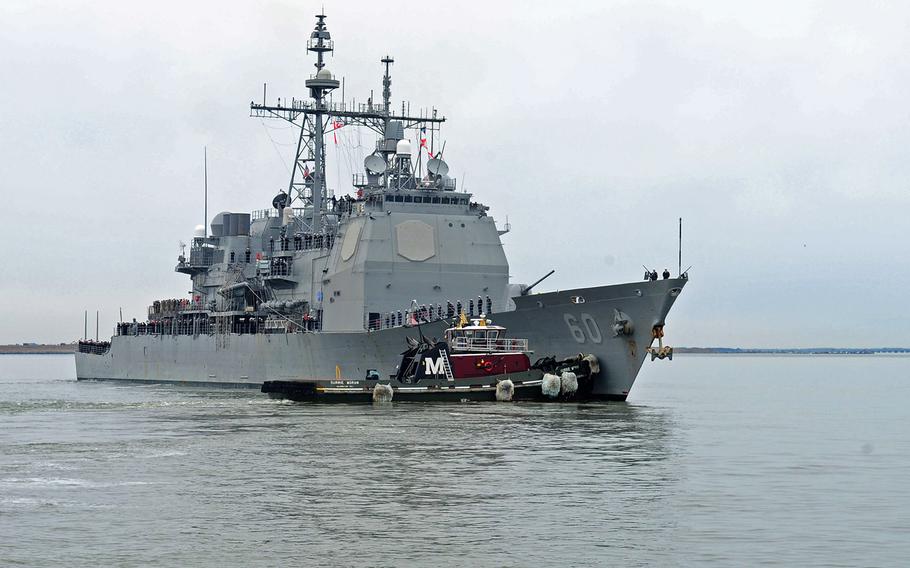 NAPLES, Italy — The crew of a Navy guided-missile cruiser recovered more than 1,000 pounds of narcotics ditched by occupants of a small boat near the Strait of Gibraltar on Saturday.
The USS Normandy was entering the Mediterranean Sea as part of operations with the USS Theodore Roosevelt carrier strike group when an MH-60 Seahawk helicopter operating with the warship spotted a small boat "acting suspiciously," U.S. Naval Forces Europe-Africa said in a news release.
The helicopter, which was on a routine patrol, followed the boat, the command said. The occupants of the boat were then seen tossing packages overboard before speeding away.
The Normandy dispatched a small boat team to the unidentified boat's prior location, where it recovered 17 packages of a substance later confirmed to be narcotics, the command said. The Navy did not identify the drug.
The Roosevelt carrier strike group comprises five ships and more than 6,000 sailors and Marines. It departed from the East Coast last month for an expected eight-month deployment to Europe and the Middle East.