US military plane crashes in Kyrgyzstan
By
Chris Carroll Matt Millham
May 3, 2013
---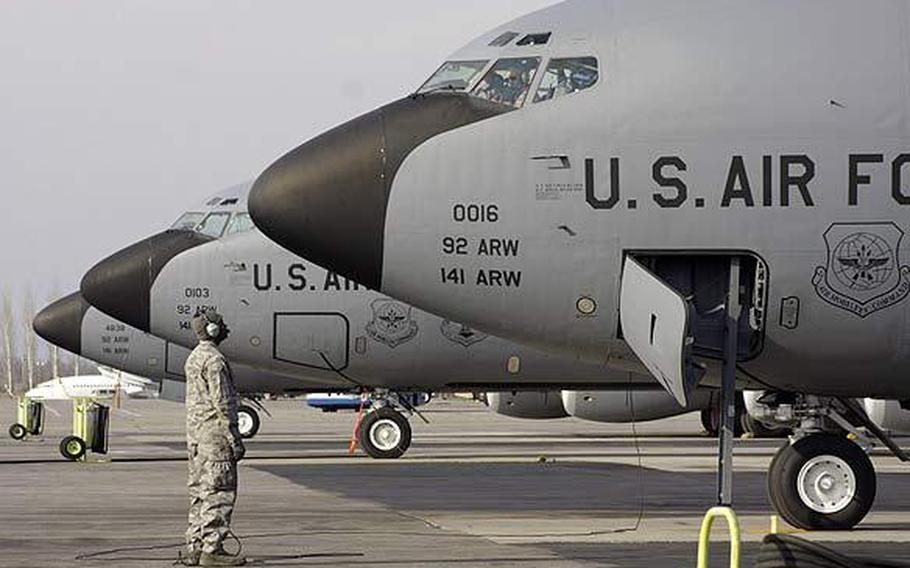 A U.S. military tanker plane crashed Friday afternoon in Kyrgyzstan about 50 miles west of a U.S.-run air base used to fly troops and supplies in and out of Afghanistan, U.S. and Kyrgyz officials said.
"Emergency response crews are on scene," Staff Sgt. Aaron Thomasson, a spokesman at the air base, Transit Center Manas, north of the capital Bishkek, said. The status of the three crew members is unknown, a release from the air base said.
The cause of the crash is under investigation, Thomasson said. The plane was a KC-135 Stratotanker, he said.
The crash happened at about 3:20 p.m. local time near the city of Kara-Balta, a spokesman for the country's Foreign Ministry said.
The Associated Press, however, was reporting Friday that the crash site is near Chaldovar, a village about 100 miles west of the base.
Pieces of the plane including its tail, AP wrote, lay in a grassy field bordered by mountains; the air was infused with the heavy stench of petrol.
A resident of the agricultural and sheep-grazing area told AP that the plane exploded in flight.
"I was working with my father in the field, and I heard an explosion," said Sherikbek Turusbekov. "When I looked up at the sky I saw the fire. When it was falling, the plane split into three pieces."
Since December 2001, the base has been a regional hub for American troops and materiel transiting to and from the war in Afghanistan, roughly an hours' flight to the southwest. The base is also host to a small fleet of KC-135s used to refuel U.S. warplanes flying missions over Afghanistan.
The aging KC-135 is the backbone of the Air Force's refueling fleet, with 414 aircraft in service worldwide, according to an Air Force fact sheet.
Based on the Boeing 707 passenger aircraft, long retired from passenger service in the developed world, the first KC-135 saw service in 1956. The newest KC-135s in the fleet, delivered in 1965, are nearly five decades old.
The jet has been upgraded over the years, and the Air Force last year announced a program to install new engines on the fleet starting this year.
This was the third crash involving U.S. planes supporting operations in Afghanistan in less than a week.
Seven people were killed when a Boeing 747 civilian cargo plane crashed Monday at Bagram Air Base north of Kabul. Two days earlier, four airmen were killed in the crash of an MC-12 aircraft near Kandahar Airfield in southern Afghanistan.
---
---
---
---