US military in Italy mobilizes to help as coronavirus spreads
---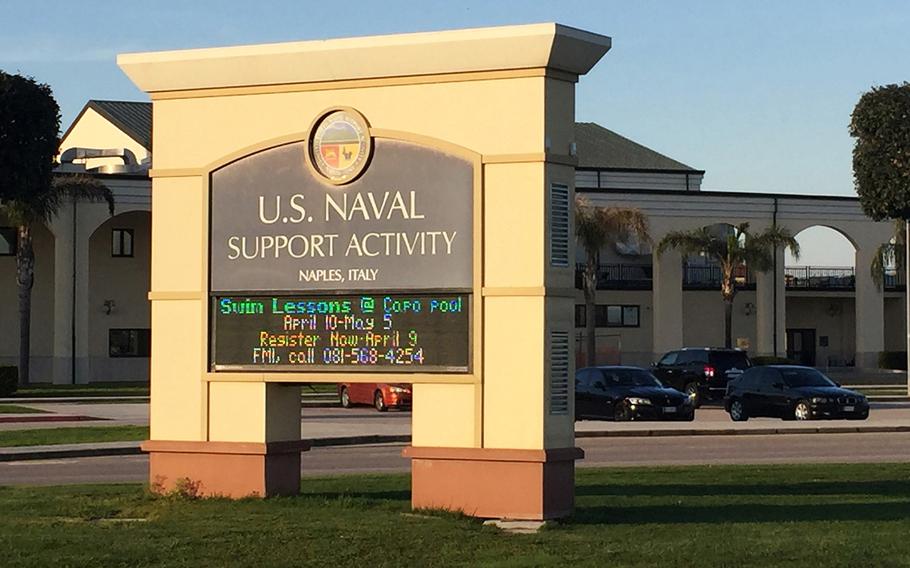 AVIANO AIR BASE, Italy — The Navy is shutting schools, child development centers and base gyms at Naval Support Activity Naples, and cancelling "base group activities" starting Tuesday, joining Army and Air Force efforts to fight the spread of the coronavirus in Italy.
In an announcement posted Sunday on the NSA Naples Facebook page, Navy officials said the measures are "being implemented as a precaution to allow us time to conduct a thorough risk assessment and make well-informed decisions about the best way ahead to protect our community."
A sailor based at Capodichino, near Naples International Airport, was the first U.S. service member in Europe to test positive for the virus, officials announced Saturday. The sailor, who has no dependents, is currently staying at home, NSA Naples said.
No personnel at U.S. Army Garrison Italy, based in Vicenza, or at Aviano have tested positive for the virus.
But Vicenza closed its Department of Defense Education Activity Schools on Feb. 24 and Aviano followed a day later, in line with local guidelines and directives from the Italian government. Other facilities on the Army and Air Force bases in northern Italy, which has seen the worst of the outbreak in the country, are also closed.
A halt on mail coming into and going out of Aviano was expected to be lifted by the end of the week, officials said at a town hall meeting Monday. Restrictions had been placed on postal services at the base because Aviano's mail passes through Milan, capital of the Lombardy region, which as of Monday had more than half of Italy's 9,172 confirmed cases of the virus.
More than 460 people have died and 724 have recovered since the outbreak began in Italy, the health ministry said Monday.
Millions of residents in Lombardy and 14 other central and northern provinces have been placed on lockdown by the government as it scrambles to contain the virus.
Personnel who live in Venezia and Treviso provinces – both included in the lockdown – have been granted permission to commute to work at Aviano, base officials said, but only those with prior approval and on official business should travel to Marco Polo International airport outside of Venice or the airport in Treviso. Leisure travel was still approved through the airport in Trieste, a post on social media said.
USAG Italy in Vicenza told personnel who live in restricted areas such as Padova to stay home Monday while the garrison drafted letters approving work-related travel to present to Italian authorities at roadblocks.
Two people in the city of Pordenone, which is near Aviano and home to hundreds of Americans, tested positive for the virus over the weekend, media reports said.
On a positive note, Air Force officials at Aviano are not considering delays to permanent changes of station, as the Army has done in Vicenza and in South Korea, said Lt. Col. Matthew Lund, the base's staff judge advocate.
Meanwhile, a NATO staff member at the alliance's Brussels headquarters tested positive for the virus late last week. The person, who had traveled to northern Italy on leave before returning to Belgium, was working from home, the alliance said. Immediate work colleagues had also been ordered to tele-work, it said.
Group visits to NATO headquarters have been suspended as a precaution, the alliance said in a statement posted on its website.
Staff writer Nancy Montgomery in Vicenza contributed to this report.
---
---
---
---