US military in Europe eyes changing uniform rules off base
---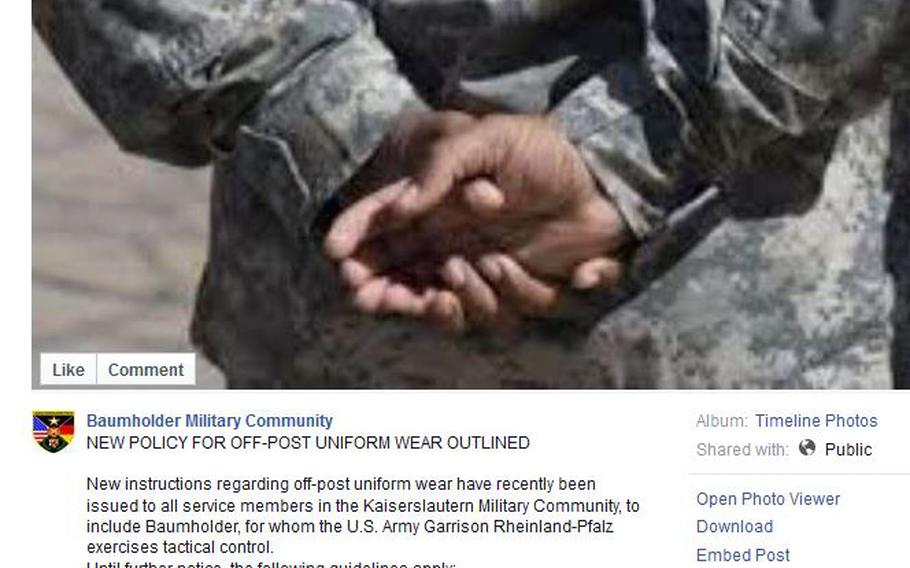 U.S. European Command has directed its Army, Navy and Air Force components to consider limiting where and when their members can wear military uniforms off Defense Department installations in Europe to ensure the safety and security of personnel and their families.
The command did not cite any specific threats against U.S. servicemembers or their families overseas, though the terrorist group Islamic State, which controls parts of Iraq and Syria, has called for "lone wolf" attacks against Americans and Europeans.
In a statement, Navy Capt. Greg Hicks of EUCOM said the command continually assesses threats to its forces and takes "appropriate measures based on those assessments."
"We will not get into the specifics of those threats nor the assessments," Hicks said.
The component commands declined to share details of uniform restrictions being put in place at various posts.
However, the Army garrison at Baumholder, part of the larger U.S. Army Garrison Rheinland-Pfalz, posted new rules on its Facebook page Thursday telling soldiers not to wear uniforms in "off-post commercial areas such as shopping malls, theaters and other high population venues," such as festivals or pedestrian zones.
The rules, which apply to the entire Rheinland-Pfalz garrison, allow soldiers to be in uniform off base for some nonessential or convenience-related stops, but warn personnel to "remain vigilant of their surroundings at all times and make sound judgments regarding the time and location of uniform wear."
---
---
---
---