US F-16s join allies in policing skies above Bulgaria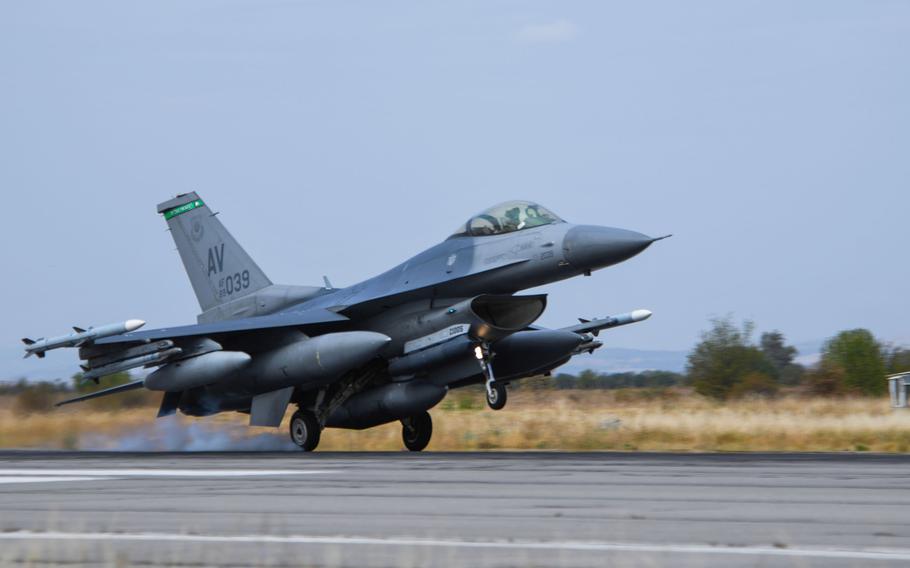 STUTTGART, Germany — U.S. Air Force F-16s launched an air policing mission Monday in Bulgaria, where they will be responsible for guarding NATO airspace along the alliance's southern flank.
The four-week mission puts six F-16 Fighting Falcons at Graf Ignatievo Air Base in the center of the Balkan nation, where they will operate alongside Bulgarian fighter jets, NATO's Allied Air Command said in a statement.
"In addition to ensuring the safety of Bulgaria's skies, the joint patrols will improve the ability of Bulgarian and U.S. pilots to work together," it said.
The F-16s are from the 555th Fighter Squadron, 31st Fighter Wing, Aviano Air Base, Italy, according to United States Air Forces in Europe – Air Forces Africa.
Among their tasks will be quick reaction flights when military or civilian aircraft are in distress or if they do not follow international flight regulations and approach allied airspace.
Allies have long patrolled the skies along NATO's northeastern flank, where a Baltic air policing mission has been in place since 2004. But the air policing campaign in southern Europe is more recent — initiated two years after Russia's 2014 military intervention in Ukraine and annexation of that country's Crimea peninsula.
The mission expanded south amid concerns about a more aggressive Russia. Six Canadian F-18 jets, based in neighboring Romania, are also operating in the region, NATO said.
Both Romania and Bulgaria are modernizing and beefing up their air forces.
During the past couple of years, NATO has lodged complaints against Russia for flying military aircraft without transponders, which makes them invisible to civilian air traffic control radar. In such instances, NATO scrambles its planes to intercept and identify the aircraft.