US Air Force deploys Reaper drones to Estonia for first time on short-term mission
---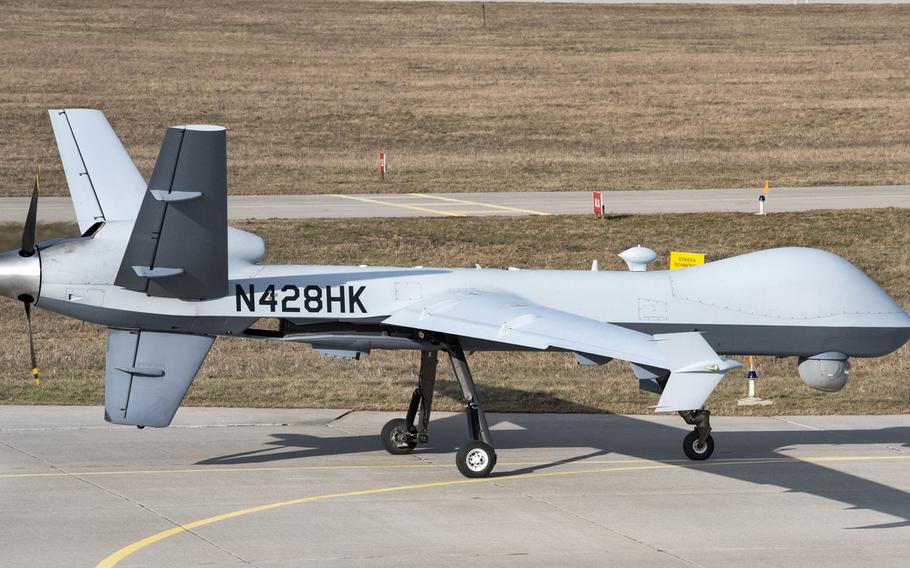 STUTTGART, Germany — U.S. unmanned aircraft are operating for the first time out of Estonia, where they will be temporarily based in support of allied intelligence gathering missions, U.S. Air Forces in Europe said Monday.
MQ-9 Reaper aircraft were moved from Miroslawiec Air Base in northwestern Poland while a runway there is under construction, USAFE said in a statement.
The move, while temporary, could give NATO a surveillance boost around the upper Baltics, where Russia's military is active.
USAFE did not say how many aircraft and airmen were repositioned to Estonia's Amari Air Base, citing operational security. The troops belong to the Air Force's 52nd Expeditionary Operations Group Detachment 2.
"The operations aim to promote stability and security within the region and strengthen relationships with NATO allies and other European partners," USAFE said of the mission.
Since 2018, MQ-9 Reapers have been operating out of Poland. In the past, the unit also has carried out temporary missions in Romania while runway work was done at the Polish base.
The Miroslawiec Air Base could eventually factor into plans for a larger U.S. presence in Poland. A 2019 deal between Warsaw and Washington called for the establishment of a drone squadron in the country.
Negotiations connected to basing more U.S. troops in Poland are ongoing, with officials from both sides last week saying that a deal is imminent.
vandiver.john@stripes.com Twitter: @john_vandiver
---
---
---
---