GALLERY
UMUC graduates juggled military, family duties to earn college degrees
---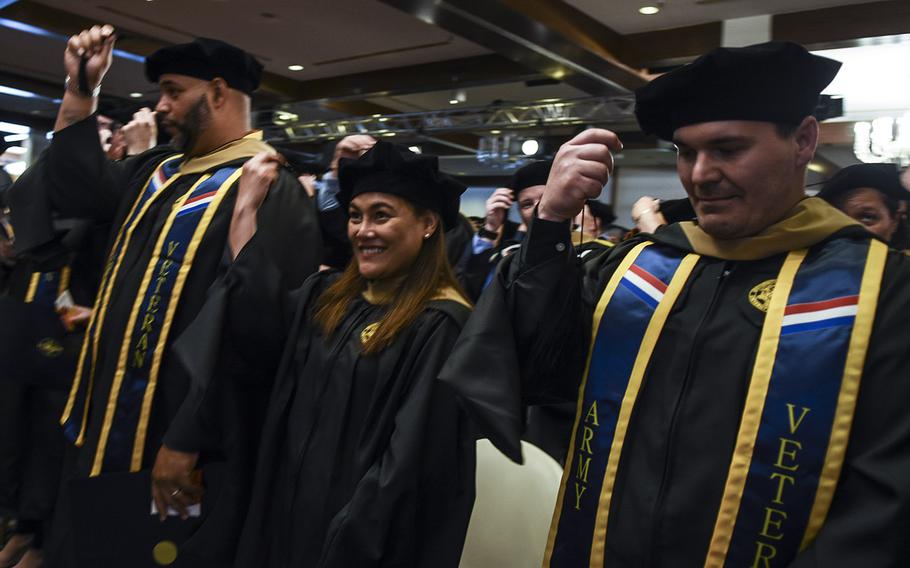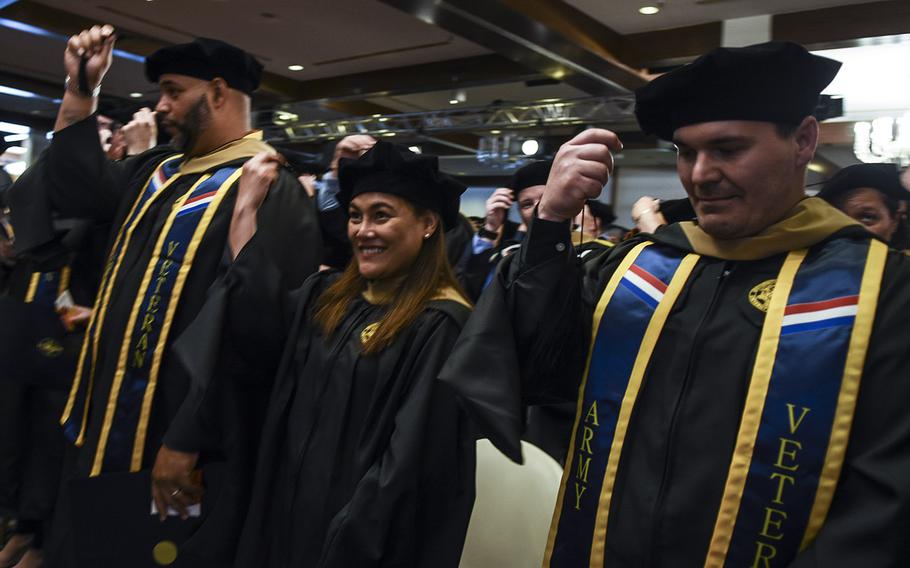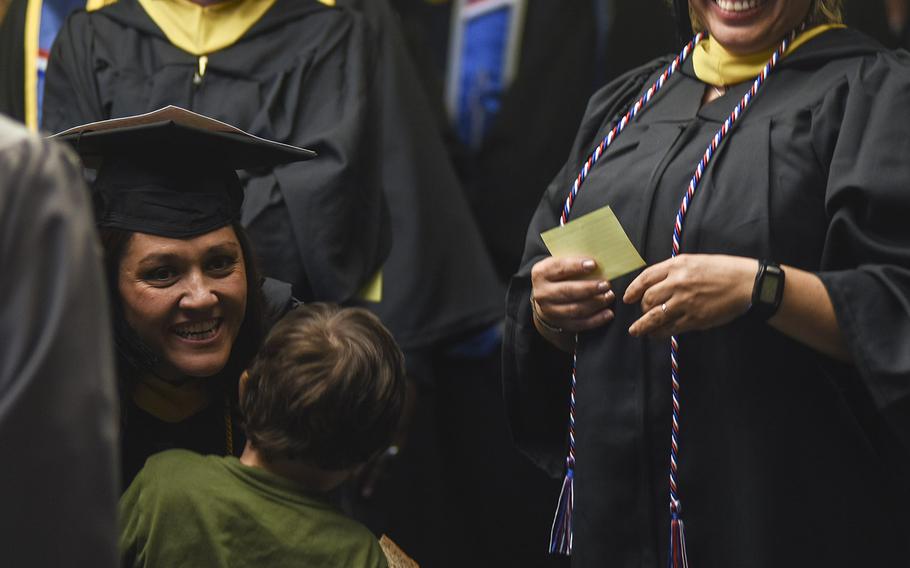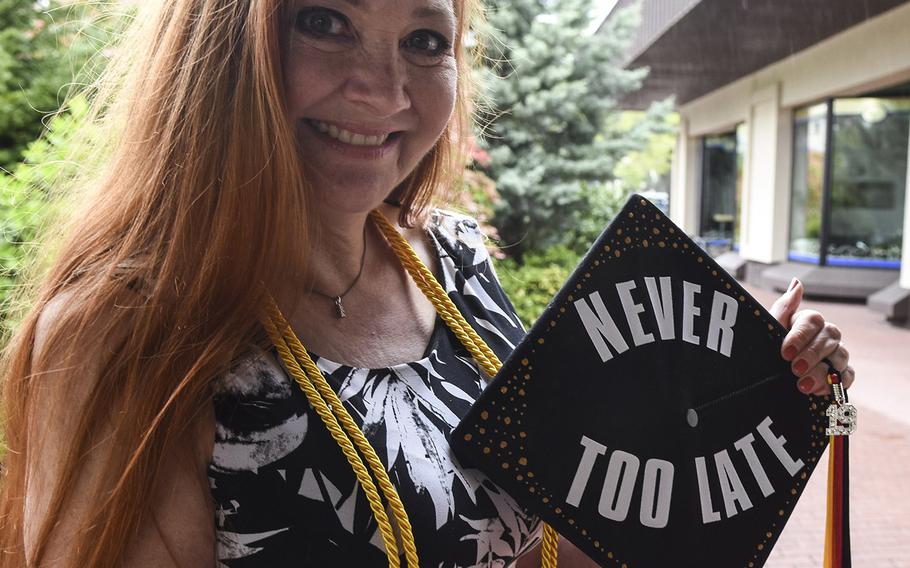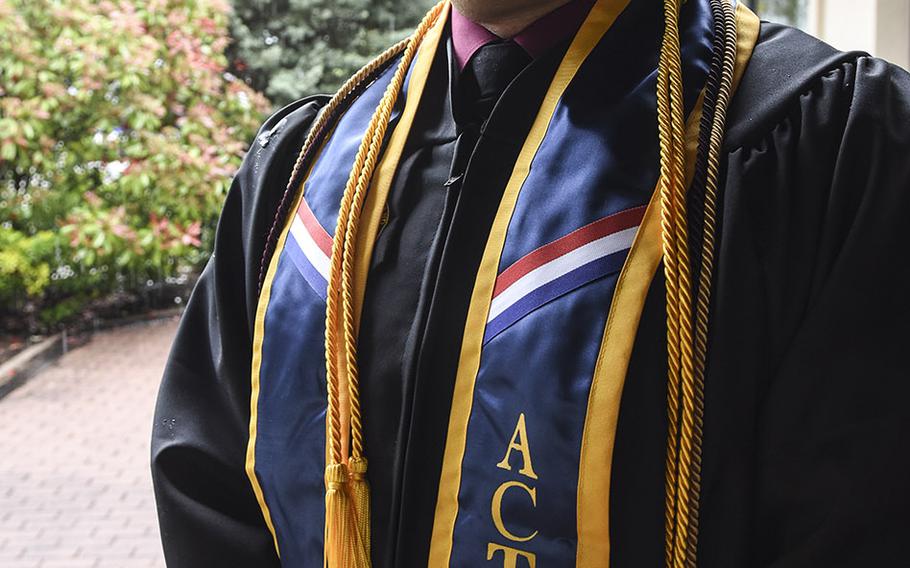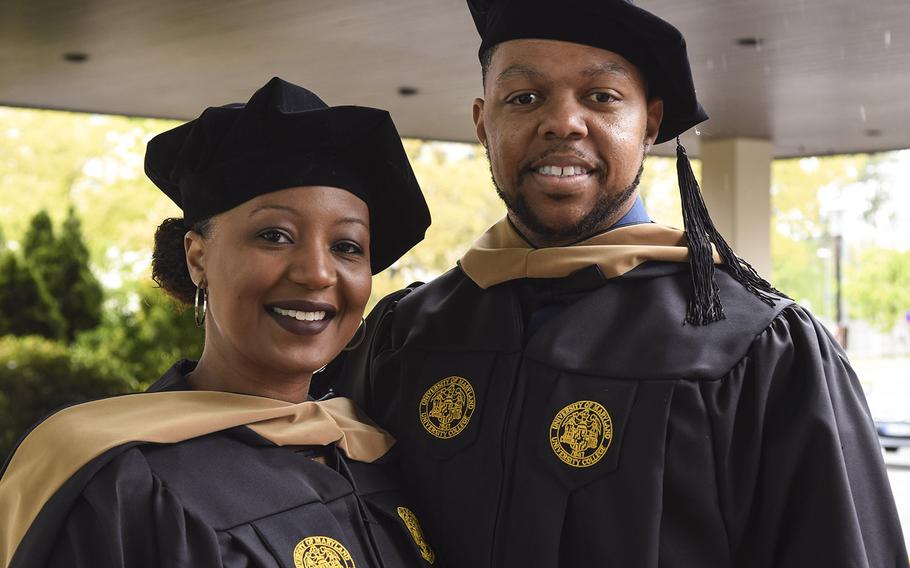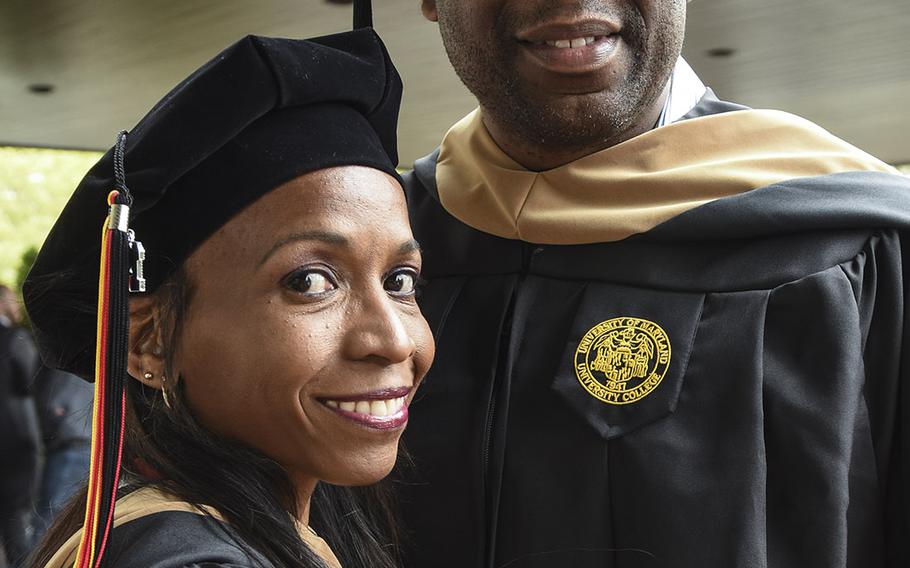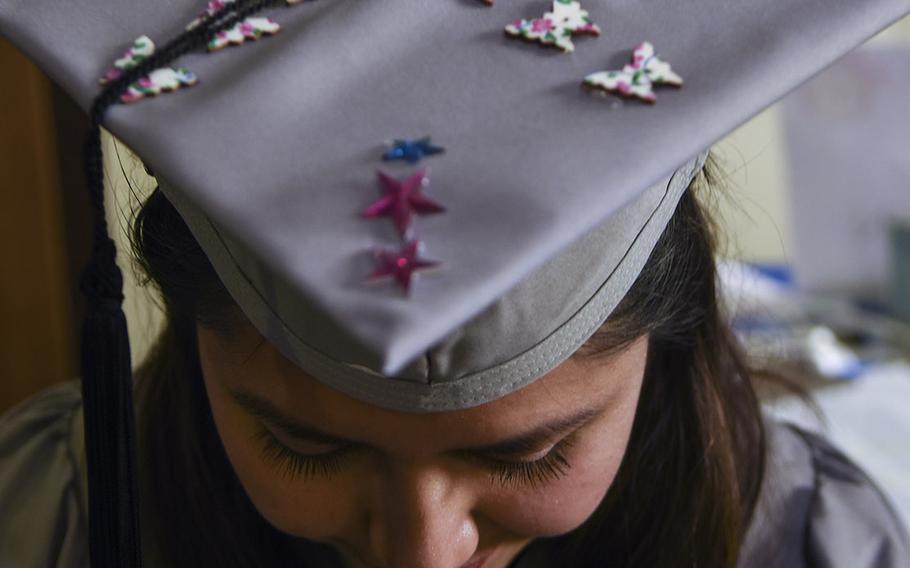 RAMSTEIN AIR BASE, Germany – Shortly before the 9/11 terrorist attacks, Andrew Scarborough was a young soldier starting college.
Then came four combat deployments to Iraq, a wife and four kids, and medical issues that included brain surgery.
College may have been put aside, but Scarborough, 42, remained dedicated to one day finishing his bachelor's degree.
That day came on Saturday, when Scarborough, now an Army staff sergeant, was among 265 students crossing the stage at University of Maryland University College Europe's commencement.
"About 18 years later, from when I first started (college)," Scarborough said. "I finally got it done. It was a long journey."
Scarborough's journey was longer than most, even by UMUC Europe standards. The school's average student takes 6.3 years to finish requirements for a bachelor's degree, and graduates at the age of 40.
But UMUC Europe isn't a typical college, churning out fresh-faced young adults four years out of high school. This year, 46 percent of the class was active duty, and many graduates juggled school with working full-time and raising a family. Some even hit the books downrange: 85 graduates earned their degrees while deployed.
Army Capt. Darren Ingram and his wife, Leslie, a Defense Department civilian employee at Kleber Kaserne, both earned a Master of Business Administration.
With Ingram nearing retirement, the couple was looking to boost their job prospects when returning stateside.
Darren Ingram, 47, a logistician, said they wrote papers while on temporary duty and on vacation, carting laptops on airplanes and trains. They bought SIM cards while vacationing in Israel to turn in a paper.
"It has never been a thought, 'Oh, I'm not going to do it,'" Leslie Ingram said, adding they applied a military mindset to their studies: "Adapt and overcome."
The Ingrams were among some 1,200 graduates in UMUC Europe's class of 2019. Of those, 209 received master's degrees, 560 their bachelor's and 506 an associate's degree.
The youngest graduate was 18, earning an associate's degree; the oldest was 61. Business administration was the most popular degree.
Saturday's commencement at the Ramstein Officers' Club marked UMUC Europe's 70th anniversary. Classes began in 1949 on a military base in postwar Germany. Five years later, UMUC Europe hosted the first formal graduation ceremony by an American university overseas, in the University of Heidelberg's Old Assembly Hall.
A new chapter in the college's history will soon begin. Starting in July, UMUC will officially become University of Maryland Global Campus — a new name that conveys the university's global reach, college officials said.
Though UMUC has the most military-affiliated graduates among public universities contracted by the services overseas, it's not the only one. Last month, more than 95 students received degrees through Embry-Riddle Worldwide Europe, and next month, the University of Oklahoma expects to recognize about 200 graduates for the current academic year.
Support, sibling rivalry, love of learning
The Ingrams weren't the only married couple crossing the stage Saturday.
Senior airman Damian Hicks, 37, and his wife, Tashondra, 38, also earned MBAs, staying the course even when Hicks, an F-15 mechanic at RAF Lakenheath, U.K., received last-minute deployment orders. The Hickses scrambled, taking their twin toddler boys to live temporarily with their grandparents.
They supported each other with late-night brainstorming, motivational talks, and trying to squeeze some form of "normal" into their lives, Damian Hicks said.
Their motivation: "We wanted to go (back) to school, and we wanted somebody else to pay for it," said Hicks, who signed a six-year contract with the Air Force at the age of 35.
Others also were spurred on by the military's education benefits — and pride.
"I was the only Scarborough in my family without a college degree — and tuition assistance is awesome," Scarborough said, referring to the up to $4,500 per year servicemembers can receive for tuition.
For Nicole Sewell, who had the highest cumulative grade point average among undergraduates, economics brought her to UMUC Europe, and a love of learning kept her going.
Sewell, 52, gave college a third try four years ago, shortly after moving overseas with her husband, a contractor and retired Army reservist. "I couldn't get a DOD job without a degree," she said.
UMUC Europe German professor Molly Affleck, now retired, reignited her love of learning, Sewell said, and she went on to earn a bachelor's in literature with a 4.0 GPA.
"It was such a long journey," she said. "It's hard to believe I'm at the finish line."
svan.jennifer@stripes.com Twitter: @stripesktown
---
---
---
---