Trump demands Germany pay for US protection
by
John Vandiver
March 18, 2017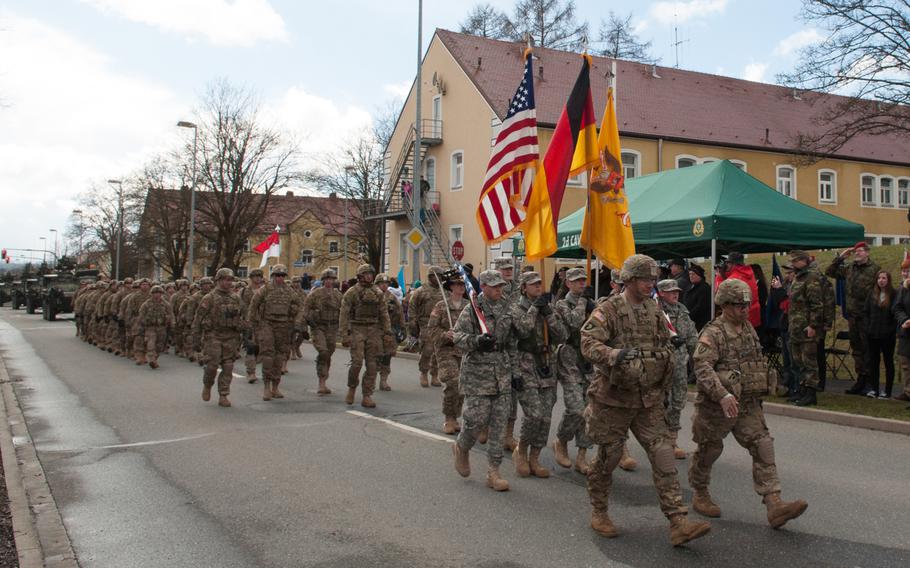 STUTTGART, Germany — President Donald Trump on Saturday demanded that Berlin increase financial support to pay for the "protection" the U.S. military provides NATO ally Germany.
Trump, one day after meeting with German Chancellor Angela Merkel in Washington, took to Twitter on Saturday to blast the longtime U.S. ally for not investing enough in NATO and not doling more dollars to Washington directly.
"Germany owes vast sums of money to NATO & the United States must be paid more for the powerful, and very expensive, defense it provides to Germany!" Trump tweeted.
Trump frequently scolds allies, including Germany, for not investing enough in their own defense and demands that NATO members pay their fair share.
On Saturday, Trump took his criticisms a step further by essentially saying that he now wants the U.S. to be paid more for the "defense it provides to Germany." This is his clearest demand yet that not only should Germany spend more on its own defense, it should pay more directly to the U.S. for its contributions to Europe's security.
Germany is the centerpiece of the U.S. military's force structure in Europe, hosting the majority of U.S. troops and major bases like Ramstein Air Base. The headquarters for U.S. European and Africa Commands as well as Europe-focused Army, Air Force and Marine headquarters also operate out of Germany along with a mix of line and enabling units.
However, unlike Japan and South Korea, both of which pay about half the expense of hosting U.S. forces, Germany picks up a much smaller portion of the tab. Not only does Germany pay less — about $1 billion, or 18 percent of the overall cost — most of the funds come in the form of in-kind services rather than hard cash, according to a 2013 analysis by the Rand Corp.
Such discrepancies are unlikely to go unnoticed by Trump, who already has complained about Germany's sizable trade advantage with the U.S. Berlin also has an overall budget surplus of some $25 billion.
Since Russia's intervention in Ukraine, the Pentagon has spent billions of dollars on adding rotational forces to augment its forward-based troops in Europe, sending in an Army armored brigade, combat aviation assets and prepositioned tanks and other equipment. This year's European Reassurance Initiative costs roughly $3.4 billion.
Allies also have increased spending on their own defense in light of concerns about a more aggressive Russia and are taking part in operations in the Baltics.
The issue of military spending is likely to dominate talks between NATO members in the months ahead. While Merkel has said Germany will meet the 2 percent NATO spending benchmark, Berlin is years away from reaching that mark. It isn't clear if there is the political will in Berlin to reach the target faster.
The debate about "fair share" has centered on NATO's own defense spending guidelines that call for allies to dedicate at least 2 percent of their respective GDPs to military matters. Germany, along with all but five of NATO's 28-member states, has long fallen far short of the 2 percent target.
Technically, however, Trump is wrong when he says Germany owes "vast sums" to NATO.
The NATO alliance does not have membership fees. NATO as an alliance amounts to the collective military capabilities of its respective members. So when some allies underinvest in defense, NATO is theoretically weaker or more dependent on American military muscle and deemed by critics as security "free riders."
In Brussels last month, Defense Secretary Jim Mattis warned NATO members that the U.S. could "moderate" its support for the alliance if members don't commit more to defense spending.
vandiver.john@stripes.com Twitter: @john_vandiver