Trump backs defense of NATO allies, scolds Russian behavior
---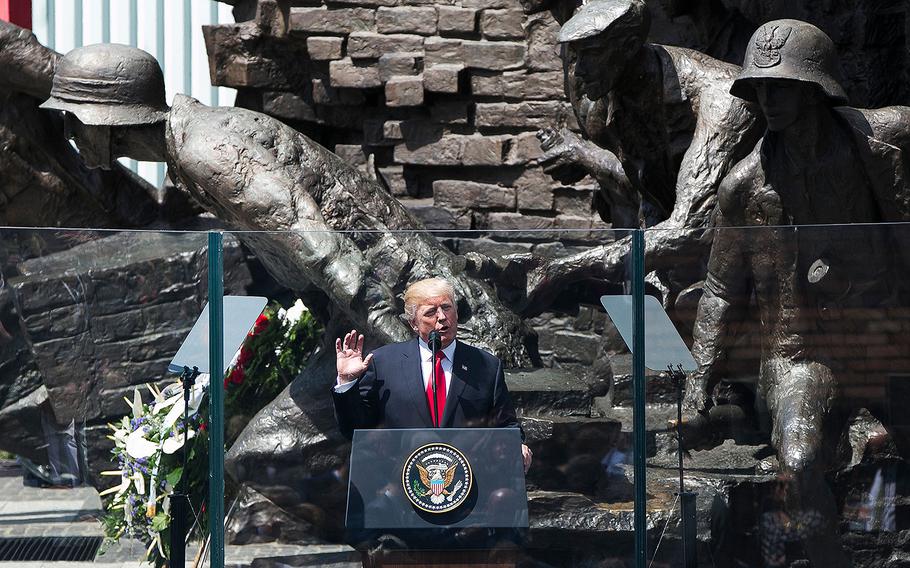 President Donald Trump reaffirmed America's commitment to security in Eastern Europe during a visit on Thursday to Warsaw, where he singled out Russia for its "destabilizing behavior" on the Continent and signaled U.S. willingness to defend allies if they come under attack.
Trump voiced explicit support for NATO's Article 5, which states that an attack on one ally is an attack on all. In the past, the president has been criticized for statements about wanting closer ties with Moscow and for delivering mixed messages about the U.S. commitment to NATO, including an equivocal endorsement of Article 5.
But in Poland, a country anxious about a more aggressive Russia, Trump spoke of America's unity with allies and offered backing for NATO's collective security policy.
"To those who would criticize our tough stance, I would point out the United States demonstrated, not merely with words, but with its actions, that we stand firmly behind Article 5, the mutual defense commitment," Trump said before a large American flag-waving crowd in downtown Warsaw.
In perhaps his clearest terms to date, Trump blamed Russia for a security environment that has become increasingly unsettled since Moscow's 2014 intervention in Ukraine.
"We are working with Poland in response to Russia's actions and destabilizing behavior," Trump said earlier in the day during an appearance with Polish President Andrzej Duda.
In an apparent reference to Russia, Trump said NATO must adapt to counter misinformation campaigns and cyberthreats.
"Today the West is also being confronted by the powers that seek to test our will," Trump said during his speech. "We urge Russia to cease its destabilizing activities in Ukraine and elsewhere."
Trump, who arrived in Poland on Wednesday, is next headed to Germany for a summit of G-20 leaders in Hamburg on Friday and Saturday. The summit will be the first time Trump meets with his Russian counterpart, Vladimir Putin.
Immediately after Trump's comments in Warsaw, Moscow disputed the claim that its behavior is destabilizing.
"We disagree with this approach," said Kremlin spokesman Dmitry Peskov, according to state media.
The U.S. military now has about 5,000 troops in Poland as part of an effort to enhance NATO's presence in a region worried about Russia's intentions.
Moscow, which has repeatedly stated it has no designs on any Western nation, considers the U.S. military presence close to its borders to be a provocative threat.
However, critics have accused Trump of damaging the NATO alliance by failing to call out Russia for its aggression in Ukraine, as well as for campaign rhetoric that suggested the U.S. might be willing to leave allies in the lurch if they are attacked.
Those concerns were renewed after a major NATO meeting in May, where Trump made only passing reference to Russia and avoided mention of the alliance's bedrock Article 5 provision. Instead, Trump rebuked allies over defense spending levels in a speech that caused consternation in European capitals.
In Warsaw, Trump spoke in more positive terms about NATO's role.
"Our strong alliance with Poland and NATO remains critical to deterring conflict and ensuring a war between great powers never again ravages Europe," he said. "America is committed to maintaining peace and security in central and eastern Europe."
Trump also thanked Warsaw for hosting U.S. forces. But when asked whether he could guarantee an indefinite American military presence in the country, he hesitated.
"Certainly, we have been here for a long time," Trump said. "We will continue to do that and work with Poland, but we did not discuss guarantees."
Trump praised Poland for its efforts in Iraq and Afghanistan, its role in the U.S.-led coalition against the Islamic State and its commitment to investing in defense. Poland is one of five NATO states that meet the alliance spending target of 2 percent of economic output to its armed forces.
Trump has frequently complained that allies in Europe are not dedicating enough resources to their respective militaries.
"We are grateful for the example Poland has set for every member of the alliance that meets its financial obligations," he said.
As for other allies who are yet to reach NATO's spending targets, Trump had tough words.
"Europe must do more," Trump said. "It must demonstrate it believes in its future by spending its money to secure that future."
NATO states are expected to increase their defense expenditures this year, marking the third consecutive year military budgets will rise within the 29-nation alliance.
vandiver.john@stripes.com Twitter: @john_vandiver
---
---
---
---